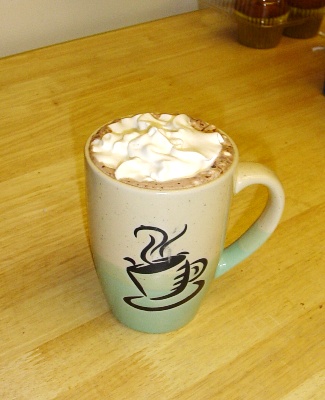 Is there anything better to warm you up after being out in the chilly night than a hot cocoa made with steamed milk, a splash of peppermint schnapps and topped with whipped cream?
If there is, let me know. I love my hot cocoa! Keith and I covered the Sebastian Christmas Parade Saturday night, which was wonderful – but a little bit chilly!
It wasn't near as bad as last year, which was plagued with rains most the day and a whipping wind. If ever I needed a hot cocoa, it would have been that night.
At any rate, we got home Saturday and went straight to work filing our photos and story – but the chill remained.
So, after getting the story posted, I whipped up my yummy hot cocoa and sat down to blog about it.
Something must be said about using real, steamed milk for a hot cocoa. Water is fine – I guess, when you're in a pinch.
My problem with that is that I end up always scalding myself on the boiling water from the teapot. Yes, I know it's hot, but the chocolate is just so tempting I can't resist.
With our espresso maker – complete with steam wand – I can steam up the milk to a toasty 170 degrees and know that if I blow on it just a bit, I won't get burnt.
Aside from the burn factor, the milk lends a creaminess to the cocoa I don't think the water has.
At any rate, I can justify the calorie intake as making sure I get my calcium for the day.
I'll raise my mug in a toast to you, wherever you are. I hope you're staying warm.
Happy Eats!
Debbie