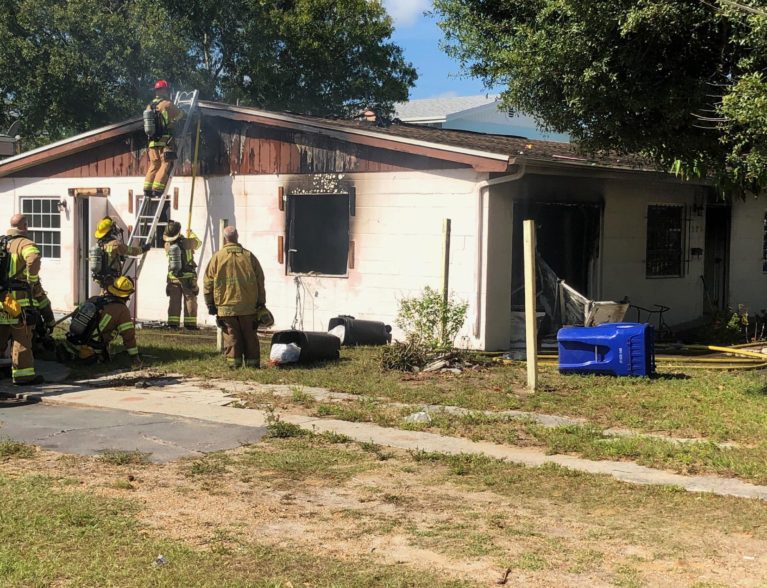 Photo provided by Indian River County Fire Rescue
VERO BEACH — A Saturday blaze that originated in a garage and spread to a home – where a family of six escaped unharmed – was ruled accidental, fire rescue officials said.
The state fire marshal determined the fire was an accident, Indian River County Fire Rescue Battalion Chief Kyle Kofke said. The blaze displaced a grandmother, mother and four children.
Details on what sparked the flames were not immediately available.
Fire crews responded to the blaze about 1 p.m. Saturday at a home in the 1700 block of Highland Avenue, Vero Beach. Crews saw heavy smoke and flames coming from the roof, Kofke said.
Authorities blocked Highland Avenue for a little more than three hours to battle the flames. Firefighters extinguished the blaze about 3 p.m., Kofke said.
The family who escaped included a mother in her 50's, her daughter in her 20's, and four grand children –  two girls ages 3 and 5, and two boys ages 7 and 8, Kofke said. The flames left the home with heavy fire damage, making the residence uninhabitable.
Firefighters pulled the drywall down from all the ceilings so that the flames would not smolder in the insulation, Kofke said.
"This way, we can wet it all down," Kofke said. No other homes were threatened from the blaze.
Authorities contacted Red Cross South Florida Region to help the family.