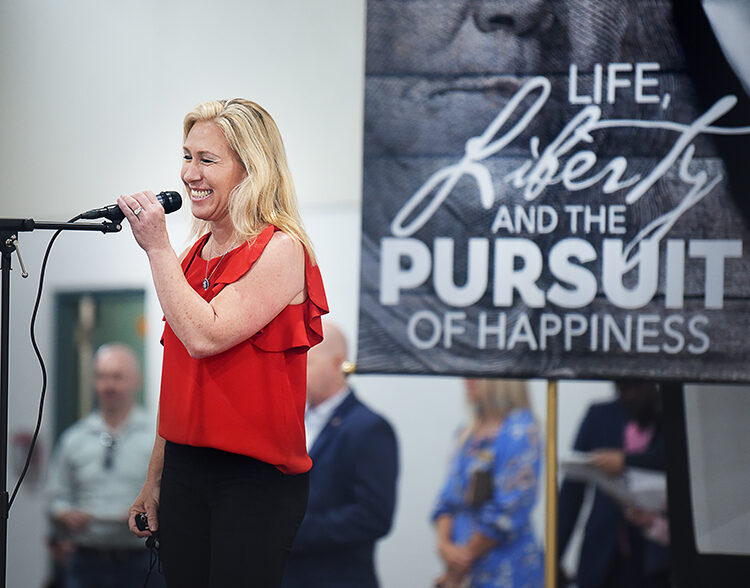 Controversial Georgia Congresswoman Marjorie Taylor Greene stirred the political passions of an enthusiastic and fiercely partisan crowd of 300-plus Saturday morning at the Indian River County Fairgrounds & Expo Center.
The headline speaker at the Republican Women of Indian River-sponsored "America First Rally," Greene relied on a tried-and-true menu of nationalist rhetoric, hard-right conspiracy theories, derisive remarks about Democrats and an unwavering support for America's 45th president to rev up a receptive audience.
"Thank you for staying in the fight," Greene told the indoor gathering, which welcomed her with a chant of "USA, USA, USA" and cheered wildly when she pulled out a mask emblazoned with the words, "Impeach Biden," but continued her 40-minute speech without a face covering.
"Thank you," she said, "for staying loyal to our president, Donald J. Trump."
For the next 2 ½ hours, Greene and the event's other speakers verbally attacked Democrats and their policies, criticized Republicans who didn't fully embrace Trump and push through his agenda, and urged those in the crowd to "take back our country."
The crowd cheered every mention of Trump's name and loudly booed every mention of President Joe Biden, House Speaker Nancy Pelosi and New York Congresswoman Alexandra Ocasio-Cortez.
The most raucous responses, though, came when the speakers challenged the legitimacy of November's presidential election – a theme that dominated a rally at which most of the crowd donned pro-Trump or anti-Democrat hats and shirts.
Few of the attendees wore masks, however, and none of the recommended pandemic protocols were followed.
There was a visible Sheriff's Office presence at the event, which attracted only a handful of protesters, including a man standing outside the fairgrounds' gate and holding a sign that read, "Fruit Loops For Breakfast."
Two women standing outside the entrance to the Expo Center quietly held signs that read: "Republicans Against Marjorie Taylor Greene," "IRC GOP Say No To MTG," and "MTG Is A Cancer On The GOP."
No locally elected Republican office holders were visible at the rally, which originally was scheduled to be held at a local restaurant but was moved when a social-media backlash prompted the owner to back out.
While Greene's lead-off speech set the expected, Trump-like tone for the rally, she was nearly upstaged by Virginia State Senator Amanda Chase, who is running for governor.
Chase fully embraced Trump's discredited claims of voter fraud, defiantly referring to Trump as "our president" and saying – in no uncertain terms – the 2020 presidential election was "stolen."
Cheers erupted when she told the audience her gubernatorial candidacy has been endorsed by Michael Flynn, Trump's disgraced former national security adviser, whom she labeled "America's general."
She was cheered again when she said she doesn't wear masks because, "I don't do COVID."
Those familiar with Chase's background couldn't have been surprised.
In January, she became only the second state senator in modern Virginia history to be censured after she referred to the insurrectionists who stormed the U.S. Capitol on Jan. 6 as "patriots" and accused Democrats of "treason" for their role in what she claims was a rigged election.
Preceding Chase on the stage was Wyoming State Senator Anthony Bouchard, who delighted the crowd with his reasons for launching a primary challenge against Congresswoman Liz Cheney, the third highest-ranking Republican in the House of Representatives.
Cheney was one of 10 House Republicans who voted to impeach Trump for inciting the Jan. 6 insurrection.
Clearly, though, Greene was the star of the show.
Stripped of her House committee assignments in February for incendiary and violent statements in the past – she also has endorsed dangerous and debunked QAnon conspiracy theories – Greene exhibited no signs of being humbled by the rebuke during her speech here.
Greene mocked Illinois Congresswoman Marie Newman for hanging a transgender flag outside her Capitol office, referring to her as "Newperson" because she doesn't acknowledge gender.
"Democrats want to destroy God's creation," she said.
Greene referred to Congresswoman Maxine Waters as "Maxilla," citing the California Democrat's controversial remarks during fired Minneapolis police officer Derek Chauvin's recent murder trial.
She claimed Waters "has been inciting violence" since the 1990s.
Greene also talked about challenging Ocasio-Cortez to a debate on the merits of the Democrat-proposed "Green New Deal" to protect the environment – legislation she said would hurt American businesses.
"We're going to schedule it very soon, and she better show up," Greene said, inspiring another of several standing ovations she received.
She went on to play her greatest hits, which included attacks on the "fake news" media, Democrats' push for police reform, gun-control efforts and abortion rights.
Greene was equally critical of Congressional Republicans for not supporting Trump's efforts to repeal Obamacare and build a wall along the U.S.-Mexico border.
"We elected Donald Trump, and he gave us four amazing years," she said, adding, "Now we've come to a place where life has changed, and we know it."
Greene urged those in the audience to remain loyal to Trump and vigilant in defending their beliefs.
"No matter how upset you are about the presidential election, and no matter what you're seeing in the news," she said, "it's not over."
Photos by Brenda Ahearn