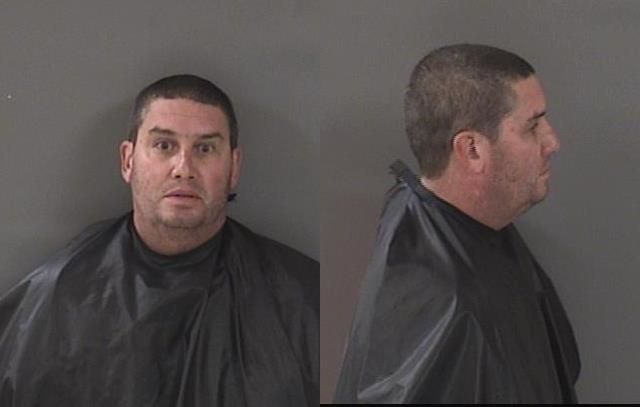 INDIAN RIVER COUNTY — Moments before William Carrodus was sentenced to life in prison Monday, prosecutors played surveillance footage in court showing his deadly rampage last June at a pizzeria.
"It was tough for anyone to watch," said Assistant State Attorney Brandon White, the lead prosecutor over the case. "Even worse for a family member."
Shortly after the harrowing scenes were played in the courtroom, Circuit Court Judge Dan Vaughn sentenced Carrodus, 57, of Sebastian, to life in prison. The fatal shooting that happened June 19, 2020, at Giuseppe's Pizzeria Italian Cuisine took the life of 34-year-old Frank Strahorn, of Sebastian.
White said Strahorn's mother, Sandra Lea Stewart, and brother, Carl James Stewart, both gave extremely emotional statements during the sentencing. Both talked about the pain left behind from losing Strahorn, a marine corps veteran, to senseless gun violence.
Carrodus pled not guilty last July to the murder charges against him. White said it's standard for defendants to plead not guilty shortly after their arrests.
Carrodus on Monday pled no contest to the charges before Vaughn laid out the sentencing. The shooting that happened in broad daylight left those who knew Strahorn and the eatery shocked and heartbroken.
Sebastian police said Carrodus had an argument with a manager about Carrodus' job performance earlier that day. Carrodus, a delivery driver at Giuseppe's, then delivered an order to a local animal hospital, stopped by his home to pick up an assault rifle and drove back to the restaurant.
White said Carrodus, who had an AK-47, fired at least 35 rounds total outside and inside the business. Strahorn, a server at Giuseppe's, helped people inside the eatery escape from Carrodus.
Strahorn, who was not the target of the shooting, was struck in the back by a bullet, reports show. He was taken to Sebastian River Medical Center, where doctors pronounced him dead.
Carrodus told police he never meant to kill Strahorn. The target of the shooting – Greg Pomarico – gave an emotional testimony in court, according to White.
"I think Greg understands how lucky he was to be able to get out," White said.
Carrodus also shot Pomarico's unoccupied truck several times during the incident. Carrodus laid down the firearm before police arrived and detained him.
Carrodus was charged with second-degree murder with a firearm, attempted first-degree murder with a firearm, shooting or throwing a deadly missile, seven counts of attempted second-degree murder by discharging a firearm, burglary of a structure while armed with assault or battery, criminal mischief and manufacture cannabis.
White said Vaughn ordered Carrodus to pay restitution. Those amounts include $29,000 to Geico for damages to Pomarico's truck, $1,106 to Pomarico, $1,726 to the state attorney's office for prosecution costs, $4,570 to the Indian River Crime Lab and $50 to Sebastian Police Department for investigation costs.