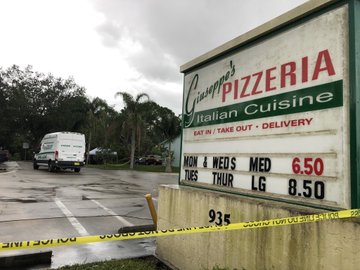 SEBASTIAN — A restaurant worker and marine corps veteran was killed after a disgruntled employee armed with an assault rifle stormed in the business, firing more than a dozen shots Friday, police said.
"There was a hostile employee who entered the building with an assault rifle. He began shooting inside at employees," Sebastian police Lt. Tim Wood said. "It's very shocking, not something that's common for the city of Sebastian."
Police identified the 34-year-old victim as Frank Strahorn, of Sebastian. The suspect was identified as 56-year-old William Carrodus, of Sebastian.
Carrodus, who officers described as a delivery driver, told police he went to the business with intentions to shoot the manager. Wood clarified that Strahorn, a server, was not the manager targeted.
.@PoliceSebastian Lt. Tim Wood gives update on fatal shooting. #VeroNews pic.twitter.com/MYrxrF0FIU

— Nicholas Samuel (@JournalistNickS) June 19, 2020
Wood said the bullets left parts of the inside of Giuseppe's Pizzeria Italian Cuisine damaged. The estimates in damage were not available.
Strahorn was taken by ambulance to Sebastian River Medical Center, where doctors pronounced him dead, Wood said. It was unclear how many times Strahorn was shot.
No other injuries were reported.
Police arrested Carrodus, of the 400 block of Periwinkle Drive, on charges of attempted first-degree murder, second-degree murder and shooting into an occupied dwelling. Carrodus was held Saturday at the Indian River County Jail without bond.
Tributes to Strahorn poured in on social media. In a Facebook post, Giuseppe's Pizzeria said Friday was a "tragic day" for the restaurant family and the family of Strahorn.
"We ask that you keep our Giuseppe's family and the family of our dear departed Frank Strahorn in your thoughts and prayers," the restaurant said in the post. "Please, please be kind and thoughtful in your posts and words to those affected, and each other."
Several people left comments under the post, describing Strahorn as a "hero" and "outstanding man who loved what he was doing." Strahorn's Facebook profile shows he served eight years in the marine corps and was honorably discharged.
Friday's incident happened shortly before noon at the Italian eatery, 935 Sebastian Boulevard, not far from Cumberland Farms. Carrodus told police he was upset with the manager, but it was unclear why.
Wood said Carrodus, who was still employed at the eatery, fired shots from an AK-47 toward the building, striking vehicles and a nearby home. Carrodus then walked through the main entrance of the restaurant, with customers and employees inside, and continued firing shots in the direction of other workers, police said.
"This could've been really bad for officers responding and for customers inside the restaurant as far as fatal incidents," Wood said.
Wood said Strahorn was trying to help people escape out of the eatery.
"He was very heroic," Wood said. "If you have someone unarmed in an active shooter situation, it takes guts to try and save other people at the expense of your own life."
Police said Carrodus then walked out of the eatery and shot at the manager's unoccupied vehicle several times.
Officers confronted Carrodus outside of the pizzeria and detained him without incident. Police immediately began treating Strahorn for his injuries, authorities said.
Details on how long Strahorn and Carrodus worked at the restaurant were not immediately available.
Police found the assault rifle laying in the open on the side of the building and recovered the weapon, Wood said.
Wood said police will review surveillance footage inside and outside of the eatery, as well as videos from nearby businesses. Police spoke with witnesses in the area.
Yellow crime scene tape could be seen surrounding Giuseppe's Pizzeria Italian Cuisine and a plaza next door shortly after the incident. Police recovered two magazines from the assault rifle at the scene, Wood said.
An Indian River County sheriff's crime scene van could be seen in the eatery's parking lot. Police and deputies set up a tent in an alley behind the restaurant as they investigated.
Several people watched police as they canvassed the area. The onlookers declined to comment.
Police asked motorists to avoid the area. Officers were expected to be in the area into the evening hours, Wood said.
This is the second shooting to happen this week in Sebastian.
The first shooting, where no one was hurt, happened Sunday on eastbound County Road 512. Police said Jordan Lee Jackson, 19, of Fellsmere, fired several shots at another vehicle before fleeing the scene.
Police charged Jackson with attempted first-degree murder, shooting a deadly missile into a vehicle and aggravated assault with a deadly weapon. Jackson was being held without bond at the county jail.
Photos by Nick Samuel