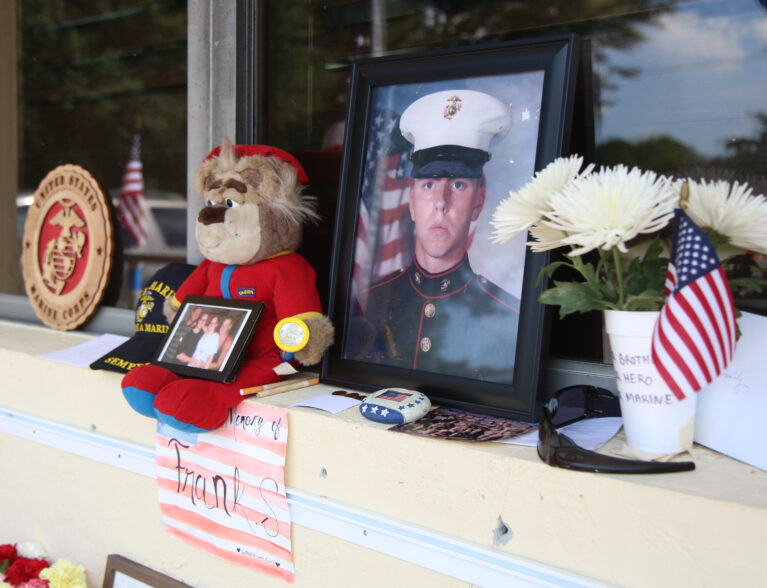 INDIAN RIVER COUNTY — Family and friends will pay final tributes Tuesday to a marine corps veteran fatally shot while helping people escape from a gunman armed with an assault rifle, officials said.
The funeral for 34-year-old Frank Shelton Strahorn, Sebastian, will be held at 10 a.m. Tuesday at Lakeside Fellowship Church, 8000 66th Avenue, Vero Beach, according to his obituary. Social distancing measures, both inside and outside, will be in place to prevent the spread of the coronavirus, according to the Indian River County Veterans Council.
The U.S. Marine Corps will be at the service to conduct a presentation, flag folding, rifle volley and a bugle call, which are common for military funerals. Another service celebrating Strahorn's life will be held from 5 p.m. to 8 p.m. Tuesday at Vero Beach Masonic Lodge, 1959 14th Avenue, Vero Beach, officials said.
Strahorn, who went by "Spanky,"a family nickname, served in the Marine Corp for 10 years. The veteran – who received the good conduct medal and earned his green belt in the Marine Corps Martial Arts Program – did military service across the country, and in Fallujah, Iraq, according to his obituary and the Indian River County Veterans Council.
Strahorn, born in Maryland, was honorably discharged from the military before moving to Sebastian in 2011, his obituary showed. Strahorn was a member of Lakeside Fellowship Church and served on the tech team for the past four years.
Deadly pizzeria shooting
Strahorn worked as a server at Giuseppe's Pizzeria Italian Cuisine, 935 Sebastian Boulevard. The gunman who opened fire at the restaurant, 56-year-old William Carrodus, of the 400 block of Periwinkle Drive, Sebastian, remained held Monday at the Indian River County Jail without bond.
On June 19, Carrodus, a delivery driver who also worked at Giuseppe's, drove to the eatery with an AK-47, Sebastian police said. Carrodus was involved in an argument with one of the managers earlier that day about Carrodus' work performance and the possibility of him being fired, reports show.
Carrodus told officers he and the manager have worked together for a few years and have never gotten along.
Carrodus told police he became angry, went to deliver an order at a residence and then stopped by his home to pick up the assault rifle. Carrodus then came back to the restaurant in his white truck with intentions to "get rid of" and "kill" the manager, reports show.
Officers clarified that Strahorn was not the person targeted.
Police said Carrodus, still wearing his work uniform, fired several rounds toward the building before walking inside and discharging more shots. The gunfire – which police said was "more than a dozen shots" – left parts of the inside of the restaurant damaged, causing it to briefly close.
The eatery has since reopened. Police said Strahorn was trying to help people escape out of the eatery when he was struck in the back by one of the bullets.
Carrodus then walked out of the building, fired more shots at the manager's unoccupied vehicle before placing his weapon on the ground, police said. Police arriving at the scene asked Carrodus "Where's the guy with the gun?"
Carrodus replied "I am the guy with the gun," reports show. Carrodus showed police where he placed the assault rifle and was then detained without incident.
Police said Strahorn was taken by ambulance to Sebastian River Medical Center, where he was pronounced dead. Carrodus told police he never meant to kill Strahorn, reports show.
Officers charged Carrodus with attempted first-degree murder, second-degree murder and shooting into an occupied dwelling. Carrodus has an arraignment at 8:45 a.m. Aug. 7, court records show.
Frank Strahorn Memorial at Giuseppe's Pizzeria (Photos by Kaila Jones)