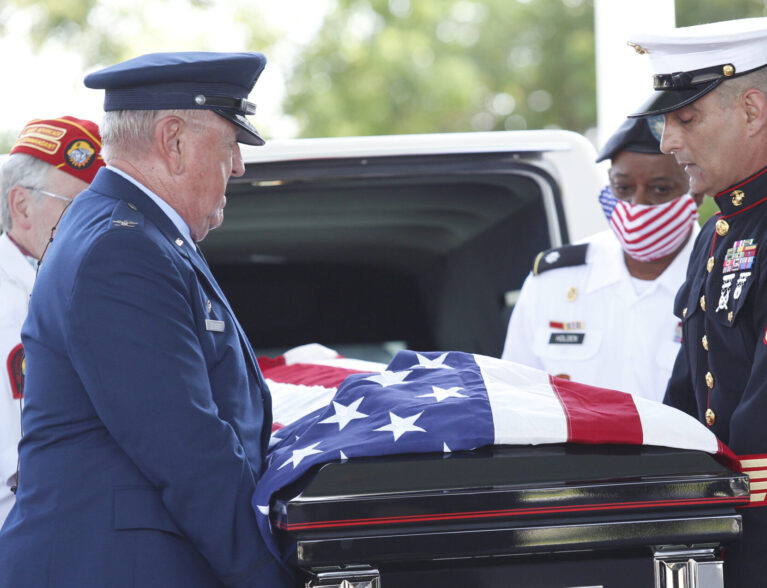 INDIAN RIVER COUNTY — Frank Strahorn was already considered a hero by his family, friends and marine brothers and sisters because of his military service around the world.
Then, on June 19, the 34-year-old became a "hometown hero" after he was fatally shot while helping others escape a gunman carrying an AK-47 assault rifle at a Sebastian pizzeria. Tuesday, more than 100 people, including family, friends and the marine corps, attended the funeral service for Strahorn at Lakeside Fellowship Church in Vero Beach.
"Frank you're my hero!" Strahorn's mother, Sandra Lea Stewart, of Sebastian, cried out after the service.
Family and friends sign a guest list and take cards showing Frank Strahorn's bright smile. The funeral is being held at Lakeside Fellowship Church in Vero Beach. #VeroNews pic.twitter.com/O4x9uzTGyN

— Nicholas Samuel (@JournalistNickS) June 30, 2020
Moments before the solemn service began, there was silence. A white hearse carrying Strahorn's flag-draped casket quietly pulled up at the church. Family members were overcome with tears as uniformed military veterans carried Strahorn's black casket through the front doors.
More military veterans inside the lobby area stood on either side of the aisle, raising their arms in a triumphant salute as the casket was carried into the sanctuary.
Silence fills the room as Strahorn's flag-draped casket is rolled into the church. Family and friends walked in behind the casket, some overcome with tears. #VeroNews pic.twitter.com/Q1TDV3pIlw

— Nicholas Samuel (@JournalistNickS) June 30, 2020
Marine veteran Dale Haukeli, who trained Strahorn in the military, said Strahorn sacrificing his life so others could live made him sad, but also proud.
"My job was to train the marines to do that, serve others before self," said Haukeli, who shed tears thinking about Strahorn. "I knew he did what he had to do to save others. That's a great source of pride for me."
Earlier video – U.S. Marine Corps Veteran Dale Haukeli talks about his memories with Frank Strahorn. #VeroNews pic.twitter.com/XR663g6Lqq

— Nicholas Samuel (@JournalistNickS) June 30, 2020
Strahorn was a server at Giuseppe's Pizzeria Italian Restaurant in Sebastian. Strahorn, who served in Kuwait and Iraq, led others to safety outside before he was struck in the back by a bullet, police said.
The veteran was taken to a hospital, where doctors pronounced him dead.
The gunman, 56-year-old William Carrodus, of the 400 block of Periwinkle Drive, Sebastian, was charged with attempted first-degree murder, second-degree murder and shooting a deadly missile.
Carrodus remained held at the Indian River County Jail Tuesday without bond. Carrodus told police he was targeting a manager, not Strahorn.
Strahorn's sacrifice and legacy were not forgotten by family, friends and fellow marines. Attendees at the funeral spoke passionately about Strahorn, who they said brought leadership, laughter and love.
"He was always a lovable guy. He was a protector and always called me 'sunshine,'" said Vohontra Anderson, who previously worked with Strahorn at Fort Pierce Healthcare. "We need to take the people close to us and cherish them. We don't get to pick and choose who we cross paths with."
There were about 10 other people in the audience affiliated with Fort Pierce Healthcare who came to the service for support. Rehabilitation Director Bernard Benjamin said Strahorn loved every resident at the facility.
"We were very close," Benjamin said. "We all loved him."
Strahorn was also a member of the tech team at Lakeside Fellowship Church for four years, Pastor Joe Maldonado said. Maldonado said Strahorn, who was a lighting coordinator on Sunday mornings, loved church and would often talk about Jesus Christ.
"Frank was a man of faith," Maldonado said. "He always smiled and always brought a level of respect."
Strahorn's Facebook profile picture shows the moments after Maldonado baptized him in 2017. Maldonado said Strahorn loved singing songs with his church family.
During the service, the praise and worship team sang Strahorn's favorite song "Multiplied," a hymn praising God's mercy and love. Toward the end of the funeral, a photo slideshow flashed across a giant screen, showing family pictures and Strahon in his military uniform.
Photos flash across a screen showing Strahorn with family, and other pictures show the military corps veteran in his uniform. #VeroNews pic.twitter.com/JAXBuqyouK

— Nicholas Samuel (@JournalistNickS) June 30, 2020
Family members said Strahorn didn't like saying "goodbye," but would rather say "see you later." Military veterans carrying flags lined up as Strahorn's casket was carried back into the hearse to head to the burial site.
Who was Frank Strahorn?
Strahorn, nicknamed "Spanky" as a child, joined the ROTC in high school, where he found his passion for the military, family and friends said.
Strahorn, born in Maryland, served in the Marines for 10 years, performing military service in different areas such as Fallujah, Iraq; and Kuwait. Strahorn received the good conduct medal and earned his green belt in the Marine Corps Martial Arts Program, his obituary showed.
Strahorn also earned a combat action ribbon, humanitarian service medal, global war on terrorism medal and a life expert badge, military veterans said.
He was honorably discharged before moving to Sebastian in 2011.
Strahorn leaves behind his mother, Sandra Stewart, Sebastian; father, Kenneth Strahorn, Winter Haven; sisters Krystal Marie Strahorn, Sebastian, and Megan Lynn White, Daytona Beach; and brother Carl James Stewart, Ocoee.
Strahorn was preceded in death by his stepfather Robert Hugh Stewart, his obituary showed. Memorial contributions will be made directly to Lakeside Fellowship Church.
"He was a son, brother, and a friend who served his country," Maldonado said. "He gave us the light to encourage others."
Photos by Kaila Jones
This story will be updated.