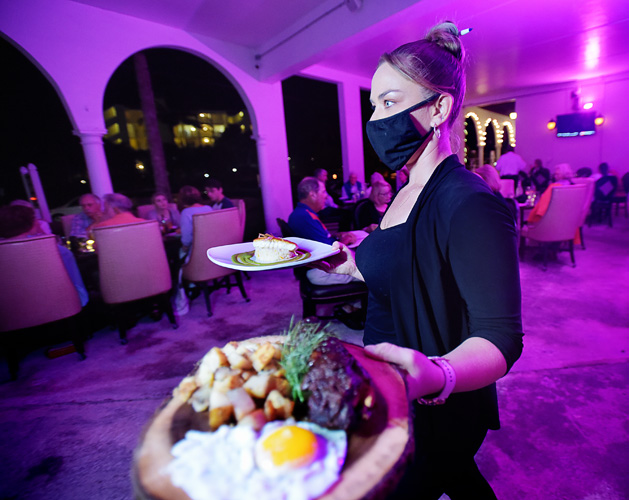 Even with coronavirus cases on the rise, Vero diners turned out for Thanksgiving dinner at local restaurants, clubs and catered affairs to dine on turkey, dressing and cranberry sauce – wearing masks and sitting in small groups, for the most part.
While there were fewer sit-down customers than last year in most places, and some restaurants had fewer diners overall, take-out orders pushed total meal numbers to new highs at other dining spots.
"We had a record-breaking Thanksgiving without being able to do the elaborate holiday brunch that we've typically done," said Chad Olson, Costa d'Este Beach Resort & Spa general manager, attributing the peak to people itching to get out of the house for a nice dinner and to take-out meals, which Costa offered this year for the first time.
At Kimpton Vero Beach Hotel & Spa, the restaurant ended up serving about 200 people this year, 30 more than two years ago when Cobalt last offered a prix fixe menu for Thanksgiving Day, according to Marco Fanelli, food and beverage director.
Island clubs, too, were busy on the holiday, though most had fewer diners than a year ago.
"We did 50 percent fewer in-house covers with 150 takeout orders," said Craig Lopes, general manager at The Moorings Yacht & Country Club. "Overall, we probably did about 75 percent of the total business we did last year."
At John's Island Club, where the main dining room was closed last week due to several food service staff members testing positive for COVID-19, carry-out meals were served to about 200 fewer people than dined at the club last Thanksgiving, according to John's Island general manager Brian Kroh.
John's Island restaurants were scheduled to reopen this week, Kroh said.
Quail Valley River Club managing partner Kevin Given said it was pretty much business as usual this year at Quail Valley. A la carte numbers were down but to-go meals were up 25 percent.
"Everybody ate outside because the weather was so brilliant," said Given, noted that 95 percent of members wore masks. "Most of our tables were a family of four or couples. People were being fairly cautious."
Given said many of the family members visiting for Thanksgiving are remaining in Vero Beach through the New Year instead of heading back home, staying put instead of risking exposure while traveling back and forth.
Meanwhile, longtime Vero caterer Elizabeth Kennedy said "we had a smash of a week." While her full-catering service was on par with previous years, she said there was a significant increase in the sale of side dishes leading up to Thanksgiving Day. "It was fantastic."
Wild Thyme Catering owner Travis Beckett departed from his typical, catered holiday party for 20 or more on Thanksgiving Day, instead opting to provide drive-up, to-go meals.
He noted that gatherings were smaller this year, with most patrons picking up meals for one to five people. Things went so well, Beckett said he will be doing the same thing for Christmas.
"It made me feel good that people who were alone or doing a Zoom Thanksgiving were able to get a good meal," added Beckett.
At Maison Martinique, owner Boris Gonzalez was pleased with the turnout. The restaurant had fewer diners than in previous years, but he said the nearly 100 patrons who showed up to dine kept him busy.
Business was down at Di Mare, according to owner-chef Jean Zana. "We had a lot of cancellations two or three days before Thanksgiving. A lot of customers didn't show because of … the virus. We lost between 30 and 40 percent of what we did last year." Zana said groups that did show up were smaller, and most folks preferred to dine outside.
Dario Bordoli, too, was hurt by last-minute cancellations and no-shows for dinner reservations at Trattoria Dario. "We have only seven tables outside, and everybody wants to sit outside. I didn't expect large groups, so it wasn't surprising that most were tables of two and four," said Bordoli. "We've felt the impact [of the virus surge] in the last couple of weeks. People are being a lot more careful."
Back at Cobalt, Fanelli said they had about 40 Thanksgiving cancellations, but there were pleasant surprises as well – the average check amount was up noticeably, and the restaurant was even busier on Friday than on Thanksgiving.
"Friday night we were packed," said Fanelli. "Normally Thanksgiving is busier, but it was the opposite this year. It seemed like everyone waited a day to come out. They didn't want to go out on Thanksgiving because they were scared of crowds but then they all came out Friday. We had double the business Friday than on the holiday."