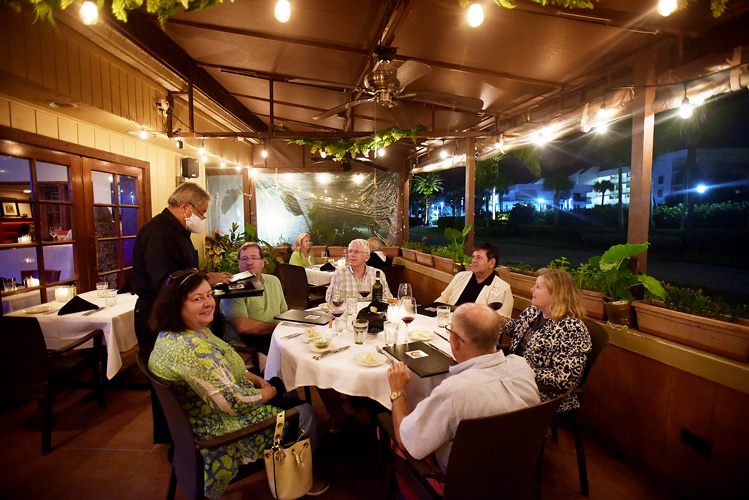 More than 110,000 restaurants have closed permanently across the nation since the start of the COVID-19 pandemic in March, according to the National Restaurant Association. But Vero Beach restaurants seem to have a secret ingredient that's helped them survive if not thrive during this challenging time.
Since the March shutdown, Vero has lost only one of its fine dining establishments: Savor, which in its first year did not really have time to develop a following.
Those restaurants still serving up Vero's favorite cuisine attribute their survival to favorable weather conditions, stalwart patrons who have gone above and beyond to support them, and to their own creativity and resilience.
Payroll Protection Program loans and Indian River County CARES Act grants also have helped restaurateurs bridge the gap between typical revenue and what they have earned this year.
Even though Gov. Ron DeSantis lifted capacity restrictions for restaurants, many patrons still don't feel comfortable dining indoors. But heading into winter, the Sunshine State has an edge – compliments of Mother Nature – over restaurants in colder, northern climes.
"Our outdoor seating has saved us. We have one of the most beautiful patios in Vero Beach," said DiMare owner-chef Jean Zana. "It was even full in the summer – which is funny because nobody usually eats on the patio during the summer. We were full every Friday and Saturday night, even if it was 90 degrees outside."
Tides chef/owner Leanne Kelleher, who expanded her outdoor seating, agreed. "We're not packing the place. We're only at 30 percent inside, but we have a lot of outdoor dining, and it makes people feel comfortable."
Currently, down only 5 percent for the year, she is looking forward to a good December. "We put a plan in place, and it's working. Hopefully, the pandemic will soon be a thing of the past."
Continued adherence to social distancing recommendations and heightened cleaning protocols have customers coming back to Citrus, said chef/owner Scott Varricchio. He added that clients have repeatedly expressed their thanks for how he is operating the business.
Varricchio said the restaurateur's role is to provide a safe haven for customers. "Now is not the time to think you're going to make money, because you're not. Now is the time to do what's right. We're in a small town, and we're poised better than most restaurants in the country to pull through.
"Outdoor dining has 100 percent carried me through," he added.
Dario Bordoli, proprietor of Trattoria Dario, said he's thankful for his loyal customers.
"That's the No. 1 thing that's kept me going. Without them, I probably wouldn't be able to survive."
Jay McLaughlin, who owns a restaurant on the upper East Side in New York City in addition to Citron Bistro here in the Village Shops, has a front-row seat on the differences between the two locales.
While both his New York and Florida restaurants offer extensive outdoor seating, he said it's not easy finding northern diners who want to sit outside in 30-degree weather.
"We're lucky to be in Vero. The anxiety and fear in New York are tremendous," he said. "It's a depressed area that's going to take years before it gets back on its feet again."
McLaughlin said he gauges the state of the local economy by how full the parking lot is at the Village Shops.
The good news? The parking lot is fuller than usual for this time of year.
Pomodoro Grill's head chef Amedeo Amelio said he's down more than 25 percent so far this year, which he attributes to the fact that he serves an older clientele.
"They're the ones being a little bit more cautious and more hesitant to come out and dine," he added.
At the same time, Amelio said the customers who are still coming in are stalwart and generous. One patron from Boston left a $600 tip last week. "He said that we're one of their favorite restaurants in town and tipped all six employees $100 each."
With only two outdoor tables, Fire and Wine manager Roger Lord said his restaurant has done only 25 percent to 30 percent of its normal business, but he's delighted that calls for reservations are on the rise.
"We're fortunate that the community has been so supportive. During the worst of this, our customers who don't feel comfortable dining out have continued to support us by ordering takeout. Without them, we wouldn't have been able to do this," Lord said.
Michael Lander, chef/owner at Michael's on 7th, said he sees light at the end of the tunnel. "Things are looking up. They're surely not where they were a year ago. Last month was the first month we've been in the black since we came back from COVID."
Lander said a willingness to adapt is what's carried him through. He explained his restructuring of everything from staff to hours of operation and even a provision area where he sells dressings, soups and local produce.
"It's a supplemental revenue stream that's doing pretty good for us. People would just as soon buy it here than walk over to Publix, where there are so many people," Lander said.
Roger Lenzi, Vero Prime owner, sees the dining dilemma as twofold. "People are afraid to go out, but also because of the pandemic, people can't afford to go out."
Vero Prime has lost that portion of its clientele that would stop by for a drink or a bite to eat before heading out to see a show – because there aren't any shows right now.
"Compared to last year, we're a considerably different business. I think most restaurants in town are surviving, maybe not making money, but at least they're surviving," said Lenzi.
Joey Replogle, general manager at the Ocean Grill, one of the oldest dining establishments in Vero Beach, attributes the restaurant's longevity to a loyal clientele. While dine-in numbers are down, he said, a great deal of business comes from takeout now, something the restaurant didn't previously offer.
"They want their duck, prime rib and grouper. If they've got genuine concerns, they've been getting it to go. We've got a few people who get to-go from us three days a week," said Replogle, who plans to continue takeout operations even after the pandemic is a distant memory.
Amalfi Grill owner Bob Rose decided to close his restaurant for three months to restructure and bring on a new chef. Now back open, he said, "we've had to adjust to what's going on and do the best we can with what's being thrown at us. We have to make sure we're putting on a good product and making sure that we are food driven.
"We're starting from scratch. COVID has changed the game for everybody, and not having outside dining is a drawback."
Chill & Grill chef-owner Scott Birch said "we're doing what we have to do to keep the doors open."
Last year at this time, recalled Birch, the restaurant was serving about 140 dinners a night. "When the pandemic started in March, I think every restaurant in this area was booming. We were doing the best we've ever done. Now we're only doing 60 to 70 covers a night."
At the same time, the restaurant is now doing three times the number of to-go and takeout orders as in past years, and Birch has plans to add pre-made food to the menu after the holidays.
"We'll do whatever it takes to stay open until everybody is not afraid to go out," added Birch.