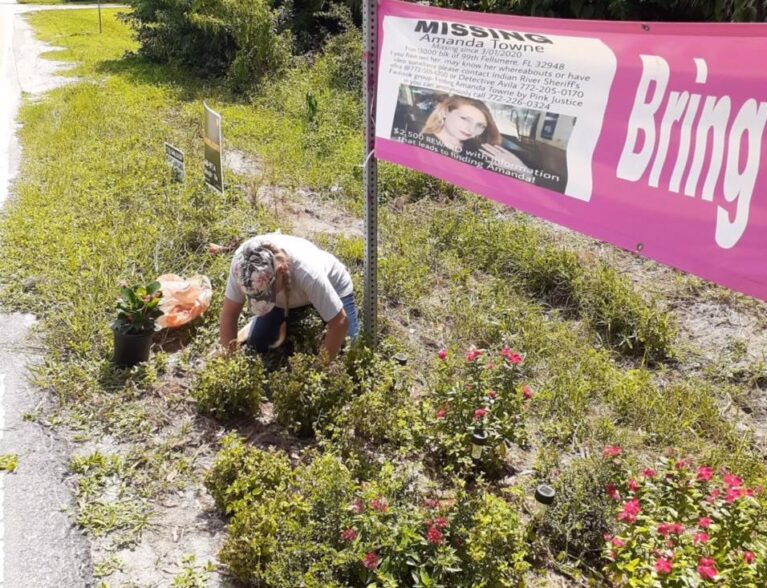 FELLSMERE — Ruthann Towne's grandchildren only have one birthday wish this year – that their mother Amanda Towne will come home.
"They whispered it in my ear during their birthday celebrations," Ruthann Towne said of two of her grandchildren who celebrated their birthdays in June and August. Her third grandchild has an upcoming birthday in October, she said.
"The kids are having a hard time," said Ruthann Towne, 55 of Broward County, who also has her own hopes to see her daughter walk into their lives again.
Wednesday, Ruthann Towne traveled to Fellsmere for the first time since her daughter Amanda Towne vanished from the small city of nearly 6,000 residents. Members of Pink Justice, a nationwide group dedicated to finding missing people, joined Ruthann Towne as they searched wooded lots, roadways, and anywhere else they could in the rural, north Indian River County town for any traces of Amanda Towne.
"I did a lot of praying before I got up here," Ruthann Towne said. "It's still overwhelming and emotional. I don't wish this upon anyone."
Towne, who was 27 when she disappeared, was last seen at 3 a.m. March 2 at a residence in the 13400 block of 99th Street in unincorporated Fellsmere, Indian River County deputies said.
Six months later, Towne's family still has no answers on what happened to the mother of three. The family is offering a $2,500 reward for anyone with any information on Amanda Towne's whereabouts.
"I'm human. I try to be a rock for a lot of people but I'm breaking too," Ruthann Towne said.
Members of Pink Justice have searched for Amanda Towne since she went missing, including in wildland areas and near the C-54 canal. This week, the group brought Ruthann Towne to a different canal near 141st Street in Fellsmere where they found some of Amanda Towne's belongings a few months back, said Founder Erika Torok, 44, Vero Beach.
Torok could not speak about the items because of the active investigation. Indian River County deputies continue to search for the missing mother.
Bring Amanda Home
On a stretch of roadway along County Road 507 and South Carolina Avenue in Fellsmere sits a banner with Amanda Towne's picture. The sun-beaten banner reads "Bring Amanda Home."
It was the same location where Amanda Towne's son R.J., 13, planted flowers on June 4, honoring his mother's 28th birthday. Ruthann Towne on Wednesday carefully dug through the soil and placed Crown-of-thorns plants just beneath the banner.
Ruthann Towne said she picked the flowering plant because she knew they would last in the elements, including the withering heat. Torok joined Ruthann Towne as the grandmother made a plea during a Facebook livestream for anyone with information on her daughter's disappearance to come forward.
"No one has seen or heard from her. Every day her children ask us where she is. It's heartbreaking," Ruthann Towne said in the livestream. "I am pleading for everyone to take a moment and think back in early March. If there was anything anyone saw or heard that was unusual or didn't seem right, make an anonymous phone call (to authorities.)"
Ruthann Towne also asked for the public's help April 2 during a news conference at the Indian River County Sheriff's Office. On June 27, LaPorte Farms in Sebastian hosted a candlelight vigil, attended by Towne's family, friends and co-workers.
Search for Amanda
On March 6, Indian River County deputies issued out an alert asking for the public's help to find Amanda Towne.
Deputies used K-9 dogs, a helicopter and a dive team to search different areas in Fellsmere, sheriff's spokesman Maj. Eric Flowers previously said. Deputies said Towne was last seen wearing a camouflage hooded sweater with a zipper, dark-colored spandex pants and dark colored flip flops.
Torok said Pink Justice members continue to look for any traces of those items, along with Amanda Towne's small dark-colored purse and ID she had when she vanished.
In April, deputies searched the entire property where the mother was last seen. Deputies recovered some of Amanda Towne's personal items and also seized an older model blue GMC vehicle from the home.
"We will search for DNA on the items," Flowers previously said. "We've talked to dozens of witnesses and have several persons of interest. We're trying to recover anything we can to find Towne and make an arrest."
Sheriff's Detective Luis Avila previously said Towne's brother lived at the residence. Deputies said Towne did not have a vehicle.
Anyone with information on the case should contact the sheriff's office at 772-569-6700 or Avila at 772-205-0170. Ruthann Towne said she hopes someone with information will make that phone call so the family – including her three children – can have a sense of closure.
"Everyday I get calls asking for updates," Ruthann Towne said. "My daughter touched a lot of lives. She was very blessed."