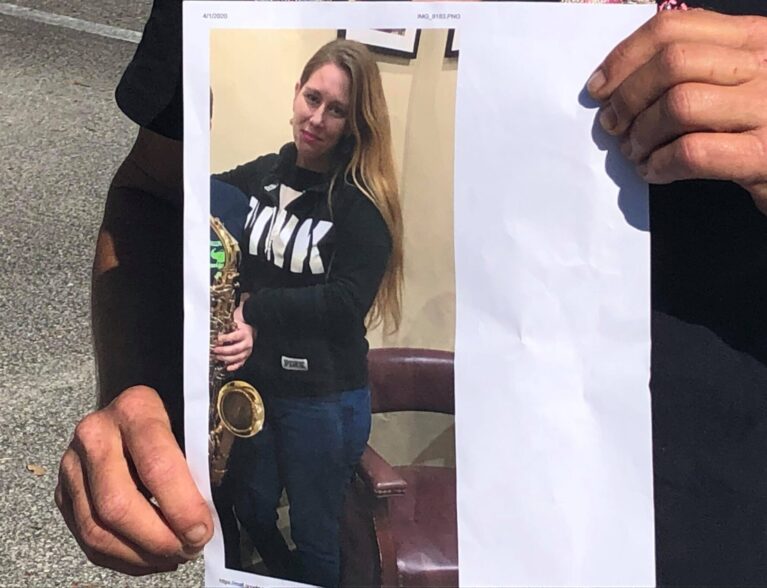 INDIAN RIVER COUNTY — Deputies are inspecting evidence – including items belonging to Amanda Towne – that they hope will bring officers closer to finding the missing mother of three children.
Towne, 27, of Fellsmere, hasn't been seen since March 2. On Friday, Indian River County deputies searched a home in the 13400 block of 99th Street in unincorporated Fellsmere, where Towne was last seen, sheriff's spokesman Maj. Eric Flowers said.
"We've recovered some of her items from inside the home. We will search for DNA on the items," Flowers said. "We've talked to dozens of witnesses and have several persons of interest. We're trying to recover anything we can to find Towne and make an arrest (in the missing person case)."
Flowers could not release further details on items seized from within the single-story residence, located in a rural area near abandoned orange groves. Flowers said deputies also recovered an older model blue GMC vehicle from the home.
Flowers said deputies searched the entire property, including the front and back yard.
Detective Luis Avila previously said Towne was last seen at her brother's home. Deputies said Towne did not have a vehicle, and suspect she might have left the residence on foot.
Towne was last seen wearing a camouflage hooded sweater with a zipper, dark-colored spandex pants, and dark-colored flip flops. It was unclear where she could have been headed.
Flowers said deputies have been speaking with Towne's family. On April 2, Ruth Ann Towne, mother of Amanda Towne, made an emotional plea at a news conference asking for help in finding her daughter, a waitress and bartender.
Ruth Towne, 55, of Broward County, said the family is offering a $2,500 reward for anyone who knows Amanda Towne's whereabouts.
Ruth Ann Towne speaks about her daughter, Amanda Towne, 27, who has been missing since March 2. Deputies have been searching for the mother of 3, but have had no luck so far. #VeroNews pic.twitter.com/5yZzuJ3Sya

— Nicholas Samuel (@JournalistNickS) April 2, 2020
"Amanda, should you see this broadcast, know that you are truly loved by so many people. There are a lot of people looking to bring you home to your loved ones, and especially your three beautiful children," Ruth Towne previously said at the news conference held at the Indian River County Sheriff's Office.
"To the people who know where she is, for a moment, look within your soul and conscience and do the right thing. Make an anonymous call to the authorities and let them know where Amanda is."
Ruth Towne said her daughter has a beautiful heart and is a beautiful person all around. The single mother's mysterious disappearance has left community members bewildered.
The sheriff's office, the lead agency investigating the case, and Fellsmere police are working with residents to help find Towne. Deputies are heading the case because the home where Towne was last seen is in the sheriff's office jurisdiction.
On March 6, deputies issued out an alert on Facebook asking for the public's help to find the missing woman. Deputies used K-9 dogs, a helicopter, and a dive team to search different areas in Fellsmere, Flowers said.
Flowers said deputies are working closely with members of Pink Justice, a nationwide advocacy group dedicated to finding missing adults and children. Members have been searching for Towne every day since the week she was reported missing.
The group has searched in wooded areas and near the C-54 canal, Founder Erika Torok-Cole previously said. Torok-Cole said the daily searches will continue unless the state orders a mandatory lockdown.
"We've used boats, four-wheelers, kayaks, horses and drones," Torok-Cole previously said. "The deputies have been out there all day searching with us. The sheriff's office has done an amazing job."
Anyone who has information on Towne's whereabouts should contact sheriff's public safety dispatch at 772-978-6240. Callers can remain anonymous by contacting Treasure Coast Crime Stoppers at 1-800-273-TIPS or tcwatch.org.
Photos taken April 2, 2020, by Kaila Jones and Nick Samuel