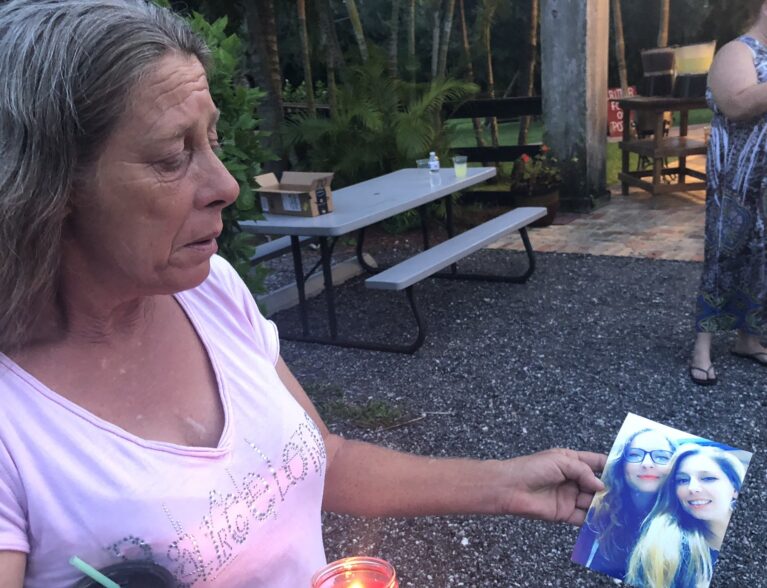 SEBASTIAN — It was June 4, Amanda Towne's 28th birthday.
On a stretch of roadway along County Road 507 and South Carolina Avenue in Fellsmere, her 13-year-old son R.J. planted flowers near a banner emblazoned with his mother's name.
The banner reads, "Bring Amanda Home." Towne, who has three children, was last seen four months ago in Fellsmere. The June 4 event was supposed to be a vigil, but was canceled because of rainy weather.
"She was very lovable. She was always a ray of sunshine," said Brianna Brecht, 27, Sebastian, who previously worked with Towne at Mulligans. "She was a hard worker. We were best friends. She was a joy to be around."
On Saturday, LaPorte Farms stepped up to host a new vigil at 7:30 p.m., attracting about 30 people. The nonprofit organization is located at 7700 129th Street, Sebastian.
"(Towne) is a mother and a daughter," said Laura LaPorte, founder of LaPorte Farms. "I felt the community needed to come together. My heart is broken for her and her children."
The memories of Towne, described as sweet and lovable, resonated with her family, friends and co-workers during the vigil.
Brecht held back tears as she thought about the woman who she described as a "very happy girl." Towne's mother, Ruth Ann Towne, and R.J. were in attendance.
"She's not forgotten. Our family doesn't forget everyday," said Ruth Towne, 55, of Broward County. "I thank every one of you. I can see the love. I pray my daughter can see the love that all of you show."
Ruth Ann Towne, mother of missing woman #AmandaTowne, speaks at candlelight vigil Saturday at @LaPorteFarms. #VeroNews pic.twitter.com/gzAQbHqChr

— Nicholas Samuel (@JournalistNickS) June 28, 2020
Towne's family is offering a $2,500 reward for anyone who has information on the woman's whereabouts.
Attendees at the vigil gathered in a large circle just before sundown. Pastor John Stevens, of Community Baptist Church Sebastian, said a prayer before holding a moment of silence for Towne.
"There's power in prayer," Stevens said. "The Lord hears our cries."
After the prayer, Brecht handed Ruth Towne a picture showing Brecht and Amanda Towne together, smiling and glowing. When the vigil ended, attendees were offered cookies, lemonade and sweet tea.
Missing since March
Members of Pink Justice, a nationwide group dedicated to finding missing adults and children, have been searching for Towne everyday since the week she was reported missing. Indian River County deputies said Towne was last seen about 3 a.m. March 2 at a residence in the 13400 block of 99th Street in unincorporated Fellsmere.
In late April, deputies searched the entire property and recovered an older model blue GMC vehicle and some of Towne's personal items. The single-story home is located in a rural area near abandoned orange groves, deputies said.
"We will search for DNA on the items," Indian River County sheriff's spokesman Maj. Eric Flowers previously said. "We've talked to dozens of witnesses and have several persons of interest. We're trying to recover anything we can to find Towne and make an arrest (in the missing person case)."
Deputies said Towne did not have a vehicle and suspect she might have left the home on foot. Towne was last seen wearing a camouflage hooded sweater with a zipper, dark-colored spandex pants and dark-colored flip flops.
Pink Justice members have searched for Towne in different areas throughout Indian River County – mostly Fellsmere – and also Brevard County, member Stacy Santos said. Santos, who is also a relative of Towne, said the search for the missing mother is personal.
"The community support has brought a lot of people together," said Santos, 43, Fellsmere. "Everybody's very helpful and concerned."
Not giving up
Pink Justice Founder Erika Torok, 44, Vero Beach, said she is thankful LaPorte Farms offered to host the vigil after it was previously canceled. The search group will not give up until Towne is found.
"She needs all the help she can get to be found," said member Elizabeth Griffin, 47, Melbourne. "It could've been my son searching for me."
Eager to learn
When Towne left her job at Mulligans in Sebastian, she started working at Sebastian's Roadside Restaurant, her co-workers said. Employee Michele Packard said Towne was working as a server at the family restaurant for about two weeks before she went missing.
"She was so eager to learn everything," said Packard, 54, Sebastian, who trained Towne. "She was sweet and helpful. All she wanted to do was help everybody."
Packard said Towne would often talk about her children. Packard said Towne was focused on getting a car so she could drive her kids to different places.
"She couldn't wait to get a car," Packard said. "She already had a blue car in mind."
Packard said Towne, who she described as a fast learner, also loved different shades of lipstick.
"She was happy, bubbly and sweet," Packard said. "She wanted to fit in and be part of the family."
Anyone with information on Towne's whereabouts should contact the sheriff's office at 772-569-6700 or Detective Luis Avila at 772-205-0170.
Photos by Nick Samuel and provided by Erika Torok
This story will be updated.