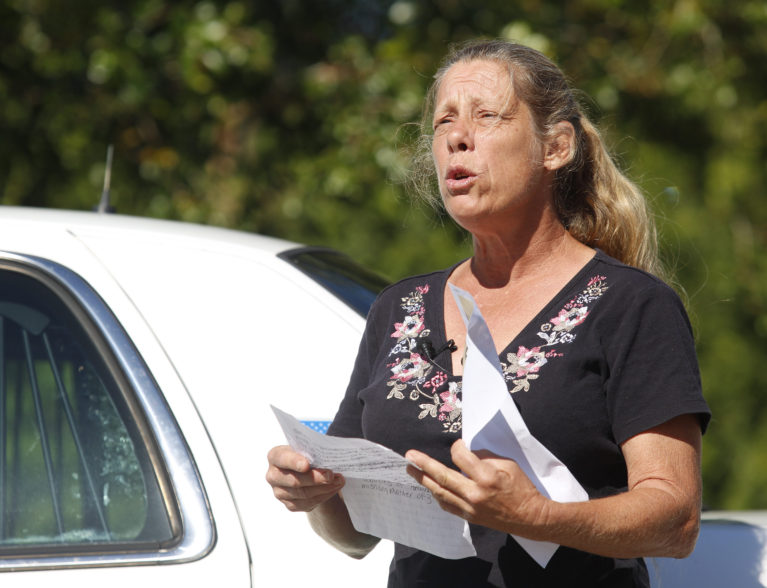 INDIAN RIVER COUNTY — Ruth Ann Towne held up a picture of her daughter, Amanda Towne, as she spoke Thursday about the woman's mysterious disappearance. Amanda Towne, 27, of Fellsmere, hasn't been seen since March 2.
"Amanda, should you see this broadcast, know that you are truly loved by so many people. There are a lot of people looking to bring you home to your loved ones, and especially to your three beautiful children," Ruth Ann Towne said during a news conference at the Indian River County Sheriff's Office. "To the people who know where she is, for a moment, look within your soul and conscience and do the right thing. Make an anonymous call to the authorities and let them know where Amanda is."
The Towne family is offering a $2,500 reward for anyone who knows Amanda Towne's whereabouts.
Ruth Towne, 55, of Broward County, has had trouble sleeping in the weeks after her daughter disappeared last month. Ruth Towne said her daughter, a waitress and bartender, usually kept in touch with her family.
"She has a beautiful heart," Ruth Towne said. "She's a beautiful person all around."
Ruth Ann Towne speaks about her daughter, Amanda Towne, 27, who has been missing since March 2. Deputies have been searching for the mother of 3, but have had no luck so far. #VeroNews pic.twitter.com/5yZzuJ3Sya

— Nicholas Samuel (@JournalistNickS) April 2, 2020
Ruth Towne said she last spoke to Amanda Towne on March 1, the day before she vanished. Deputies said Amanda Towne was last seen about 3 a.m. March 2 in the 13000 block of 99th Street in Fellsmere.
Detective Luis Avila said Amanda Towne was at her brother's home. Deputies suspect the woman, who did not have a vehicle, left the residence on foot.
Amanda Towne was last seen wearing a camouflage hooded sweater with a zipper, dark-colored spandex pants, and dark colored flip flops. It was unclear where she was headed.
The case unfolded when Ruth Towne couldn't reach her daughter. She knew something was wrong. That's when Ruth Towne called the sheriff's office to conduct a welfare check on Amanda Towne, a single mother.
"I'm in disbelief. She usually touches base with all of us," Ruth Towne said. "We're hoping for a good outcome. I wouldn't wish this up anyone. No one should have this feeling. It's horrible."
Community searches for Amanda
Several residents, including family members and those who did not know Amanda Towne, joined to help search for the missing woman. Law enforcement also tried to find Amanda Towne.
"We will never give up until Amanda is found," said Summer Dawn, 38, of Palm Bay. "She's a beautiful lady. Somebody needs to come forward."
On March 6, deputies issued out an alert on Facebook asking for the public's help to find the missing woman. Deputies used K-9 dogs, a helicopter and a dive team to search different areas in Fellsmere, sheriff's spokesman Maj. Eric Flowers said.
Deputies have had no luck on leads or finding any possible evidence. Even with the coronavirus pandemic causing massive business closings and statewide stay-at-home orders, Flowers made it clear that Amanda Towne's case is still active.
"Somebody out there knows something. She could be anywhere," Flowers said. "We're looking for any leads, anything we can find."
Members of Pink Justice, a nationwide group of advocates dedicated to finding missing adults and children, have been searching for Amanda Towne every day since the week she was reported missing. The group held two big searches with at least 40 people last weekend in Fellsmere.
Erika Torok-Cole, founder of Pink Justice, said the group searched in wooded areas and in the C-54 canal. Torok-Cole said the daily searches will continue unless the state orders a mandatory lockdown.
"We've used boats, four-wheelers, kayaks, horses and drones," Torok-Cole said. "The deputies have been out there all day searching with us. The sheriff's office has done an amazing job."
Torok-Cole has spoken with Ruth Towne by phone, even though the two haven't met in person. Torok-Cole said Ruth Towne is a sweet woman.
"My heart breaks for her," Torok-Cole said. Ruth Towne said Pink Justice is an excellent organization and that she is thankful for them.
Torok-Cole said Pink Justice members across the state are doing what they can to help find Amanda Towne. She thanked the group members, the community and the sheriff's office for putting their hearts into the search efforts.
"If my family member went missing, I would want my community to come together too," Torok-Cole said. "It takes an army."
Anyone who has information Amanda Towne's whereabouts should contact sheriff's public safety dispatch at 772-978-6240. Callers can remain anonymous by contacting Treasure Coast Crime Stoppers at 1-800-273-TIPS or tcwatch.org.
Photos by Kaila Jones