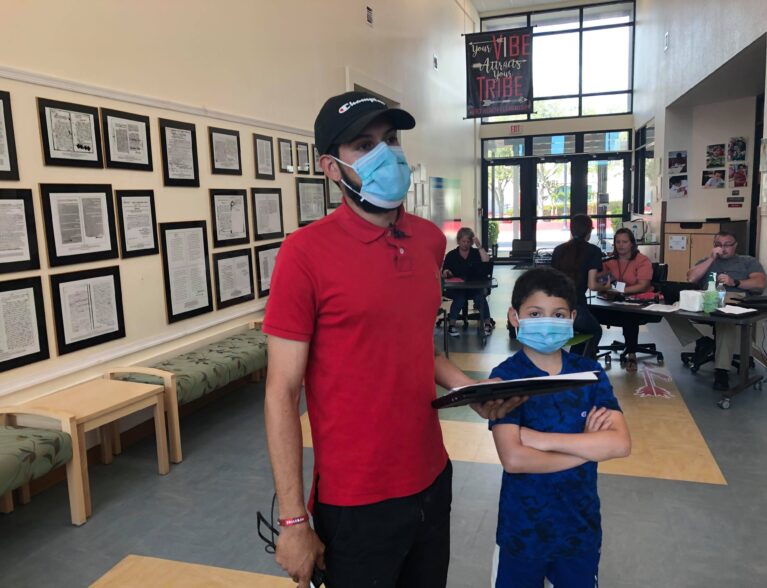 INDIAN RIVER COUNTY — Elijah Cuevas wore a medical mask as a school district worker leaned over and gave him and his father a laptop Wednesday morning.
The 6-year-old, who like other Indian River students will have to stay home because of the coronavirus outbreak, loves mathematics and is happy he'll get to spend more time with his father, Santiago Giraldo. Schools in the state will be closed until April 15th as the nation faces a public health emergency involving the virus, also known as COVID-19.
The district began issuing out laptops Wednesday as part of its instructional provision plan to continue educating students after the March 23 – March 27 spring break.
"Education is my favorite thing. I'm happy to spend more time with my dad," said Elijah Cuevas, who is a first-grade student at Vero Beach Elementary. "He did a lot of things for me."
Giraldo also donned a mask as school officials gave out one laptop to each family at different campuses. The School District of Indian River County has more than 10,000 laptops – giving students and parents access to online instruction – for those who don't have computers.
The mobile device distribution schedule can be found on the school district's website. The district also launched its mobile café this week to feed students during the closings.
Family comes first
For Giraldo, making sure his son still receives his education and that his family is safe during this unprecedented time is a must.
"It's scary. I think everyone took it as a joke when (the virus) was overseas, but now that it's here people are taking it serious," said Giraldo, 27, of Vero Beach. "I took off work to make sure Elijah continues his education."
Giraldo said his wife has a weak immune system because of her pregnancy. The roofer said he is worried she could catch the contagious infection.
The father also talked with his son about the dangers of the coronavirus.
"My dad wasn't there for me. That's why it means so much more for me to be there for my family," Giraldo said. "I'm concerned for my mother. She's living by herself."
Giraldo said his family, including his mother, already stocked up on items. The Giraldo family's favorite activities – including going to the movies, beaches, parks and skating rinks – are on hold for now as they practice social distancing.
Tuesday, Gov. Ron DeSantis advised individuals to not congregate in groups of more than 10 people. DeSantis also ordered all bars and nightclubs to close for 30 days, and for restaurants to limit their capacities down by half.
Laptop pickup
School officials made sure there was space between everyone during laptop distribution. Some families at Vero Beach Elementary waited in line while others sat on benches underneath the shade, escaping the sun's hot rays.
Some parents are concerned they might lose their jobs because of the novel coronavirus. Several local businesses, including ULTA Beauty, announced temporary closings and layoffs this week.
Giraldo said he is worried his job might be impacted.
"I work for a small company," Giraldo said. "I'm concerned about layoffs."
Sherry Darling said she was shocked when authorities announced the school closings. Darling, 43, of Vero Beach, said she is very thankful to the schools for issuing the laptops.
Darling has two boys, second-grader Jacovan Jelks and third-grader Jaden Darling. Both attend Vero Beach Elementary.
"They're very excited to receive the laptops," Darling said. "I'm happy they're doing this for our kids."
The certified nursing assistant said she had to stop going to work to make sure her children have the proper educational tools while campuses are closed. The mother said she is worried about her job.
Resident Denise Miles said the laptop distribution is a brilliant idea.
"The kids can still learn while they're out of school," said Miles, 46, of Vero Beach. "I'm happy there will still be schooling. I'm very proud of the help from teachers, volunteers and staff to help kids with their education."
Miles, who is also a CNA, works the overnight shift. That means she will be able to spend time with her 10-year-old son, Chanton Taylor, during the daytime while schools are closed.
"That makes me feel good," said Taylor, a fifth-grader at Vero Beach Elementary.
Photos by Kaila Jones and Nick Samuel