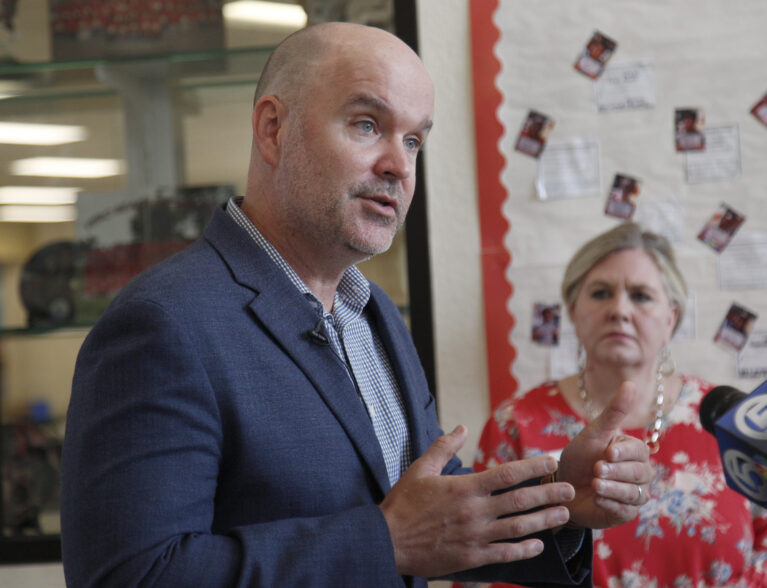 In the midst of uncertainty after statewide school closings caused by the coronavirus outbreak, local officials are making sure students still learn from home and have access to teachers.
"It's a challenging situation. We're working to make sure (teachers) are available to families. We will implement flexible times (for employees)," Schools Superintendent David Moore said during Wednesday's laptop distribution. "Everyone's working together. Folks are getting their laptops with happiness."
.@IRCSchools Supt David Moore talks about laptop distributions and plans to keep students learning from home. #VeroNews pic.twitter.com/A6fGZqYNe2

— Nicholas Samuel (@JournalistNickS) March 18, 2020
School officials will also give out laptops to families on Thursday and after spring break. Moore said the district has more than 10,000 laptops – one for each family that doesn't have a computer.
Spring break for students in the county is March 23 through March 27. Students will resume their assignments using their laptops when they return.
The mobile device distribution schedule can be found on the School District of Indian River County website.
Moore said school officials will provide training to teachers over the spring break for online instruction. Students and parents will be able to communicate with teachers through the online portals and by phone or email.
Moore said the instructional provision plan will stay in place if the schools closure date is extended beyond April 15. The schools will provide students with access to free hotspots – or wireless internet connections – through Comcast and Xfinity, Moore said.
"I want to keep it as fun and exciting as possible," Moore said.
Moore said employees have been advised to stock up on whatever grocery or household items they need. The superintendent said assessments have been cancelled for the end of the year.
It was unclear how the coronavirus would impact graduation at local schools. Some students will miss out on advanced placement exams and college scholarships.
"I'm concerned. Parents are concerned," Moore said. "Seniors need a certain score to graduate."
The coronavirus, also known as COVID-19, originated in China, but slowly made its way to the United States as individuals traveled back and forth by plane to their destinations. As of Wednesday evening, there were 299 Florida residents diagnosed in the state with the illness, causing eight deaths so far, state health officials said.
School leaders remain calm and reassuring to families during this unprecedented time. There are more than 18,000 students enrolled at local campuses, including charter schools.
School Board Chairwoman Laura Zorc commended Moore for his leadership in having an organized, thorough plan in place before the school closings.
"Moore is a very strong leader with management process and procedure skills. That came into play this past week," Zorc said. "We were hoping for the best and planning for the worst."
Photos by Kaila Jones