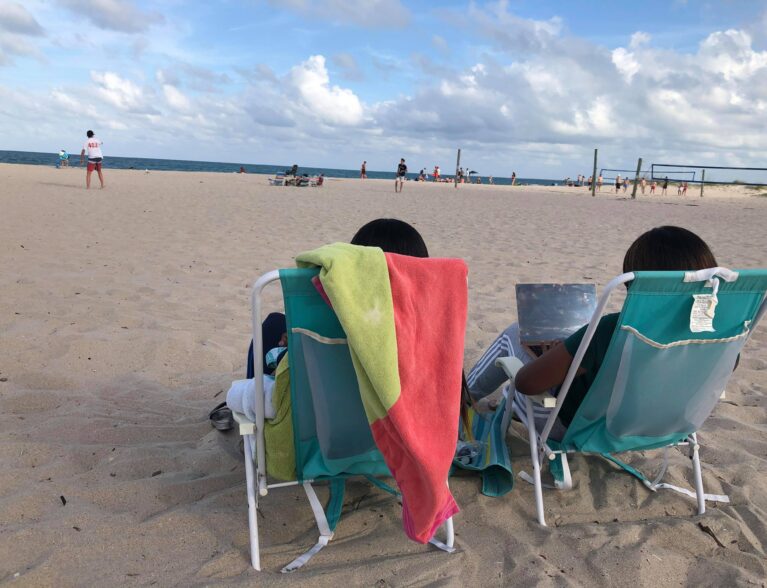 VERO BEACH — After evacuating the Bahamas to escape Hurricane Dorian's destructive passage last year, Diane Sawyer found refuge at a temporary home in Vero Beach.
Now, Sawyer is making sure she follows protocols again as another threat – this time a virus – swiftly makes its way across the globe, affecting more than 168,000 people, and leaving behind more than 6,000 deaths, the World Health Organization shows. Monday, Sawyer went to South Beach Park to enjoy the sand and sun, but to also practice social distancing amid the coronavirus outbreak.
"We have to be sensitive of what's going on," said Sawyer, 42, of Vero Beach. "We have to listen to the Center for Disease Control and Prevention. If they said keep our distance from other people, I think that's good wisdom."
Sawyer, her daughter Sierra Moss, and several residents enjoyed the calm and mellow mood at South Beach Park. There was not a sense of panic.
Some beachgoers listened to the sound of the waves as they made sure to keep distance from people. Others, traveling in groups, played volleyball.
"I'm not frightened or timid," Saywer said.
Sawyer said she has already stocked up on groceries and household items. Repairs are being made on her damaged home in the Bahamas.
Moss attends college at Barry University in Miami Shores. Moss said her college – along with several other academic institutions – has shut down for the entire semester and that classes will be held online.
As city and county officials began cancelling several future events and meetings, it was unclear if the beaches would also close. Erik Toomsoo, president of Vero Beach Lifeguard Association, said beaches in Fort Lauderdale and Miami have already shut down.
"The big question is how will local government handle it?" Toomsoo said. "I think we can anticipate more beach closings (in the state)."
Other states have issued orders to close restaurants and bars in an attempt to prevent the virus from spreading further.
The CDC recommended that organizers cancel or postpone in-person events that consist of 50 or more people for the next eight weeks. Monday, the White House Task Force recommended people avoid crowds of more than 10 people.
Toomsoo said thousands of people went to the city beaches this past weekend. Toomsoo noted March is the busiest month for beaches.
"We saw Fourth of July numbers," Toomsoo said. Toomsoo said it's okay for beachgoers to have fun, as long as they heed advice from health experts.
Toomsoo said several athletic teams from out of town also hit the beach. Some teams, including a softball team from Canada, had tournaments that were cancelled because of the coronavirus, Toomsoo said.
Beachgoers Richard and Anna Beer enjoyed reading their favorite books as they soaked up the sun at South Beach Park. Richard Beer, 70, read "They Bled Blue," a book about the L.A. Dodgers' 1981 season, while Anna Beer, 72, read "Battle Cry of Freedom: The Civil War Era."
The Beers live in Virginia, but also have a home in Vero Beach they travel to during the winter.
"(The beach) is a good place to be. You're not too close to people," Richard Beer said. "We still want to be around other people. The weather's perfect, temperature is perfect."
The Beers arrived in town in January and plan to leave next month. But, the coronavirus outbreak might put their plans on hold.
"We're happy to be here," Anna Beer said. "We hope the bug doesn't come to Vero and that businesses bounce back."
The novel virus, known as COVID-19, originated in China in late 2019. The illness slowly made its way to the United States as people traveled back and forth by plane to their destinations.
Sunday, there were at least 142 Florida residents diagnosed with the virus, including five people who died, according to Florida Department of Health. As of Sunday evening, there were no confirmed cases of the illness in Indian River County.
Beachgoer Joe Norton hit South Beach Park with his brother Bob. Joe Norton read the book drama "Wish You Well" while his brother laid on a towel looking up at the blue sky.
Joe Norton said he's not sure what to think about the coronavirus.
"(The number of people affected) grows more everyday. At first I thought it was sensationalism, but with more and more closings, it's getting scarier," said Joe Norton, 68. "It's a shame for people and businesses that events are being cancelled. If the restaurants close, that'll be something."
Joe and Bob Norton live in Delaware, but also have a home in Vero Beach. The brothers said they plan to go grocery shopping Monday night to stock up on items.
"There was no toilet paper or water at the store the other day," Joe Norton said.
Besides hitting the beach to practice social distancing, the Nortons also took a boat trip from the Vero Beach City Marina to the Jupiter Inlet, and then out to the ocean.
"There was no coronavirus out there," Joe Norton said. "The only Corona we had was a beer. We're fighting corona with Corona."