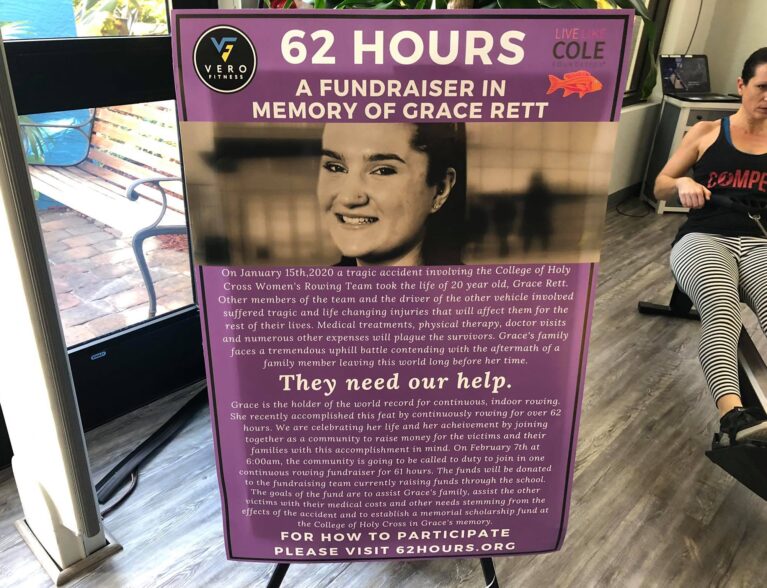 VERO BEACH — Police issued a citation Tuesday against a rowing team coach and van driver they said failed to yield the right of way in a fatal Jan. 15 wreck at the Merrill P. Barber Bridge.
Patrick Diggins, 55, of Massachusetts, must pay $148, Vero Beach police spokesman Master Officer Darrell Rivers said. Rivers said the case is closed and that no criminal charges will be filed against Diggins.
"It was an accident. There was no criminal intent," Rivers said.
The citation comes several days after Diggins announced his retirement from College of the Holy Cross in Worcester, Massachusetts. Diggins, an award-winning coach, worked at the college for 34 years, college officials said.
The deadly wreck Diggins was involved in shook the community and moved officials to review the safety of traffic signals at busy intersections.
Police said Diggins was driving a van – carrying several Holy Cross Crusaders rowing team members – on southbound Indian River Boulevard. Diggins made a left turn to get to the bridge, driving into the path of an oncoming red Dodge pickup, officials said.
The northbound pickup, driven by 55-year-old Ronald Edward Wolf, of Fort Pierce, slammed into the front-passenger side of the van. The impact killed 20-year-old rowing team member Grace Rett, a sophomore from Uxbridge, Massachusetts.
Eight others were seriously hurt, including other teammates, Diggins and Wolf.
All patients were released from the hospital by late January. A police report showed Diggins failed to yield the right of way in the collision.
Several witnesses told police lights on both sides of the street were green. But, they said there was no green arrow for Diggins to make a left turn.
Police recently installed a new traffic signal at the intersection. The signal shows a flashing yellow arrow – instead of a traditional green dot – to notify motorists to proceed with caution.
Officers also installed speed trailers on north and southbound Indian River Boulevard to remind drivers of their speed. It was still unclear how fast the vehicles were traveling that were involved in the wreck.
The posted speed limit on Indian River Boulevard is 45 mph.
Several tributes were made to pay respect to Rett and others who were hurt in the wreck. Other tributes were made on social media congratulating Diggins on his retirement.