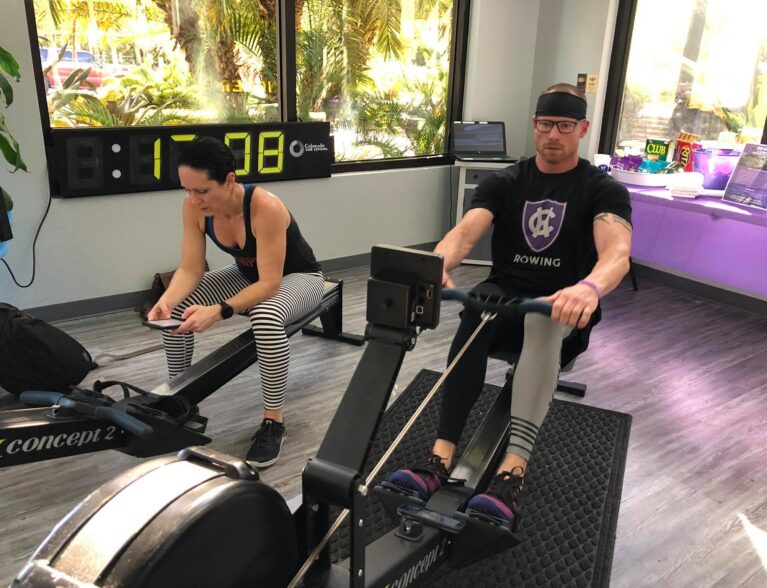 VERO BEACH — It's a day he will never forget.
Matt Harrelson was one of the first policemen to pull up to the wreckage of a head-on collision between a silver van carrying a rowing team and a red Dodge pickup. The Vero Beach lieutenant, firefighters and paramedics rushed to the mangled van – sitting at the intersection of the Merrill P. Barber Bridge and Indian River Boulevard – to pull out members of College of the Holy Cross Women's Rowing Team.
Some team members in the back seats were able to climb out on their own, Harrelson said. Others toward the front had broken bones.
"It was a pretty traumatic scene because of the number of victims and major injuries," Harrelson said. "It's really rough. You know the pain they're in. You know they have broken bones. But, in order to get them out, you have to move them."
The Jan. 15 crash killed 20-year-old sophomore rower Grace Rett, of Uxbridge, Massachusetts, and left several others seriously hurt. The injured were taken to a trauma center; all have since been released.
"None of the girls were from Vero. But, because of the crash, they'll always be part of this community," Harrelson said.
Saturday, Harrelson wore a black T-shirt with a College of the Holy Cross Rowing logo as he participated in a 62-hour indoor rowing event at Vero Fitness. The fundraiser – where participants are allowed to row for one hour each – was created to help pay for medical costs for the crash victims and for Rett's family.
"The crash was traumatic for first responders too. This event is therapeutic in its own way," Harrelson said.
.@VeroBeachPD Lt. Matt Harrelson talks about why he chose to participate in the 62-hour indoor rowing event at Vero Fitness to show respect for the victims of a fatal Jan. 15 crash involving @HCrossWRowing members. #VeroNews pic.twitter.com/g7BoY8zHQY

— Nicholas Samuel (@JournalistNickS) February 8, 2020
Harrelson said the father of one of the victims – Maegan Moriarty, 22, of Old Lyme, Connecticut. – sent him the shirt in the mail to show appreciation for helping the girls. Harrelson also wore a purple wrist band that read 'Love the Fight.'
Harrelson said the phrase was Rett's mantra whenever she would go rowing. The lieutenant said he participated in the fundraiser to bring recognition to Rett and who she was.
The rowing event's theme was created to pay tribute to Rett's recent accomplishment of breaking the world record for indoor rowing. Rett rowed 383,000 meters, or 237 miles, in 62 hours on an indoor rowing machine.
"It was clear she was a very special person," Harrelson said of Rett, who celebrated her birthday one day before the fatal collision. "I want to help protect her legacy."
The money from the event will be sent to a team raising funds through the school. College of the Holy Cross Men's Rowing Team set up a GoFundMe fundraising page the day of the wreck, which has since garnered nearly $300,000 in donations.
A traffic crash report showed van driver and team coach, 55-year-old Patrick Joseph Diggins, of Massachusetts, failed to yield the right-of-way to the Dodge pickup. The pickup was driven by 55-year-old Ronald Edward Wolf, of Fort Pierce.
No charges have been filed in the wreck.
Community support
The horrific wreck seemed to impact many Vero Beach residents, including first responders, parents, rowers and motorists who often drive through the bridge and Indian River Boulevard. The event was the latest in a line of events held to support the families of the victims and Rett's family.
"It's a sad thing. Everyone in town was shook up about it. We drive by the intersection a lot," said Vero Beach resident Marco Redocaj, who went to the indoor rowing event with his family. "We wanted to show support."
Marco Redocaj's wife, Laura, said she came because it's a way to show Holy Cross that Vero Beach cares for those girls.
"We will always cross that bridge and think of what happened there. Life is so precious." Laura Redocaj said. "We're doing anything we can to give back and help."
Marco and Laura Redocaj's daughter, 7-year-old Ryan, is a student-athlete at Osceola Magnet School. Ryan said she was proud to participate in the indoor rowing event with her family to honor Rett and the crash victims.
"I feel inspired by (Rett's) accomplishments," Ryan said.
The community has also showed support in other ways for the crash victims. Vero Beach police temporarily put up purple ribbons around light poles on the west end of the bridge to show respect.
Officers also attached a teddy bear to one of the light poles, which symbolized Rett's life. Members of the rowing community also held a vigil for the victims at a pavilion near Veterans Memorial Island Park.
62-hour indoor rowing fundraiser:
6 a.m. Feb. 7 through 7 p.m. Feb. 9
Vero Fitness (Formerly the Jungle Club)
1060 6th Avenue, Vero Beach
No rowing experience required
More info on fundraising website
Photos by Nick Samuel