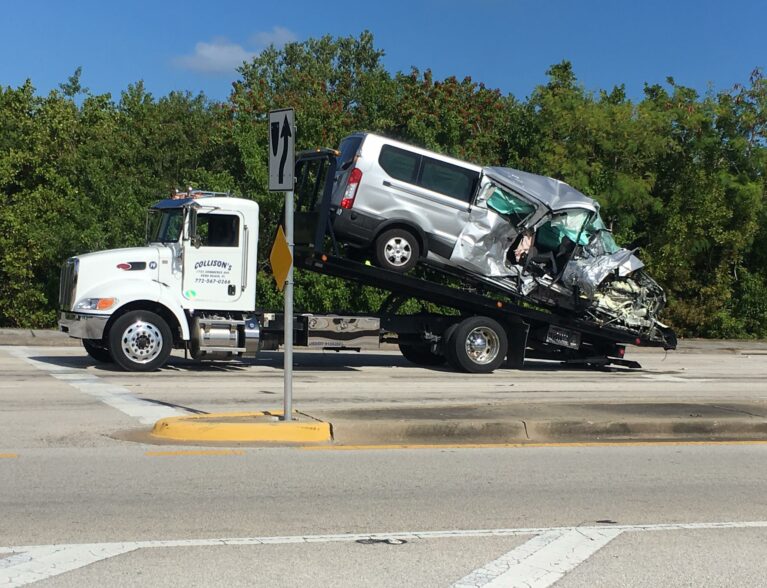 VERO BEACH — A 20-year-old rowing team member who recently celebrated her birthday died in a two-vehicle wreck Wednesday that left several others seriously injured, authorities said.
Police identified the woman as Grace Rett, of Uxbridge, Massachusetts. Rett was a sophomore and part of College of the Holy Cross Women's Rowing Team out of Worcester, officers said.
The collision that caused Rett's death led police to close lanes on Merrill P. Barber Bridge and Indian River Boulevard for several hours. The lane closures caused heavy delays on major roadways, including bumper-to-bumper traffic on State Road A1A.
Rett was recently highlighted on news outlets for breaking the world record for indoor rowing. The student-athlete's energetic and determined spirit visibly stood out as she explained to a news reporter how she rowed 383,000 meters, or 237 miles, in 62 hours on an indoor rowing machine.
Rett's team was staying in Vero Beach for winter-training in advance of competition season, Vero Beach police Chief David Currey said. The college team arrived in town Tuesday and were scheduled to practice for a week with Vero Beach Rowing Club on the Indian River Lagoon, the club's Director of Rowing Brian Colgan said.
"It's a tragedy," Colgan said.
Rett majored in English and psychology, according to school officials. Tributes poured in on social media to remember Rett, who was set to graduate in 2022.
"Heartbroken beyond," one woman commented on a Facebook post. "Grace, you were truly a shining star with the heart and determination of a lion. Thank you for being such a great friend and role model to my girls."
Currey updated the media on the wreck during a news conference Wednesday outside of the Vero Beach Police Department.
.@VeroBeachPD Chief David Currey gives update on fatal crash that killed a 20-year-old rowing team member from Massachusetts. The Holy Cross Crusaders team was in #VeroBeach for practice, Currey said. #VeroNews pic.twitter.com/mKAfCryH66

— Nicholas Samuel (@JournalistNickS) January 15, 2020
The crash – involving the silver team transit van and a red dodge pickup, happened at 7:30 a.m. Wednesday at the west end of the Barber Bridge, authorities said. The van – driven by an unidentified team coach – was traveling southbound on Indian River Boulevard when it made a left turn in front of the northbound pickup at the bridge base.
The pickup struck the van on its front right side, police said.
The wreck left both vehicles with heavy damage. The van had rowing team members along with coaches and team staff, Currey said.
It was unclear how fast each vehicle was traveling.
Officers arrived within moments and pulled out several people who were trapped in the van. A second team van with Holy Cross was behind the first van and witnessed the crash, Currey said.
The two vans were carrying a total of 20 people, Currey said. Rett was in the front-right passenger seat in the first van, carrying at least 12 people, police said.
Rett, who was wearing a seat belt, was taken to an area hospital, where she was pronounced dead, Currey said. Currey said seven other people, including the pickup driver, were flown and taken by ambulance to Lawnwood Regional Medical Center & Heart Institute in Fort Pierce.
The identity of the pickup driver – the only person in that vehicle – was not immediately released. Updates on the conditions of those with serious injuries were not available.
At least three other people were taken to Cleveland Clinic Indian River Hospital as a precaution and later released. Two tow trucks removed the heavy-damaged vehicles from the scene.
Tow trucks are about to carry away two vehicles that have heavy damage after a wreck early Wednesday. .@VeroBeachPD are investigating the crash. #VeroNews pic.twitter.com/60zZJQuDro

— Nicholas Samuel (@JournalistNickS) January 15, 2020
An unidentified woman stood and cried at the crash site as work crews cleaned up mangled debris from the roadway. Moments later, she left.
All lanes that were closed reopened by noon. The women's rowing team – known as the Holy Cross Crusaders – issued a statement on its website after the incident.
"Holy Cross has been in touch with the families of those students and coaches and is offering support for all those involved," school officials said in the statement. "We ask that you keep all those involved and their families in your prayers at this time. For those needing to talk to someone, the Office of College Chaplains and the Counseling Center are both open today."
School District of Indian River County officials offered their condolences to College of the Holy Cross.
"This morning, there was a terrible accident in our community involving a women's rowing team from Holy Cross in MA," school officials said in a social media post on Twitter. "Our heartfelt condolences go out to your school, athletes, coaches and families who were involved. Our community of IRC mourns with you, Holy Cross."
Currey said police will do a reconstruction of the crash scene. The wreck remains under investigation.
A terrible loss
Incredibly passionate, hardworking, and a light to all who knew her were just a few ways College of Holy Cross officials described Rett. A campus staff member, who did not identify herself, said Rett's sudden death left students, staff, faculty and alumni in shock and utter disbelief.
"We pray for her family and all who knew her," the woman said Wednesday during a news conference held at the school campus. "My thoughts and prayers are with her family and teammates."
The school noted that Wednesday's men's basketball game will be postponed to Thursday regarding the circumstances of the fatal crash. Rett's family and school officials were headed to south Florida Wednesday afternoon as they mourn the loss of one of their own.
"Our community has suffered a tragic loss. I extend my deepest condolences to Grace's family, members of the women's rowing team and their coaches, and all who loved Grace,"College of the Holy Cross President Rev. Phillip L. Boroughs said. "In our grief we pray that the healing power of the love of Christ will touch their hearts and provide some peace. I ask that all members of the community support one another at this time and pray for the healing of those involved in the accident."
Hundreds of students gathered at Luth Athletic Complex Wednesday to remember Rett. The campus is offering grief counseling to students, staff members and faculty.
"Today, our community is faced with unimaginable tragedy and devastating loss. Everyone who knew Grace was touched by her warm heart, tenacious work ethic and inspirational drive," Athletics Director Marcus Blossom said. "Our entire Holy Cross community is mourning today, and our focus is on supporting our Crusader students, families, faculty and staff, both here and in Florida. Our prayers are with Grace's family and all those injured in today's events. We ask for everyone's thoughts and prayers."
The Holy Cross Rowing team set up a GoFundMe page Wednesday afternoon to help raise funds for other team members injured in the wreck. The page had more than $11,000 in donations by the evening.
In a March 2018 Facebook post, Holy Cross Women's Rowing Team shared a statement from Rett after she committed to the school. The post, which includes the school logo and the words 'Welcome to the Family,' shows a photo of Rett rowing with a teammate.
"My goal was to attend an academically challenging school where I could continue my Catholic education and compete at the Division 1 level," Rett said in the post about why she chose to be a Crusader. "Holy Cross will provide me with these opportunities and allow me to become part of an amazing Jesuit community of men and women for others."
No further details were immediately available.
Photos by Nick Samuel
This story will be updated.