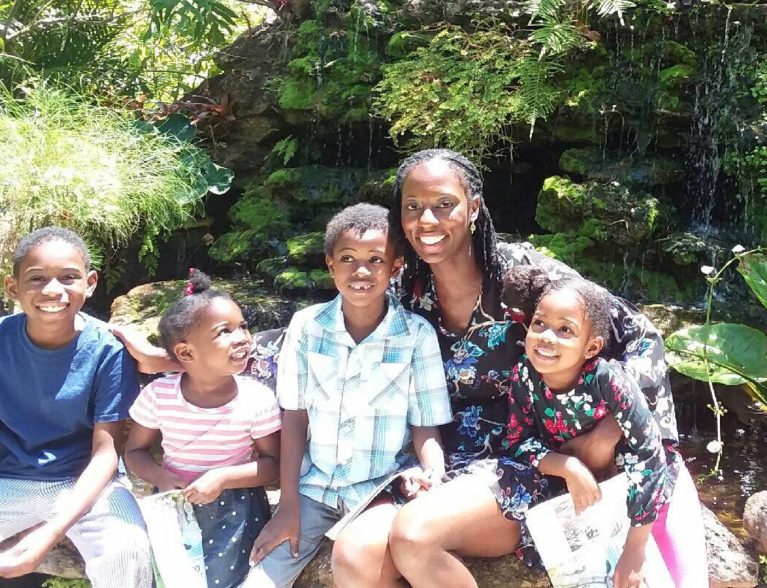 VERO BEACH — It seemed like forever.
Vero Beach mother Sabby Hightower had just gotten out of the shower, watching in horror as flames burst forward from her garage, forcing her, her four kids and her own mother to frantically run to safety. The Nov. 3 blaze destroyed the home, but the family escaped unharmed.
"I'm not giving up," said Hightower, a single mother who was recently widowed. "I do not want my kids to ever give up on life."
The community is now coming together to help Hightower and her family. It is a story of resilience as Hightower lost her father and husband in recent years, and then watched her home erupt in flames nearly two weeks ago.
The state fire marshal determined the fire ignited in the garage, spread to the residence and was accidental. It was still unclear what sparked the flames.
Most of the household items – from clothes to furniture – were damaged from smoke and from water as firefighters battled to hose down the flames. Despite losing everything, Hightower is still holding on to faith that everything will be okay.
The mother in her 20's said she and her kids, ages 3, 5, 7 and 8, were cleaning the home about 1 p.m. Saturday in the 1700 block of Highland Avenue, Vero Beach. One of her sons told her the garage had a funny smell.
Minutes later, the boy came back to Hightower and said, "Mommy, there's a fire in the garage."
Hightower, who was taking a shower, said she covered her body with a bath towel, went to the garage and saw the flames. The mother then yelled for everybody to get out of the home.
Hightower's mother, in her 50's and who uses a wheelchair, rolled herself out of the residence. Hightower, only wearing the towel, and her kids also escaped the home.
The mother said police and fire rescue crews came within seconds to battle the blaze. Neighbors began trickling out of their homes.
Hightower allowed the kids to stay at the neighbors' homes so they would not be distracted by the fire. With their home destroyed, the mother and her four children found shelter at a motel in Port St Lucie.
The grandmother is staying at another motel in Vero Beach, the family said.
Community unites to help Hightower family
Family friend Millie Del Grosso said Hightower called her two days after she lost everything in the fire and said, "I just need to see you." Del Grosso replied, "I'm coming."
"There was no way I could not help her," said Del Grosso, 70, of Vero Beach. "I had to be involved."
Del Grosso spearheaded a fundraising event for the Hightower family held from noon to 4 p.m. Sunday at the Walking Tree Brewery.
The family received more than $500 plus donated clothes and furniture.
Del Grosso said cheerleaders at Vero Beach High School passed out donation buckets to collect for the family during a football game last week. Hightower had two storage units – one from Riverside Self Storage and another from Champion Storage – donated to her.
Del Grosso said community members are helping Hightower to store clothes in the smaller unit at Champion and the furniture at the larger unit at Riverside.
"I am overwhelmed with joy," Hightower said about the community's response to her tragedy. "The (Vero) community comes with so much love and support. It is amazing."
Del Grosso described Hightower as a gracious young woman. This is not the first time tragedy struck the Hightower family.
Past tragedies
Hightower's father passed away in July 2016 after suffering a series of strokes, three days before her birthday. His last stroke left him in a non-responsive state while in hospice care.
"We had to let him go and pass on his own," Hightower said. Then, another tragedy occurred.
Hightower said she was driving to school March 8, 2017, when she called her husband, who was home making lunch for the children. When her husband did not answer, she called again.
This time, her son answered the phone, and said, "Mom, it is an emergency. Dad's on the floor." The husband went into a sudden cardiac arrest and then fell, Hightower said.
The mother said she immediately called law enforcement. Her husband was rushed to the hospital, where he was pronounced dead.
"It took me a year to process that," Hightower said. "I do not take anything in life for granted anymore."
After the passing of her husband, Hightower and her kids moved into her mother's home to help take care of her. Hightower's mother also has health care issues.
"The kids uplifted her spirits," Hightower said.
Hightower and her husband were regular clients at the Women's Care Center in Vero Beach. The center's executive director, Gerri Rorick, said the Hightowers are an outgoing and faith-filled family.
When Hightower's husband passed, the center provided grief counseling for her.
"She came back because she needed love," said Rorick, 65, of Vero Beach. "That's what we do."
Rorick said Hightower called her after the house fire for help.
"We're all rallying around her again," Rorick said.
Not Giving Up on Goals
With two family deaths plus the loss of a home, Hightower remains focused on achieving her goals. The senior at Indian River State College in Fort Pierce is set to graduate next spring with her bachelors degree in health care management.
Hightower said she also plans to earn her master's degree in health care administration from Florida Atlantic University. After that, the mother will focus on obtaining a doctorate in counseling.
Hightower regularly volunteers at a hospice house, where she provides quality care and comfort for terminally ill patients. The mother also volunteers with the local rotary club.
Hightower served as the 2018-2019 IRSC Campus Coalition Government Parliamentarian. She also served as a representative for DECA at the college, a non profit organization where she has won awards locally and nationally.
Donating to the Hightower family
Residents who would like to give can make monetary donations to the Hightower Family Emergency Fund at T.D. Bank on Route 60, Del Grosso said. For more details, contact Del Grosso at 772-713-0531.
"She is incredible," Del Grosso said of Hightower. "She is trying to keep life as normal as she can for her and her kids."