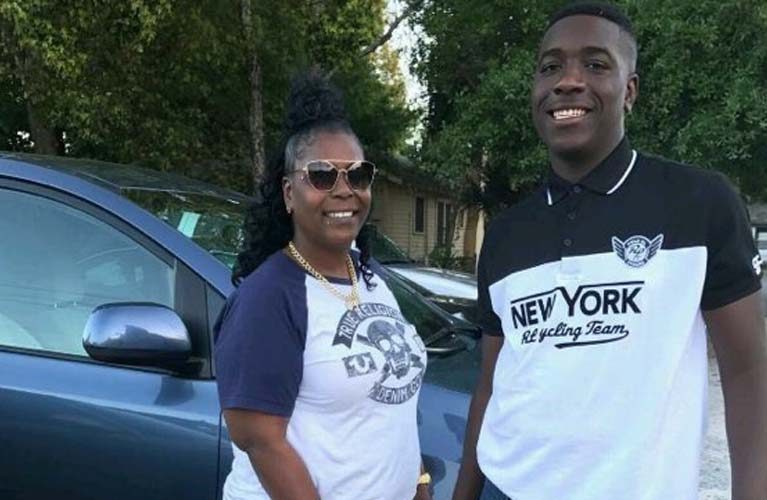 Hours before Christard Hicks was shot and killed along a street in Gifford, he was talking with his sister on the phone about going to his mother's home.
It was just nearly a week shy of what would've been his 20th birthday – edging closer to adulthood. But instead of a party, family members are now mourning the loss of a young man they said was full of life with dreams of becoming a professional baseball player.
"We both said we love each other," said the teen's sister, Ernecia Hicks, 23, of Melbourne. " We were pretty close and talked everyday."
Christard Hicks, 19, was only three classes short of earning his high school diploma before his life was cut short, family members said.
Deputies said a suspect rode up to a group of friends Christard Hicks was standing with, fired several rounds and left him lying motionless in the road.
Monday afternoon, Ernecia Hicks and about 15 to 20 other family members and friends shared laughs of recalling Christard Hicks' fun personality and how he always befriended anyone he met.
Now, deputies are searching for the killer as the family remembers the life of the "good-hearted" teen.
"We don't know if he was the intended target," Ernecia Hicks said.
What Happened
The sound of gunfire erupted about 5 p.m. Friday in the 4400 block of 25th Avenue as Christard Hicks stood outside with a group of friends. Hicks, who was struck, was taken to the Indian River Medical Center, where doctors pronounced him dead 40 minutes later.
Deputies are still searching for the Chrysler sedan involved in the drive by shooting. Deputies recovered numerous shell casings from where the vehicle was last seen. They also recovered other shell casings that appeared to be return fire.
It's unclear how many times Christard Hicks was struck.
Christina Hicks, mother of Christard Hicks, said a family friend called her about 5 p.m. Friday and told her that her son got shot. Family members initially thought the 19-year-old was taken to Lawnwood Regional Medical Center & Heart Institute in Fort Pierce because of the seriousness of his injuries.
When the family found out he was taken to the Indian River Medical Center, they went to the hospital and waited several hours before learning Hicks was dead.
For his mother, the struggle in the aftermath of his death remains the question of "Why?"
"Every night since his death, I ask myself, 'Why him,'" Christina Hicks said. "I'm not going to be able to see him anymore or get a phone call."
Christina Hicks said she has experienced a "roller coaster of emotion" ever since her eldest son's death. Her message to law enforcement and witnesses – "Find out who killed my son."
"There were too many people out there for them to not know who killed my child," said Christina Hicks, 38, of Gifford. "It hurts everyday. It's going to hurt until the day I die."
Who was Christard Hicks
Christard Hicks' dream was to become a professional baseball player, according to family members.
"He was energetic, cheerful and happy whenever he played baseball," said Ernecia Hicks. "Baseball uplifted him."
The 19-year-old aspired to play the sport in college and be on a Major League Baseball team. Christard Hicks played in baseball tournaments from age 5 to 17, including youth games at the Historic Dodgertown sports complex in Vero Beach, his family said.
Christard Hicks attended Vero Beach High School from his freshman year through his junior year. He played baseball at the high school, his family said.
He would then transfer to Fort Pierce Westwood High School, and then to Performance Based Preparatory Academy.
Christard Hicks had moved out of his mother's home in Gifford to stay with his aunt, Lillie Hicks, in Fort Pierce to finish school.
The 19-year-old has three sisters – Ernecia Hicks, 23, Christecia Hicks, 21, and Cornisha Anderson, 13. He also has a 2-year-old brother, Jakia Kerr.
Christecia Hicks lives with the aunt, while Cornisha Anderson and Jakia Kerr live with the mother, according to family members. The mother has lived in Gifford for about two months.
The family said Christard Hicks was not involved in any wrongdoing.
How to Help
Deputies are asking anyone with information on the shooting to come forward. Anyone with tips should contact Treasure Coast Crime Stoppers at 1-800-273-TIPS.
Callers can remain anonymous and possibly be eligible for a reward of up to $3,000. Funeral arrangements have not yet been planned.
"Somebody knows who killed my baby," Christina Hicks said.
Photos provided by Christard Hicks' family