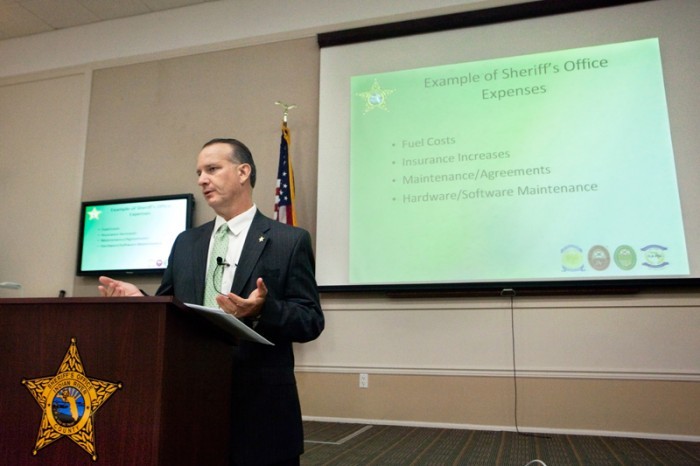 INDIAN RIVER COUNTY – Sheriff Deryl Loar presented the details of his proposed 2011-2012 budget on Wednesday night, emphasizing areas where his agency has reduced expenses over the past year and outlining an argument he is likely to have with the county commission when the budget is discussed in workshops next week.
The sheriff's proposed budget, which was submitted to the county on May 1, totals more than $40 million, the same as last fiscal year and down $2.8 million from its recent peak in 2008. It includes $24.2 million for law enforcement, $14.2 million for corrections and $1.6 million for corrections maintenance.
Sheriff Loar said his agency saved money in past years by paring staff from 544 to 506, mainly by not filling some vacant positions, and by reducing staff overtime, fuel use and insurance costs.
He said overtime pay was cut from $623,000 in the previous fiscal year to $268,000 this year. The agency's 303 automobiles consumed 200,000 gallons of fuel, down from 241,000 several years ago.
Loar said his office also increased revenue, from $953,000 to $1,005,000. Revenue comes from fines, fees, grant dollars and other sources such as prisoner's social security checks.
"We aren't going to charge for services we are obligated to perform," Loar said, "but we do what we can ethically and legally to generate as much revenue as possible."
Since the budget proposal was submitted, Governor Rick Scott signed a bill requiring public employees to contribute to their pension funds, reducing the amount governmental agencies must contribute.
The change will result in a savings of $1.5 million for the sheriff's office, which expends 86 percent of its budget on employee salaries and benefits.
"When we found out that we are going to have this $1.5 million savings, (County Administrator) Joe Baird told me that, coincidentally, the county budget is $1.5 million short," Loar said.
Loar added that he and members of his staff had spent some "sleepless nights" trying to decide what to do with the pension contribution savings.
"The Board of County Commissioners wants the money back," he said. "But we know we need new patrol cars and our employees haven't had a raise since 2007. We need to take a very hard look at doing something to benefit these hardworking men and women."
Loar went on to speculate about several options for disposing of the $1.5 million in savings – which also is a $1.5 million loss in income to Sheriff's Office employees.
Option one was to "give all the money back" to the county; option two was to give employees a 3 percent raise, offsetting the income loss from the newly imposed pension contributions; option three was to "give back" $1 million and use $500,000 to buy "cars and computers."
The Sheriff's May budget proposal doesn't include any money for capital expenditures such as buying new patrol cars. Loar said his agency has been making capital purchases, including 13 new cars in the past year, out of increased operational savings, but that it needs 60 new cars annually to keep from falling behind.
After the presentation, Loar acknowledged that the County Commission has the authority to reduce his budget and that he will have to live with it if they do even as he insisted that his agency badly needs the funds.
"According to our rotation schedule, we should be replacing 60 patrol cars a year. Pretty soon, when you start running older equipment, your expenses go up," he said.