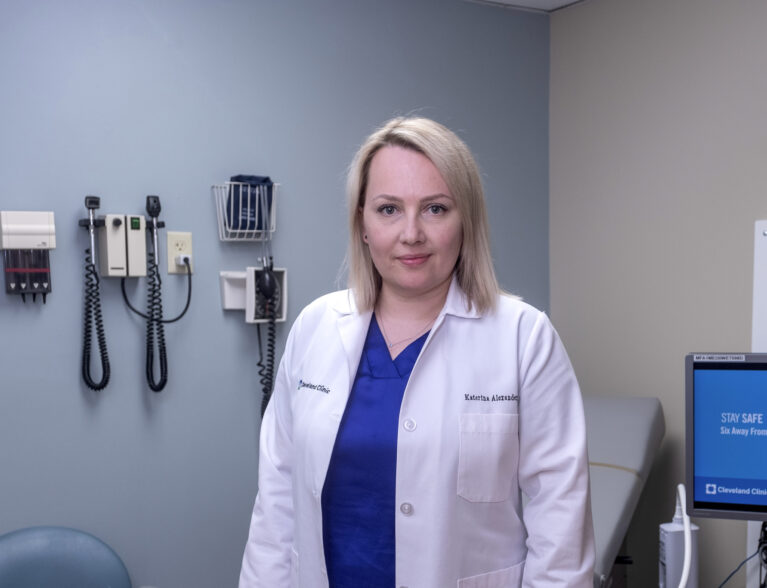 Postpartum depression (PPD) is a lot more than "the baby blues," say local experts who deal with both the physical and emotional aspects of this challenging condition. Happily, a new medication recently approved by the FDA is available to help new moms affected by PPD.
Dr. Katrina Alexander, an OB/GYN at Cleveland Clinic's Tradition Hospital, and Jackie Vitek, a marriage and family therapist in Vero Beach, both help patients and their families cope with postpartum depression and its fallout.
Vitek says that 60 percent to 80 percent of new moms must deal with some degree of the baby blues, facing tearfulness, mood swings and exhaustion during the weeks after delivery.
However, both she and Alexander say that only about 1 in 5 new moms become "blue" enough to be diagnosed with postpartum depression. Symptoms include feeling disconnected, withdrawn and agitated for more than two weeks after the birth of the baby.
When a woman has these symptoms, she should seek medical care promptly.
Postpartum depression affects approximately 400,000 women a year, and once a woman has had the syndrome it is more likely to reoccur with subsequent births.
The recently approved drug Zurzuvae is a pill for those experiencing severe depression related to childbirth or pregnancy and is taken once a day for 14 days. It is similar to an infused drug approved in 2019 that is given intravenously over three days in a medical facility. The infusion treatment is effective but not widely used because of its $34,000 price tag and the logistics of administering it.
Alexander says that the original drug was a major breakthrough because it addressed hormonal imbalance. She adds that an advantage of the new 14-day treatment regimen is that, since its effect on newborns hasn't been widely studied, nursing moms can "pump and dump" so that the milk supply won't contain traces of the drug.
Zurzuvae is part of an emerging class of medications dubbed neurosteroids which stimulate a different brain pathway than older antidepressants that target serotonin, a key brain chemical linked to mood and emotions. Antidepressants have long been used in the treatment of PPD.
Side effects of the new pill, including drowsiness and dizziness, are milder than those connected to the IV treatment.
Both medicines mimic progesterone, the naturally occurring female hormone needed to maintain a pregnancy, which can plunge after childbirth.
Vitek says the whole family suffers when mom has PPD. You can take steps to prevent it, she suggests. "Get your partner on board from the beginning. It makes for earlier treatment when family members and friends know what to look for because you've discussed it during your pregnancy."
Alexander adds that women with pre-existing mood disorders such as anxiety and depression are more likely to develop postpartum depression. Agreeing with Vitek, she says "let everyone on your health team know if you have risk factors. It's important to know you're being heard and supported."
The Mayo Clinic outlines other treatments for PPD. Among them are psychotherapies such as cognitive-behavioral therapy and interpersonal psychotherapy, as well as antidepressants.
Any medication you take will enter your breast milk, so women who are breastfeeding need to work with their healthcare provider to be certain that it is safe for their baby, since it will be passed along in the milk.
Vitek says that postpartum depression doesn't discriminate along the lines of age, culture or race. "It's not abnormal," she says, "and please remember that it can be treated."
She adds that one of the most important reasons to deal with PPD promptly is for the good of your baby. "If you're not able to properly bond and interact with your baby because you can't cope, he or she could wind up suffering from depression down the road," Vitek says.
One thing that's rarely mentioned is that men can suffer from postpartum depression, too.
Postpartum Support International states that 1 in 10 dads gets postpartum depression and up to 18 percent develop a clinically significant anxiety disorder such as obsessive-compulsive disorder and post-traumatic stress disorder at some point during the pregnancy or the first year postpartum. The group encourages men to seek help as soon as they suspect they may have a problem.
Dr. Katerina Alexander is an OB/GYN affiliated with Cleveland Clinic Tradition Hospital.
She graduated from Ross University School of Medicine and has an M.S. in Biomedical Communications from the University of Toronto Institute of Medicine. She is board-certified by the American Board of Medical Specialties and the American Board of Obstetrics & Gynecology. She is accepting new patients and can be contacted at 772-223-4999.
Jackie Vitek, LMFT, PMH-C, is a marriage and family therapist with a B.S. in Psychology and an M.A. in Marriage and Family Therapy from the University of Central Florida, where she also did clinical studies. She is a member of the American Counseling Association and the Mental Health Counselors Association. Her practice, Positive Pineapple Therapy, is located in Vero Beach. She is accepting new clients and can be reached at 772-300-5885.