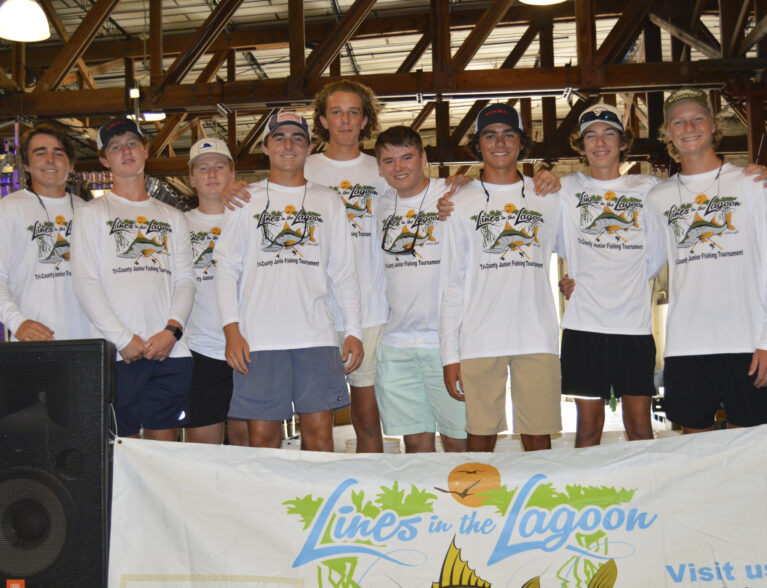 The 10th annual Lines in the Lagoon Fishing Tournament starts 7 a.m. Saturday, Sept. 23, along the Indian River Lagoon. The program was planned for and created for young people. Its goal is not to catch a fish, but to raise awareness of the health of the Indian River Lagoon, which is a bio-diverse estuary home to more than 2,100 species of plants and more than 2,200 species of animals. It has America's most diverse bird population and is home to about a third of the nation's manatees. And, it's the spawning grounds for more than 700 species of ocean, lagoon and shell fish. The annual event invites young people throughout the county to participate. The tournament ends with a casual, family-style Awards Ceremony at the American Icon Brewery, 1133 19th Place, Vero Beach. The rain date for the tournament is Sept. 30. For more information, visit LinesInTheLagoon.com.
Boots on the Beach presents "Uniting Vero for Veterans," a gala fundraiser Saturday evening at the Riomar Country Club in Vero Beach. The event includes music, dinner, drinks and special guest speaker John Wayne Walding, retired U.S. Army Green Beret. Walding spent 12 years in the U.S. Army, with seven of them in the Special Forces Group at Fort Bragg, N.C. He served in Iraq and Afghanistan as a sniper instructor. After losing a leg in a sniper attack, Walding held his position and returned fire for four more hours. His story is detailed in the book "No Way Out: A Story of Valor in the Mountains of Afghanistan," written by Mitch Weiss and Kevin Maurer. Walding was the first amputee to become a Green Beret sniper. He's also competed in the Boston and New York Marathons and the Army 10 Miler using a hand crank. Music will be provided by Pauline Reese, a Grammy Award-nominated songwriter and performer. Reese has recorded duets with Willie Nelson, performed at his picnics and Farm Aid festivals. She's opened for Merle Haggard, John Cougar Mellencamp and Tanya Tucker. "Boots on the Beach, Uniting Vero for Veterans" begins 5:30 p.m. Saturday, Sept. 23, at Riomar Country Club, 2106 Club Dr. Tickets are $250. Proceeds will go to helping veterans and their families. For more information, visit BootCampaign.org, click on "Get Involved" then click on "Events." Scroll until you find "Boots on the Beach."
Great American music will be performed Sunday by the Space Coast Symphony Orchestra presents "American Icons." The program includes pianist Alessandro de Fonseca performing George Gershwin's dazzling "Variations on I Got Rhythm." More jazz will be performed with Duke Ellington's "Three Black Kings," which, through symphony, tells the story of Balthazar, King Solomon and Dr. Martin Luther King, Jr. Also performed will be Leonard Bernstein's popular "Symphonic Dances" from "West Side Story." The score includes the electrifying moments, so expect to hear a musician or two shout out "Mambo!" Kevin Scott's "Fanfare G.A.F.: An American Overture" harkens back to 1984 when Geraldine Ferraro became the first woman nominated to run for vice president by a major political party. Grammy Award-winning Kenneth Fuchs will present the U.S. premiere of his "Point of Tranquility," the title composition from his seventh Naxos album and inspired by the abstract art of Morris Louis. The concert bursts with "American vitality," says SCSO music director and conductor Aaron T. Collins. "The fantastic works by composers Kenneth Fuchs and Kevin Scott rank right up there with the music we'll hear by Gershwin, Bernstein and Ellington. And speaking of Gershwin, Dr. Fonseca's brilliant interpretation at the piano is not to be missed," he says. "American Icons" begins 3 p.m. Sunday, Sept. 24, at the Community Church of Vero Beach, 1901 23rd St., Vero Beach. Tickets are $30 in advance or $35 at the door. Concertgoers 18 years and younger or those with a college ID are admitted free. For more information, call 855-252-7276 or visit SpaceCoastSymphony.org.
Riverside Theatre's Comedy Zone features headliner Janet Williams (also known as "The Tennessee Tramp") and feature act Amy Dingler, a former rodeo clown, bullfighter and stuntperson. The emcee will be Chicago native Steve Kalisik. The shows begin at 6 p.m. and 8 p.m. Friday, Sept. 22, and Saturday, Sept. 23. Tickets are $25. On the same evenings, the Live in the Loop free concert series features the Reckless Shots blues rock band on Friday, Sept. 22, and Jerzi, a pop tunes cover band, Saturday, Sept. 23. The Live in the Loop concerts run from 5:30 p.m. to 9 p.m. and are free. There's also a cash bar and picnic style food available for purchase. Riverside Theatre is at 3250 Riverside Park Dr., Vero Beach. Call 772-231-7990 or visit RiversideTheatre.com.