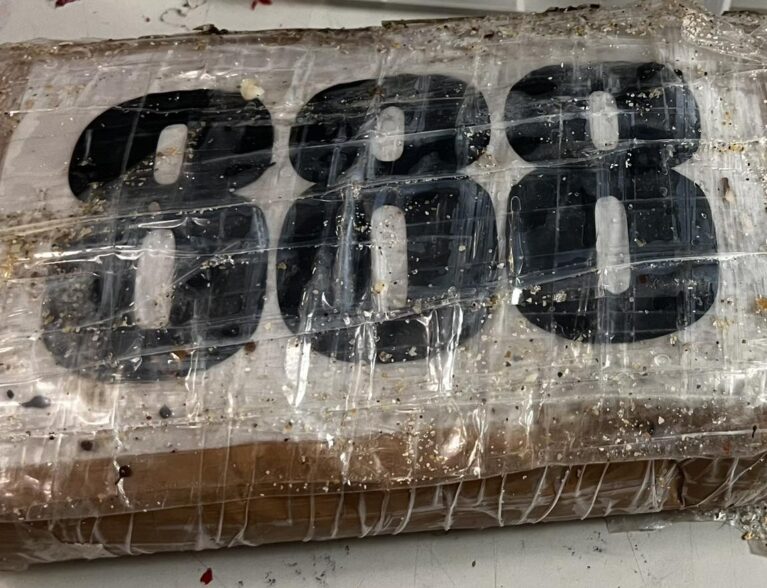 INDIAN RIVER COUNTY — A three-pound cocaine package washed along the shoreline last week, prompting deputies to remind residents not to touch the suspicious bundles. The discovery came while officers were patrolling the beaches after receiving several calls about prepackaged drugs drifting ashore.
"As summer nears, families enjoying their time at the beautiful beaches, please remember to keep a watchful eye on loved ones. If any suspicious packages are observed, please notify the Indian River County Sheriff's Office," sheriff's officials said in a statement. "Do not approach these packages or attempt to pick them up as the contents have been known to soak through and if absorbed onto the skin it could cause serious injury."
A deputy spotted the narcotics package while patrolling the beach on an all-terrain vehicle Wednesday. The bundle – which had a brick shape, the numbers "888" typed in large print and was wrapped several times in plastic – was found near the 12000 block of A1A, a sheriff's incident report showed.
"It was at the furthest west weed line on the shoreline," the deputy said in the report.
The deputy took the package, containing a white substance, to the sheriff's office evidence compound. The substance tested positive for cocaine, reports show.
The deputy notified the sheriff's Special Investigations Unit, along with the U.S. Customs and Border Protection, about the package. The bundle was sent to border patrol officials for further investigation.
This is the second incident this year involving drug packages washing ashore in Indian River County. In late April, Vero Beach police conducting sea turtle nesting surveys found 20 bricks of cocaine – which they said have a street value of nearly $700,000 – north of South Beach Park.
The packages – weighing 57 pounds total – were turned over to border patrol officials.