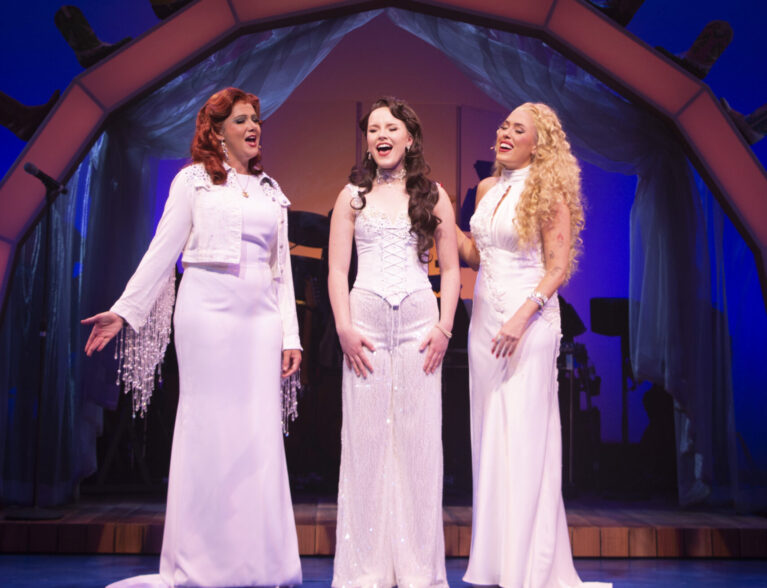 You've got to wait a bit to get to the juicy center of "Honky Tonk Angels," currently playing on the Stark Stage at Riverside Theatre. But when you get there, you're given a healthy helping of country music talent and humor.
"Honky Tonk Angels" writer Ted Swindley takes cues from the success of his earlier work, "Always … Patsy Cline," to craft a jukebox musical revolving around three women who leave their homes in pursuit of their dreams – to sing in Nashville.
While the theme as written does become repetitious, Riverside's production is directed with energy and invention by DJ Salisbury and turns into a lively showcase of three wonderful performers – Bailey Purvis, Kylan Ritchie and Natalie Charle Ellis, who does the heavy comic lifting here. Add to that a country band led by Broadway music director Brent-Alan Huffman, and you're in hog heaven.
The show opens on a stage with three home bases. At the center, there is the Waxahachie, Texas, double-wide home of Angela Bodine (Ellis), the mother to a couple of hellions and wife of Bubba, a truck driver who'd rather go to a tractor pull than go out for dinner with his wife.
A Broadway performer (original cast member of "Beetlejuice" and "School of Rock"), Ellis has such a strong voice that she can keep tune while serving up some very funny, bawdy humor.
What's especially appealing about her performance is how she lets the audience in on the jokes, like when she purposely sprays starch on her husband's jock strap or lets the iron burn his shirt while sarcastically singing "Stand By Your Man." But nothing can top her yelling at her offstage kids to put that down because "the chainsaw is daddy's toy!"
On the right is Darlene (Ritchie), a young woman growing up in the Mississippi Delta after her father lost his job as a coal miner. Darlene's mother has died and her father all but ignores her.
There's a sweetness to this character as portrayed by Ritchie, who is, remarkably, only 17 years old. Her voice is velvety, tuneful and expressive, and, of course, she sings "Coal Miner's Daughter." But Ritchie's performance of "Ode to Billy Joel" is intoxicating, filled with quiet feeling and remorse, especially on the re-worked words "There was a virus going 'round, mama caught it, and she died last spring."
Left of stage there is Sue Ellen Smith Barney Fife (Purvis), a twice-divorced secretary from Texas who has moved to Los Angeles. Plagued by her boss' unwanted advances, she sings "9 to 5."
Purvis, who delivered a strong Janis Joplin in Riverside's 2019 production of "Beehive," really shines in her fun performance here of "These Boots are Made for Walking." No, that is not really a country song, but it fits very nicely in this pastiche.
Eventually, the three women become fed up with their lives and, separately, they buy Greyhound bus tickets to Nashville. It's on the bus where they first meet and discover they are kindred spirits. They invite the audience to join them in singing "Delta Dawn" and then decide to join forces as the Honky Tonk Angels. And the curtain comes down on the first act.
But wait. Even if you feel like you've got your musical money's worth by intermission, don't leave. Because all this, the nearly hour-long first act, establishes context (yes, repetitious) for the best part of the show, the thoroughly upbeat second act.
Up to now, except for the brief appearance of a lone fiddler, you could rightfully wonder if all the great music was taped. Many publishers of musical theater will offer to rent out pre-recorded music for productions. But that is not the case here. The music is live and finally, in act two, you see the musicians at the back of the stage, at the Honky Tonk Heaven nightclub.
Then the Honky Tonk Angels appear, now all adorned with big hair and dazzling costumes. Where has all that been hiding all this time? The songs are bigger, funnier and filled with character. There are send-ups galore, including a Minnie Pearl bit, a glittery "Cleopatra, Queen of Denial" and a lot of teasing with the audience.
Ellis shows off the range of her comic juice in "Harper Valley PTA" a bit where she smokes a cigarette and gets an audience member to hold his hand out so she can use it as an ashtray. She's also hysterical as a buxom harridan who uses a rolling pin to threaten certain audience members. And the audience loves it.
The country musicians in the ensemble are all first rate: Frank Krevens on steel guitar, Kenny Kosek on fiddle, Tommy Bradford on drums, Manny Moreira on guitar and Kells Nollenberger on bass.
Costume designer Steven Stines and wig designer Christopher Arthur bring out a wide array of looks, from simple to over-the-top funny, but those gold boots look a bit too much like galoshes.
Sound designer Craig Beyrooti has an especially nice moment when he segues from the birds and creek outdoor sounds to the busy street sounds as the first act scene shifts from the Mississippi Delta to Los Angeles.
Scenic designer Cliff Simon and lighting designer Julie Duro create solid environments for their characters, especially in the second act nightclub (look for the cowboy boots festooning the archway).
With more than two dozen songs, "Honky Tonk Angels" does what it promises to do – serve up a heaping helping of country music and laughter.
"Honky Tonk Angels" runs through June 18 at Riverside Theatre, 3250 Riverside Park Dr., Vero Beach. Tickets start at $45. Performances are 7:30 p.m. Tuesdays, Wednesdays and Thursdays; 8 p.m. Fridays and Saturdays; and 2 p.m. Wednesdays, select Thursdays, Saturdays and Sundays. Call 772-231-6990 or visit RiversideTheatre.com.
Photos provided