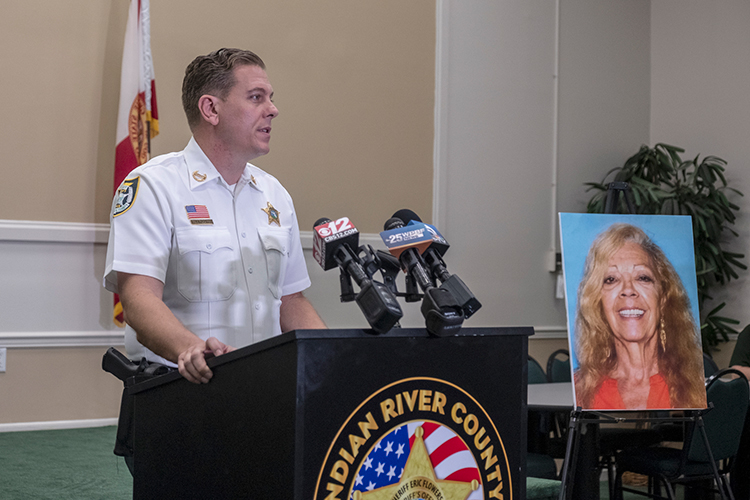 Five years after Susy Tomassi wandered away from The Quilted Giraffe restaurant and disappeared – two months after her skeletal remains were discovered near the Oslo Boat Ramp – the Sheriff's Office finally has a suspect.
Everybody.
Or at least "anybody that's attached to this case," as Sheriff Eric Flowers put it during a press conference last week.
And, apparently, that "anybody" includes Tomassi's longtime husband, Patrick.
"Not just the husband, but she's got an extensive family," Flowers said. "She's got a family that goes over to Italy. She has family all over. Everyone is potentially a suspect in this case."
Everyone, that is, except the man depicted in the sketch Flowers publicly released at the gathering. He's merely a "person of interest," the sheriff said.
What makes him so interesting?
The sketch was drawn with the help of an unidentified middle-aged woman who contacted the Sheriff's Office within a month after news reports of Tomassi's remains being found.
She told deputies a man driving a white pickup truck approached her near the South Vero Square shopping area and tried to lure her into his vehicle.
Indeed, her account of the incident was eerily similar to what detectives observed in the enhanced surveillance video that showed Tomassi, on the day she disappeared, stopping to talk to the driver of a white pickup truck and getting into the passenger seat before the vehicle drove off.
Not only did both incidents occur in the same general location, but the woman who came forward said hers happened several months before Tomassi's March 2018 disappearance.
That's quite a coincidence.
So, yeah, this new development would seem to be a significant break in a case that has offered few other leads.
But is it?
One West Palm Beach-based TV station reported last weekend the Sheriff's Office had received 22 calls since the sketch was released and that detectives were following up on 14 of them.
Maybe they'll get lucky.
We need to remember, however, that the woman who provided the information used by the sketch artist was recalling a brief interaction that occurred more than five years earlier.
Also, the sketch is of a man who was believed to be 30 to 40 years old with a medium build and shoulder-length brown hair.
We must assume the man has aged. His build might've changed. Perhaps he has grown a beard, which has become trendy in recent years.
Then there's this: Does anyone look at that sketch and see shoulder-length hair?
Still, if this sketch does somehow help detectives find this man, the investigation into Tomassi's disappearance and death could start getting traction.
Already, it's fair to wonder if the driver of the white pickup truck regularly cruised along South Vero Square and whether the same man approached both women, which, if true, begs the question:
Is it possible Tomassi had previously encountered the driver and felt she knew him well enough to get into his truck?
Tomassi, who was 73 and in the early stages of dementia, often walked from The Quilted Giraffe – which she owned with her husband – through South Vero Square and to the small park behind the shopping plaza.
It's certainly a plausible theory.
For now, though, all we know is what Flowers has told us.
Actually, that's not entirely true: We know that Tomassi received a gunshot wound to the head, because this column broke that news two months ago, after a source familiar with the Sheriff's Office's investigation revealed that detectives found a bullet-size hole in her skull.
For whatever reasons, Flowers didn't mention until last week's press conference that Tomassi had been shot, and he wouldn't identify where the bullet struck her.
The sheriff did say detectives don't know if Tomassi was killed where her remains were found on March 3, or if she was killed in the immediate vicinity and storms, tides and currents combined to push her body deep into the mangroves.
He also conceded that Tomassi might've been murdered in some other location and her body later dumped in the boat-ramp area – but he didn't acknowledge that possibility until asked by a news reporter.
That would appear to be the most likely scenario, though, given the massive search that ensued after Tomassi was reported missing. The Sheriff's Office responded within an hour and utilized every means available, including a helicopter, K-9 and marine units, agricultural units on all-terrain vehicles, a SWAT team, detectives and patrol deputies.
It seems highly unlikely her body was there and everyone missed it.
For what it's worth, Flowers said he is optimistic that his detectives will eventually determine the circumstances surrounding Tomassi's death and how she ended up in those mangroves.
Finding Tomassi's remains changed the investigation's focus from a missing person to murder, and Flowers said the recent developments have "renewed our excitement" about the case.
Detectives now have an autopsy that confirms Tomassi was shot and a sketch of a person they want to find and interrogate. And according to their boss, they now have a suspect, too.
"We're looking at everybody," Flowers said. "From the beginning – from the moment she went missing – we always looked at family. We've always looked at folks that were related and part of this.
"So far, we've been unable to make a case on it," he added, "but that doesn't mean in the future we won't be able to."
By now, Tomassi's husband and other family members must know what Flowers said at the press conference. We can only imagine what they're thinking?
The former restaurateur – he closed The Quilted Giraffe five months after his wife's disappearance and recently sold Mr. Manatee's Casual Grille – did not respond to a detailed message left on his cellphone last weekend. Nor did he answer his phone Monday.
That shouldn't surprise anyone.
Flowers might be bluffing in hopes of provoking a reaction that might produce another lead in case, but his decision to publicly identify Tomassi's family members as suspects was as unusual as it was surprising.
A five-year-old investigation now has taken a puzzling turn.