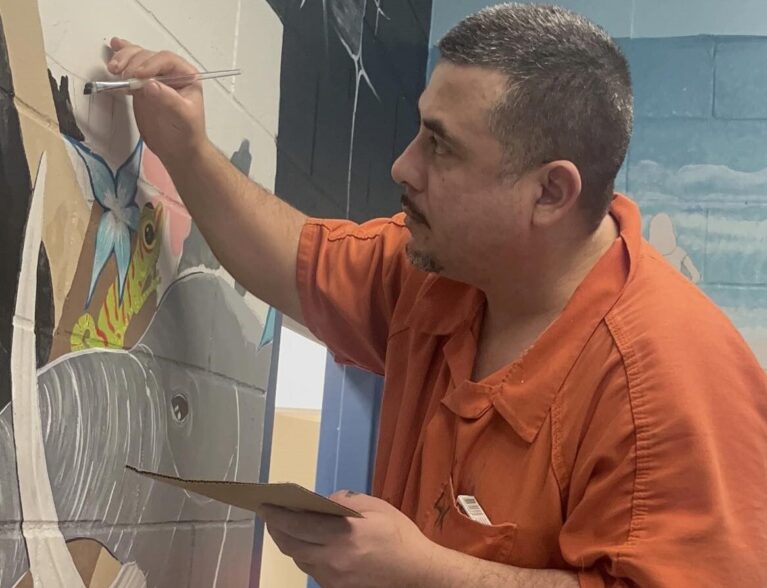 INDIAN RIVER COUNTY — The artists listened to 80s soft rock tunes and classical music as they created colorful, eye-catching paintings with the strokes of their paintbrushes. 
The men laughed and joked, bonding and working together to create a mural inside a newly renovated recreation room. But not just anywhere. Instead, this mosaic of painted, Florida and tropical-inspired scenes was done at the Indian River County Jail – with artists in residence. 
"It took all of us to come together and work with each other," said 55-year-old Adrian McClellan, one of the inmates who worked on the mural. "There is no 'i' in 'team.'"
McClellan and four other inmates – Omar Sanchez, Joseph Salinas, Justin Kalinowski and Robert Brannigan – worked on the three-month project using nearly 50 brushes and 20 paint buckets of different colors. The group said they feel blessed to have worked on the project because it gave them peace and meditation.
"It's a positive thing to do in jail," said Salinas, 33. "It's a privilege to do this."
The mural was a project, commissioned by Capt. Angela Jones, aimed to bolster confidence and to grant the inmates a chance to turn bad situations into something good. The men's message to other inmates and citizens is similar: stay positive and do something useful with the time given – wherever life places you. 
"This is a place where you should rehabilitate," Kalinowski said. "Work on yourself."
The Mural
McClellan spends his spare time drawing images in his notepad, from a lighthouse to a sailfish, while housed at the 516-person county jail. McClellan said he grew up with a talent for sketching out various works of art.
In March, that talent proved fruitful.
Deputy Julio Rivera picked McClellan and the other inmates to sketch and paint a new mural for the recreation room used by those held at the jail. Rivera said McClellan showed him the drawings of the lighthouse and sailfish that he drew using a pen. 
"I walked into the cell block and asked who knows how to paint," Rivera said. "Everyone pointed at Adrian. They all had an interview with Capt. Angela Jones. They told me about each other's skills."
The finished mural shows a combination of different images, including a wildlife safari with an elephant, tiger and deer looking on as the stars shine bright along the night sky. The men said they used artwork from wildlife books as a model for their paintings.
"The mural gives them hope of seeing the outside," Jones said.
Other images on the mural display an unmistakable tropical-inspired setting. There is a jellyfish, octopus, sea turtles and a stingray swimming beneath the ocean surface. Another painting under the sea-green waves shows a scuba diver headed toward a treasure chest with gold coins inside.
Also depicted are a father and mother holding hands with their child as the family stands on the shoreline and takes in the view of the ocean waves.
"This is a great outlet. It's therapeutic," Indian River County Sheriff Eric Flowers said of the vivid coastal and underwater scenes. "They are true artists. Once they get on the outside, they can turn (their art) into a profitable business."       
Teamwork
The men worked from 8 a.m. to 4 p.m. Monday through Friday to scrape the old paint off the walls, add a coating of white paint before outlining the art and fleshing it out with color. The men said they initially each picked a wall to sketch and eventually began working together to complete the paintings.
"They were getting along with each other," Rivera said.
Rivera and Deputy Juan Salazar volunteered their days off to oversee the inmates as they completed the mural, Jones said. Salazar said having the opportunity to paint the finished piece teaches the inmates about work ethic and using creativity to open the door for other opportunities, such as painting murals in store businesses. 
"(After being released) they can go out and do a job with regular painting," Salazar said. "These guys are dedicated. They work hard." 
The group plans to start on another mural this week that will be located in one of the hallways.  
Plans for the future
The men each have ambitious plans involving going back to school to earn degrees. Salinas, who is working on getting his GED diploma at the jail, said he wants to earn a degree in cosmetology or art. 
Kalinowski and Sanchez plan on earning degrees in art, while McClellan wants to obtain a degree in entrepreneurship. Brannigan was not available to comment.
Jones, who oversees the support division at the jail, said she is proud of the men and believes people need second chances in life.
Before, the men worked a range of jobs from lawn maintenance to construction. Jones, who visited the room with the mural daily to watch its progress, said she hopes the men, upon their release, go on to start their own businesses. 
"If you allow a person a chance, it is up to them to change their circumstances," Jones said.
Photos provided by Indian River County Sheriff's Office and Nick Samuel