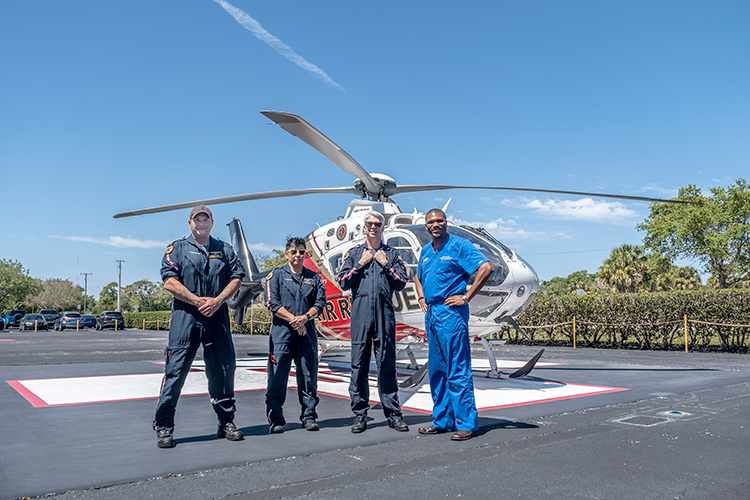 You've been in an accident and you can't move your legs. Your head hurts and you can barely breathe. You wonder if you are going to make it out alive. And then you hear sirens in the distance and overhead the whirling of a helicopter manned by an air rescue team coming to safely transport you to a hospital.
Who are these heroes who have your life in their hands?
They aren't Indian River County or Cleveland Clinic personnel because Indian River County doesn't have an air ambulance program in place.
According to St. Lucie County Fire District Battalion Chief Daniel Mikels. Indian River relies on agreements with neighboring counties to handle emergency, time-sensitive transport to a trauma center – most often to HCA Lawnwood Hospital's Level 2 Trauma Center in Fort Pierce.
In St. Lucie, the county runs the medevac program, using county and hospital personal aboard advanced air ambulances. In Brevard, Health First and Holmes Regional Medical Center operate First Flight, a longstanding air rescue operation. Both programs are ready at a moment's notice to treat and transport injured people in Indian River County as well as their own.
"St. Lucie County Air Rescue operates out of an Airbus Eurocopter 135 P2+ model. This is a twin-engine aircraft with a 4-blade main rotor system and an enclosed tail rotor," according to the St. Lucie County Fire District. "The EC135's high-endurance and extended range enables this helicopter to perform a full range of EMS missions, while carrying more payload over longer distances than any twin-engine aircraft in its class.
Incorporating a modern cockpit, avionics, and the latest in medical equipment, the EC135 is recognized for its high performance, outstanding maneuverability and overall enhanced safety systems."
"The Air Rescue team consists of a critical care nurse, a pilot and a flight paramedic," said Mikels. "We are in a public/private partnership with an air medical transport company called Air Methods. They provide the pilot and one flight nurse. We provide the firefighter paramedic. Everyone must meet our medical director's criteria and the fire district's criteria. It's a complete team effort. Every day you have one pilot, one flight nurse and one paramedic ready to board the helicopter at a moment's notice. We have a total of nine flight paramedics assigned to the program. It just depends who's on duty at the time."
The pilot is not part of patient care but bears the responsibility for getting the patient and the care team to the hospital safely.
The air rescue team administers lifesaving first aid to victims upon their arrival at an accident site or place where a person has suffered severe injury or other medical emergency that requires fast action to save a life. The team then loads the patient onto a stretcher and puts the patient into the chopper where they can continue to treat and stabilize them in transit to the hospital.
The medics on board can provide wound care and apply splints to broken limbs. They can help the patient breathe better with an oxygen mask or breathing tube. They monitor vital signs and, if a patient's heart stops, they can shock the patient to restart their heart. The equipment for these lifesaving measures takes up a majority of the space in the helicopter, so it can only transport one patient at a time.
The St. Lucie County Air Rescue responded to over 400 emergencies last year, according to Mikels.
"Our rescue is a regional approach, as we cover not only St. Lucie County but those counties to the north and west of us that don't have an air medical program," he said.
"Those counties are Okeechobee, Highlands and Indian River counties. If our helicopter is not available or if we have multiple patients, we can call throughout the region and get assistance. Say, for example, Martin County has two patients needing air transport. While they have their own air medical team, they can utilize ours as well. We all work together with the singular goal of getting the patient to the trauma center as quickly as possible.
"It's usually the dispatcher who makes the decision on whether or not to send the helicopter to the scene," Mikels continued. "When the dispatchers do emergency medical dispatching, they get the information from the caller and, based on that information, dictate which units to send. Other times, it's the first responder on the ground who realizes they need [a helicopter] and calls for one. Everyone works together as information about the severity of the injury is being assessed."
Once they land at the hospital, the air rescue nurse and paramedic will offload the patient and take them into the emergency trauma center where they brief the trauma surgeon on the patient's condition and hand him off to the trauma team's expert care.
Dr. Jason A. Moore, a trauma surgeon at HCA Lawnwood Hospital Trauma Center, is one of the doctors who meets the air rescue team and takes over the patient's medical care at the hospital.
"Since we are the only Level 2 Trauma Center on the Treasure Coast, we take care of the sickest patients in the five-county area which includes Indian River, Martin, Okeechobee, Highlands and St. Lucie counties. We take care of severe injuries from car accidents, falls, gunshot wounds, stabbings and just about everything you can think of.
"In most cases, these patients will come directly to us because they are stable enough to withstand transport," Dr. Moore continued. "If they are so far away and they aren't stable enough to transport to us, they may go first to another hospital where they can be stabilized and then transported to us. In those cases, we are the second stop and not the first.
"We focus all our energy, knowledge and expertise on one patient at a time. Sometimes we have multiple patients at the same time, but we have a team of eight trauma physicians, so we can handle every emergency. There is always a trauma surgeon in the hospital, 24 hours a day, seven days a week with backup available," taking care of stroke alerts, cardiac arrests and all major medical problems that come in.
The main difference between typical emergency room physicians and trauma surgeons is the surgeon part. Trauma surgeons are double board-certified in general surgery and in surgical critical care, so they have the skill set to not only manage the surgery but to tend to the patient in the ICU.
"We are able to provide a continuity of care for the patient from the time they are admitted to our service to the time they are discharged," said Dr. Moore. "Sometimes we treat them and send them home and sometimes they are in the hospital for weeks or months. We see them all the way through to the end. It's not uncommon in a very busy trauma center like ours to have multiple patients coming in at a time and we need multiple surgeons to handle the case load. We have a very well-oiled machine and a team that can come in and assist at any given time."
Communication and coordination of care between the air rescue crew and the trauma center team can be the difference between life and death.
Meanwhile, up in Brevard County, Health First and Holmes Regional Medical Center in Melbourne have been running an air ambulance operation since 1988, flying a number of ever-improved and safer helicopters to provide critical rescue and transport services across 3,300 square miles of Florida's east coast.
Certified Flight Nurse Rob Spivey, who also is First Flight's program manager, said Health First's latest helicopter, also an EC135 P2+, allows the rescue team to continue providing the fastest, safest flights for crew members and injured people.
"The aircraft offers advanced avionics, performance and a state-of-the-art medical interior to support the critical care transport mission into a new era," Spivey told Vero Beach 32963.
First Flight's state-of-the-art safety and surveillance equipment increases the chances of getting to the right place at the right time, during what is commonly called "the golden hour," the critical first 60 minutes after a traumatic event.
The Brevard helicopter has technology that allows pilots to fly in weather conditions they previously could not have faced, such as reduced visibility and low clouds. Technology including a global positioning system and weather radar also means a higher level of safety for patients and crew as they race to the trauma center.
Holmes' helicopter is housed at Melbourne Regional Airport, along with the pilots and nurse/paramedics who staff it, so they are ready for immediate departure when a "trauma alert" call comes from fire/rescue or another emergency response team that has answered a 911 call.
"We will transport anyone, even cardiac arrest patients," Spivey said. "If a patient is very sick, he or she can be resuscitated on the helicopter, if need be. When we hear 'Trauma Alert' we know that a patient will be served better at a trauma center than elsewhere. The goal is to get there."
Nurses who train to work on air ambulances need several specific traits and characteristics. Spivey said they need to stay calm under pressure, be confident, have clinical experience, maturity and a minimum of five years' experience.
He added that they need to be attracted to adrenaline-type situations, possess empathy, be nurturing and have good communication skills.
"We're each one part of an emergency response team whether on the ground or in the air," Spivey said. "In the air and inside of each hospital and dispatch center, we're all colleagues. We tend to be long-term employees, too. I have been with First Flight for 25 years. We work 24-hour shifts and need to be able to get along with people easily."
Rob Spivey is program director, Health First's First Flight. He's also a Certified Flight Nurse (CFN). Dr. Jason A. Moore earned his medical degree at the Weill Medical College of Cornell University in New York and completed his Department of Surgery residency at the Staten Island University Hospital in Staten Island, New York. He completed a Thoracic Surgery Fellowship and his Surgical Critical Care Fellowship at University of Florida — Shands Medical Center in Gainesville. He has served as associate trauma medical director at HCA Lawnwood Hospital for the past decade.
Photos by Joshua Kodis