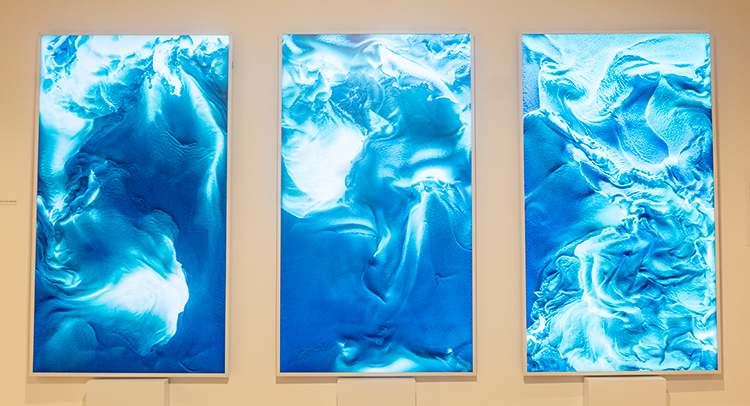 Members of the Athena Society at the Vero Beach Museum of Art opted this year to purchase a work of art that is cutting edge, a piece that is quite unlike anything else in the museum's permanent collection. The choice was bold and, like the artist himself, is sure to create a lot of buzz.
The selection, "Pacific Ocean A, B, C 2022 (triptych) 2022," is an absorbing artificial intelligence data painting by the trailblazing artist, Turkish American Refik Anadol (1985).
The work comes from the Gagosian Gallery, headquartered in New York City.
"It's really very different," says Anke Van Wagenberg, VBMA senior curator, who has the task of searching art fairs and galleries for potential artworks to offer as options to the Athena Society.
Athena Society households, all members at the Chairman's Club level or higher, contribute an additional dues of $5,000, and are entitled to vote at their annual dinner to select significant art acquisitions for the museum's permanent collection. The elite group now boasts a record 124 households, each of which is permitted two votes.
"Our goal is collecting American modernism to art of the present; global, contemporary.
The works that we have selected would all fit really well in the collection," says Van Wagenberg.
Wanting to offer a diverse selection, she again chose four completely dissimilar artworks.
In addition to the Anadol piece, the offerings included a colorful oil-on-canvas triptych, a lovely, more traditional portrait, and an exquisite, Romanesque-style marble sculpture.
Regarded as a visionary AI artist, Anadol combines art and technology to transform publicly available datasets into fluid digital artworks that are shown on high-quality monitors, similar to plasma TVs. For this unique piece, he utilized Pacific Ocean weather prediction datasets collected from the U.S. National Oceanic and Atmospheric Administration National Centers for Environmental Prediction Global Forecast System.
The result is a mesmerizing artistic experience, one in which each of three screens continuously play on individual 16-minute video loops. There are no stops and starts; it all just fascinatingly flows with movement.
Despite the fact that the data was derived from the Pacific Ocean, the soothing hues of blue and aqua give the piece a noticeably Vero feel.
"That's exactly why I selected it. Because I thought it speaks to us here on the ocean," says Van Wagenberg, who said she first saw the AI artwork at a gallery opening in Miami in early December.
"I didn't see anything as great. The fair was great, but this was just such a piece. He calls it computer generated imagery."
As a pioneer in the use of artificial intelligence in public artworks, Anadol has taken the global art world by storm.
The Vero Beach Museum of Art is in extremely good company with this purchase, joining the ranks of no less than the Museum of Modern Art in New York, which has a large-scale (approximately 24-feet by 24-feet) installation on display, "Refik Anadol: Unsupervised."
According to his website, "Anadol posed an alternate understanding of modern art by transforming the metadata of MoMA's vast collection into a work that continuously generates new forms in real-time."
"It's twice as high as the ceiling here and twice as wide," says Van Wagenberg. "He took pictures of works that are up at MoMA, and they all flow together. You don't recognize the individual works; they're all blended on one huge screen."
Earlier this year, Anadol created the vast horizontal backdrop for the Grammy Awards, creating an attractive fluidity of motion behind each of the presenters and recipients.
Among his many other installations, Anadol used 200 million photos of earth, its landscapes, oceans and atmosphere for "Quantum Memories" at the National Gallery of Victoria in Australia. He used MRI data scans of people ranging from birth to nonagenarians for "Sense of Space" at the 17th International Architecture Exhibition, La Biennale di Venezia in Italy. Archival photographic data from NASA/JPL was used for "Machine Memoirs: Space," shown in Istanbul, Turkey, and an installation called "Artificial Realities: Coral," based on some 1 billion images of coral, was shown at the World Economic Forum in Davos, Switzerland, to highlight the loss of coral due to climate change.
Van Wagenberg had not made the choice an easy one, though, as the other artworks were also quite impressive.
An oil on canvas triptych by American artist Jim Dine (1935), "Three Hearts from the Beginning of the Work 1986," came from Galerie Thomas, in Munich, Germany.
Dine, Van Wagenberg says, has been described as a pop artist and somewhat of an abstract expressionist. At the same time, she says he is not completely abstract "because he has this fascination with certain objects and one of them is hearts. He made a lot of series of hearts."
The museum already has a large (9-foot by 9-foot) Dine oil painting of a multi-colored bathrobe, another of his favored objects, in its collection. That one, "The Red March Forward, 2005," was purchased with funds from the Athena Society in 2006.
"Portrait of Elizabeth Alexander 1924," by American artist George Wesley Bellows (1882-1925), is an exquisite oil on canvas from the Hirschl Adler Galleries in New York City.
Van Wagenberg says that although Bellows was best known for boxing and athletic scenes, he also made wonderful portraits. He was skillfully adept at expressing textures, such as those in the woman's lace mantilla, feathered fan and colorful scarf.
She explains that Bellows finished painting the portrait of Elizabeth Alexander, a neighbor, for his first one-man show in January 1925. Tragically, he died at age 43, one month before the show.
"So he never saw his own one-man show, but this painting was in it," says Van Wagenberg.
"Classical Head – Serenity c. 1917," by Polish American artist Elie Nadelman (1882-1946), a stunning white marble bust on a square pink marble base, came from Colnaghi's London gallery.
"This is, again, American modernism. We don't have Nadelman in the collection, and he's a very important sculptor," says Van Wagenberg. She adds that he had studied sculpture in Munich and then Paris, where he exhibited with Picasso in a two-person show.
"He was inspired by Roman busts; you see that influence," she says. "His style changed very much when he eventually came to the U.S., after he met nobody less than Helena Rubenstein, the cosmetics giant. She made a comment that she thought that he made the ideal beauty. What she thought would be like the purist female expression."
Interestingly, she notes that the bust came from the estate of Karl Lagerfeld, when his enormous art collection was auctioned off.
"So they're very different, which is always great fun because you don't want to have two very similar paintings," says Van Wagenberg. "We want pieces that are significant. All of these would be unique."
For more information, visit vbmuseum.org.
Photos by Joshua Kodis