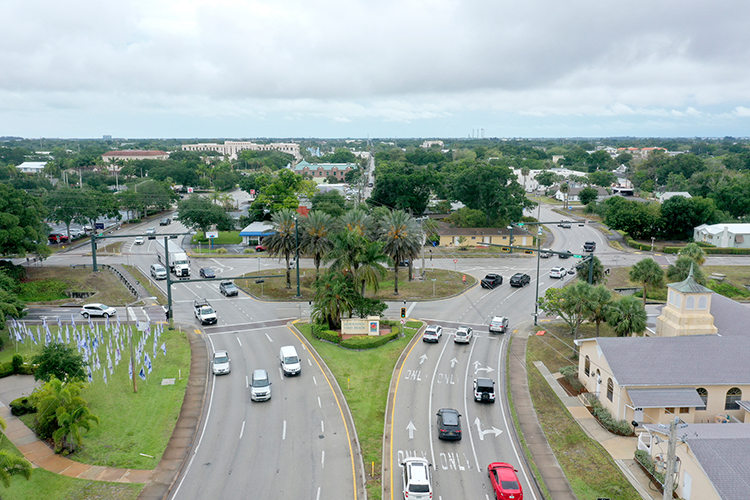 The engineers at the local Kimley-Horn & Associates office are experts in public infrastructure, particularly as it pertains to transportation and roadways, so they appear to be the right choice to conduct the Vero Beach City Council-ordered traffic counts on State Road 60 in our downtown area.
But are they conducting the counts at the right time?
Shouldn't the counts have been done from January through March, during the peak months of our community's busy season, to produce the most accurate and meaningful results?
Don't council members need to know that the roadways in and around downtown Vero have the capacity to comfortably accommodate the annually increasing traffic volume when the congestion is at its worst – before deciding whether to reduce lanes along the Twin Pairs?
As any longtime resident can attest: There's considerably less traffic on our roads from May through July than there is in the first three months of the year.
This is especially true along State Road 60, the county's primary east-west thoroughfare that connects Ocean Drive to Interstate 95 and runs through downtown.
So why bother doing the count now, when we know the numbers will tell us nothing about the traffic volume during the winter months?
The most-compelling reason is that three of the City Council's five members – John Carroll, Rey Neville and Vice Mayor Linda Moore – want to reduce the Twin Pairs to two lanes in each direction because they've deluded themselves into believing the resulting bottleneck would drive more people to shop and dine downtown.
They also want the state to pay for the reconfiguration as part of the Florida Department of Transportation's $6.7 million plan to repave State Road 60 in 2026-27.
And they're racing the clock.
Before agreeing to any such changes to its plan to repave State Road 60 – something the agency does every 20 years – FDOT is requiring the city to conduct a traffic study and present findings that show a reduced-lane roadway still would have the capacity to adequately handle the vehicular volume.
FDOT officials also need to see a firm decision from the City Council, in the form of a resolution endorsing the proposed lane reduction, and proof of community support.
They need it soon, too, because the agency is scheduled to start designing the project later this year and already has tolerated too many delays.
The other reason?
Kimley-Horn says it doesn't matter when the traffic counts are done.
According to Kimley-Horn Senior Vice President Brian Good, FDOT provides "correction factors" – derived from data the agency collects throughout the year at both continuous and short-term sites along state roads – to increase or decrease traffic count volumes to correspond with seasonal characteristics.
"Based upon the correction factors published by FDOT," Good wrote in an email responding to Vero Beach 32963's inquiries, "traffic engineers are able to collect vehicular data throughout the year and adjust the collected data to reflect peak season traffic characteristics."
These factors, he added, are utilized by traffic engineers throughout Florida by state, municipal and private-consultant engineers to produce such counts.
But the most recent short-term counts conducted by FDOT at four portable traffic-monitoring sites along the Twin Pairs through the downtown area – and available for public viewing on the agency's website – are from 2021.
Certainly, as hundreds of new homes have been built and the county's population continues to climb toward 170,000, the traffic along State Road 60 has increased dramatically during the past couple of years.
Less than a month ago, in fact, a construction-related lane closure on westbound State Road 60, approaching 58th Avenue, created an early-afternoon traffic backup that required at least eight light changes to get through the intersection.
You don't need to be a traffic expert to know that the congestion caused by permanent lane reductions on State Road 60 through the downtown area would be far worse – particularly during our community's busy season, especially during the morning, evening and lunch-time rush hours.
We can only hope Kimley-Horn's FDOT-adjusted traffic counts conducted over the next three months, after most of our seasonal residents and tourists depart, will verify what we all know.
But will they?
Will the data collected by Kimley-Horn, then adjusted using FDOT's correction factors, provide an accurate representation of the annual surges in traffic volume the Vero Beach area has experienced the past three years?
Are we really going to allow the City Council to take such drastic and unnecessary action – reducing the Twin Pairs to two lanes in each direction – based on a state-adopted formula, even one that might be generally accepted by traffic engineers?
The harmful impacts of this self-inflicted disaster, which would do almost nothing to revitalize downtown Vero, would be felt for at least the next 20 years.
This decision should be based on traffic counts conducted during our busiest months, when our seasonal population is at its peak and our roadways – particularly our most-traveled east-west corridor – are most crowded.
Not May through July.
Not because off-season numbers are more likely to be closer to what three City Council members want them to be.