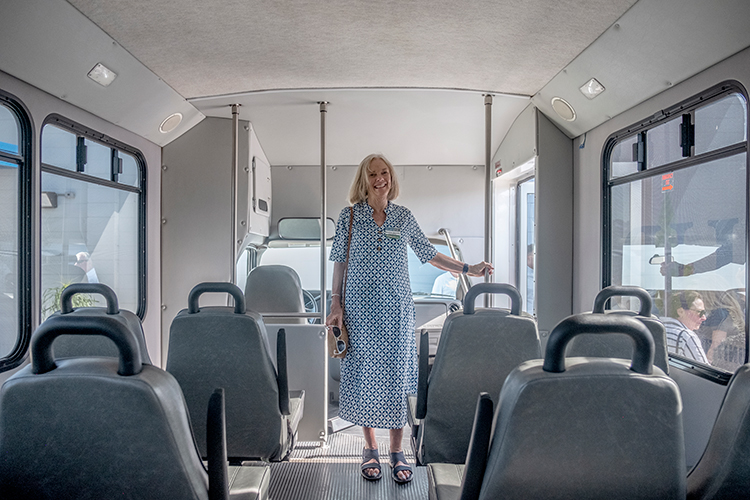 INDIAN RIVER COUNTY — A 15-passenger bus that transports residents – at no cost – to a job skills program is the latest move leaders at United Against Poverty have made to battle poverty and homelessness. The goal, organizers say, is for the bus to help eliminate transportation barriers for low-income adults.
"We have 18 adults who graduated from the Success Training Employment Program who utilized the bus," United Against Poverty in Indian River County Executive Director Matt Tanner said. "They wouldn't have been able to participate without the bus."
Officials with the nonprofit agency unveiled the "Going Up" Bus during a ribbon cutting ceremony Tuesday at its center, 1400 27th Street, Vero Beach. Attendees were allowed to take a tour inside the bus before being served refreshments inside the center.
United Against Poverty received a $100,000 grant from Impact 100 Indian River County last April, then launched the bus in October, officials said. The bus takes residents to the nonprofit's center, which provides the adult workforce training program along with other services, including counseling for substance abuse, mental health and domestic violence; crisis care and housing assistance; the member share grocery program; life skills workshops; GED preparation classes and more.
"The STEP program was very much in demand for people from Fellsmere, south county and Vero Beach. Transportation was almost impossible for people," Impact 100 Immediate Past President Mary Ellen McCarthy said. "The bus gets people (to the center) that couldn't nearly get there. The bus is a great service for a lot of people."
United Against Poverty is working with community partners – including Hope for Families Center Inc., and the Samaritan Center – for the bus pickup locations. The bus runs at the same time as the training employment class, which is from 9 a.m. to 1 p.m., Tanner said.
"We coordinate with our partners to let them know to have adults ready for pickup," Tanner said. "We're planning to expand the bus outside of the STEP program so residents (without transportation) can utilize the grocery store and other resources."
The bus also takes residents to job fairs, field trips to Piper Aircraft Inc. to meet leadership and to the Vero Beach Museum of Art for emotional intelligence, officials said.
United Against Poverty is a national organization that provides families with both emergency food supplies and the chance to receive subsidized groceries – including hygiene products – six days a week, according to its website. The nonprofit agency will celebrate its 20th anniversary this July.
Tanner said he is grateful to be part of an organization that is changing lives daily.
"To be part of that team…there's no better feeling," Tanner said.
Going UP Bus partners
Dynamic Life Recovery Community
Hope for Families Center, Inc
Samaritan Center
Sober Development
STEP Program
Jane McNulty Snead, United Against Poverty's development director, is one of the agency's many success stories. Snead, who was previously homeless and living at Hope for Families Center Inc., said she graduated from the training employment program in 2015.
"I was one of the very first graduates of the program," Snead said. After graduation, Snead's career journey excelled.
She worked at Children's Home Society of Florida from 2015 to 2017. Later in 2017, Snead started working at United Against Poverty as the intake coordinator.
She worked her way up the ladder to capital campaign coordinator, crisis stabilization manager and now director of development. Snead gave a bright smile while reflecting on her experience at United Against Poverty, both as a client and an employee.
"I'm overwhelmed with gratitude of the services of UP," Snead said. "It has been an amazing ride and it's not over yet."
The training employment program – designed to help residents overcome barriers to employment – is a three-phase process. Those enrolled learn resume-building, dressing for success, how to land a job, and are paired with a success coach that checks on the individual's progress for up to three years.
The program consists of 120 hours of in-class work that focuses on emotional intelligence, workplace skill development and job acquisition training. Participants meet with a workforce developer that creates a career plan, interview preparation and connection to employment opportunities.
"We have instructors that teach the classes and success coaches," Snead said.
More about United Against Poverty
United Against Poverty is a 501(c) 3 nonprofit that has locations in Indian River County, St. Lucie County and Orlando. Here are the addresses for the agency's Vero Beach facilities:
United Against Poverty Indian River North (Main Center)
1400 27th Street
Vero Beach, FL., 32960
772-562-5429 ext. 243
United Against Poverty Indian River South
1050 Old Dixie Highway S.W.
Vero Beach, FL., 32962
772-770-4142
Homelessness across America, Treasure Coast
More than half a million people across the country experienced homelessness in 2022, according to the U.S. Department of Housing and Urban Development.
There were 846 people – 668 adults and 178 children – who were listed as homeless Jan. 31, 2022, on the Treasure Coast, according to the Treasure Coast Homeless Services Council, Inc. The council said last year's statistics were a four-percent increase from 2021.
In Indian River County, there were 290 people listed as homeless – sheltered and unsheltered – for 2022. This included 225 adults and 65 children, the council said.
Homeless people described as sheltered live in hotels or motels, domestic violence shelters and transitional shelters. Homeless people described as unsheltered live outdoors, in cars, in abandoned buildings, or other places not meant for a person to reside.
"We believe that people are not defined by their circumstances and that together, we can inspire change," United Against Poverty officials said.
For more information on United Against Poverty, visit its website or call 772-564-9365. For further details on the training employment program, click here.
Photos by Joshua Kodis