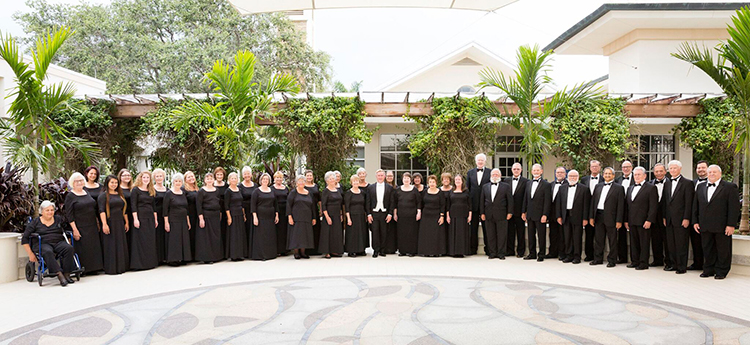 A rare treat is being offered this weekend, "Mass in Blue Times Two." Presented and performed by the Vero Beach Choral Society, the relatively new jazz composition, "Mass in Blue" by Will Todd, will be performed twice at the First Presbyterian Church of Vero Beach. The organization's musical director, Jacob Craig, who is also the church's director of music and arts, says that although the music is jazz and not something more traditional like Bach or Brahms, it is nevertheless accessible because of Todd's tuneful melodies. "Will Todd is an English composer who wrote this in 2003," Craig says. "It is unique in that he kept the Mass ordinary text in Latin and wrote modern jazz arrangements under it. It is unusual." Craig says that other jazz composers have tried this, but it usually comes out "kitschy." However, the Todd "Mass in Blue" rises above the others. "His is absolutely extraordinary. It's very thoughtful writing … lyrical and memorable." The concert also features "I've Got Rhythm" by George Gershwin, and "Can't Help Falling in Love" by Elvis Presley. Performers include soprano soloist Makilah Slaughter, who teaches music at Beachland Elementary. She will sing with the 48-member choir. Of course, there will also be a four-piece traditional jazz combo. That features Gary Haase on bass and percussionist Sam Moss, who is a Vero Beach High School student. The saxophonist is Jim Alexander, the former choir teacher at Storm Grove Middle School who is now a Delta pilot. Craig will play piano. Craig took over the leadership of the Vero Beach Choral Society a couple years ago and brought it to "roost" at First Presbyterian. It's grown in popularity so rapidly that the decision was made to offer two performances of the concert. The last concert they had brought out 600 people, many of whom ended up sitting on the floor. The group also encouraged people to audition. "We want to grow," Craig says. Will Todd's "Mass in Blue" will begin 4 p.m. Saturday, April 29, and Sunday, April 30, at the First Presbyterian Church of Vero Beach, 520 Royal Palm Blvd., Vero Beach. The concert is free, but a $10 donation would be appreciated with funds going to the Choral Society's scholarship program. For more information, call 305-797-7177 or visit VeroBeachChoralSociety.org.
Riverside Theatre brings back its Comedy Zone this weekend with headliner James Yon and feature act Absar Siddiqui. Yon is a Florida native who hosts the weekly "The Lowdown" on the Xfinity Comcast's Afrotainment Channel. He has performed on the Fox Comedy Club and with Jimmy J.J. Walker and Michael Winslow. He also was a finalist on NBC's "Stand up for Diversity" and won the 2011 and 2012 "Clash of the Comics" in Orlando. A Chicago native, Siddiqui has his own brand of observational humor of growing up in a Pakistani household. He also has a slew of vocal impressions. He's performed around the country including at the Orlando Improv, Bonkerz Comedy Clubs and more. The evening's emcee is Jim Harping, a Vero Beach resident, former trial attorney, law enforcement officer and bass player. What's also a draw is the goings on with "Live in the Loop." That concert is held outdoors in tandem with the Comedy Zone. You're invited to dance, buy food and drinks from the full bars, and just have a mellow time at the one-hour shows beginning 5:45 p.m., 7 p.m. and 8:15 p.m. Featured musical acts this weekend are American Bandstand (Friday) and Stones Clones (Saturday). The Comedy Zone stand-up acts perform 7 p.m. and 9 p.m. Friday, April 28, and Saturday, April 29. Tickets are $25. Admission to Live in the Loop is free. Riverside Theatre is at 3250 Riverside Park Dr., Vero Beach. Call 772-231-6990 or visit RiversideTheatre.com.
Angels Below watercolor workshop will explore watercolor on paper effects. It is hosted by Cool Beans Brew. The instructor is area artist Laura Tarquinio. She will guide on color brush choice and techniques in painting Angelfish. All supplies are provided. The workshop runs 1 p.m. to 3 p.m. Sunday, April 30, at Cool Beans Brew, 1115 Delaware Ave., Fort Pierce. Cost is $35. Call 772-828-2355 or visit CoolBeansBrew.com.
The Vero Beach Museum of Art will hold a Children's Art Festival from 10 a.m. to 3 p.m. Saturday, April 29. There will be docent-led tours of exhibitions, art hunts, art making activities in the Museum Art School studios as well as music and dance performances by local groups. Admission is free. The Vero Beach Museum of Art is at 3001 Riverside Park Dr., Vero Beach. Call 772-231-0707 or visit VBMuseum.org.