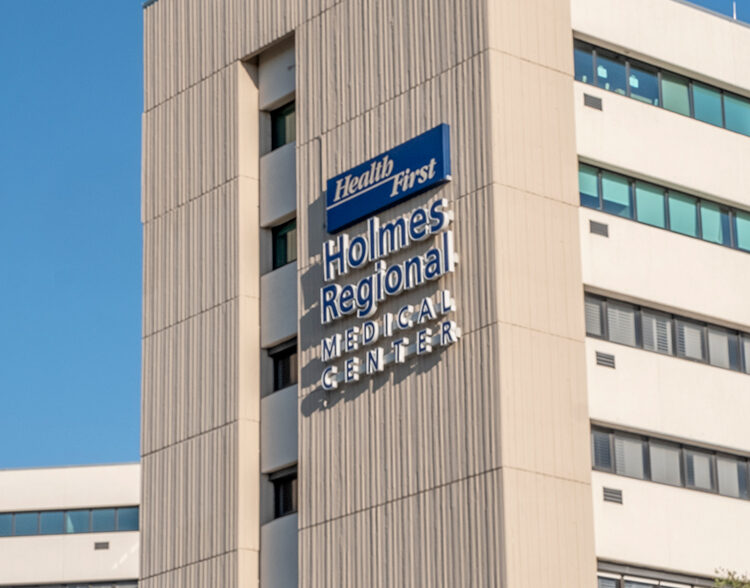 Orthopedic surgeons can work wonders – and having a dedicated, goal-oriented patient can help ensure a successful outcome from even the most serious injuries.
Just ask Frank Nappi, who recovered sufficiently from a broken back and two broken legs to now be working as a certified trainer at Legion Transformation Gym in Port St. Lucie.
According to Nappi's orthopedic surgeon, Dr. Daniel Segina, who is affiliated with Health First's Holmes Regional Medical Center in Melbourne, if someone has been critically and suddenly injured, hearing the challenges he or she now face can be almost like hearing a cancer diagnosis.
"I tend to tell my patients that their treatment plan is a [gradual] recovery, not a sprint," he says.
When a patient shows up after a serious injury, an individualized treatment plan is developed, adds Dr. Segina, stressing that it takes a team comprised of doctors, nurses, physical therapists and support staff to help patients recover as quickly and completely as possible. "This isn't a one-man show," he says.
The National Institutes of Health says exercise is an integral part of the rehabilitation of patients suffering a variety of chronic musculoskeletal conditions, including those due to injury. Regular physical activity also is recommended for treatment of chronic pain and its effectiveness has been established in clinical trials for people with a variety of pain conditions.
"For patients who have been seriously injured, this [often] is for the rest of your life," Dr. Segina says. "And it takes a great effort just to get to a baseline of function and then maintain it. But it can be done."
The Christopher and Dana Reeve Foundation reports that physical activity helps prevent secondary conditions in the wake of an injury, such as heart disease, diabetes, pressure sores, obstructive pulmonary disease, hypertension, urinary tract infections and respiratory disease. Exercise also helps keep the brain healthy, according to numerous studies that show it increases alertness and helps people think more clearly.
Back to Nappi. On June 4, 2004, he was cutting down a tree when the top twisted and knocked him onto the ground. When paramedics arrived and put him on a stretcher to be Trauma Hawked to Holmes Regional Medical Center (Lawnwood Hospital wasn't a trauma center at that time), he had no feeling in his legs.
After five surgeries on his exploded L3 vertebrae and his legs, Nappi spent three weeks in Holmes Surgical Intensive Care Unit.
At first, he was non-ambulatory, but as soon as he was able, he began the years-long regimen that eventually resulted in substantial recovery.
Along with intensive sessions with physical therapists, Nappi also pushed himself when exercising. When he had progressed to the point where he could get onto a treadmill – while still walking with two crutches – he walked for one minute the first day, two minutes the second day, and so on.
"He worked a pretty intense physical therapy and exercise program, given his constellation of injuries," says Dr. Segina, who was actively involved in Nappi's recovery for years after preforming surgery on him.
"He made me feel like I could do it," says Nappi. "I continued working with physical therapists until I couldn't make any more progress, but they and Dr. Segina helped me get to where I am today."
"A key component of recovery is encouragement," adds Dr. Segina. "Given Mr. Nappi's sudden loss of physicality, he worked very hard to get to where he is today."
Orthopedic surgeons are medical doctors who have completed approximately 14 years of formal education. They must maintain their board certification with continuous learning and demonstrate their expertise on a regular basis via oral or written examinations.
Dr. Daniel Segina obtained his medical degree from University of California, Irvine, School of Medicine in 1993. He completed his residency in orthopedic surgery at Ohio State University Hospital in 1998 and a fellowship in orthopedic trauma at Harborview Medical Center in Seattle in 1999. He was board-certified by the American Board of Orthopaedic Surgery in 2001. He is accepting new patients and medical practices at Health First Medical Group Physician Specialties Office, 1350 Hickory St., Melbourne, 321-434-1401.