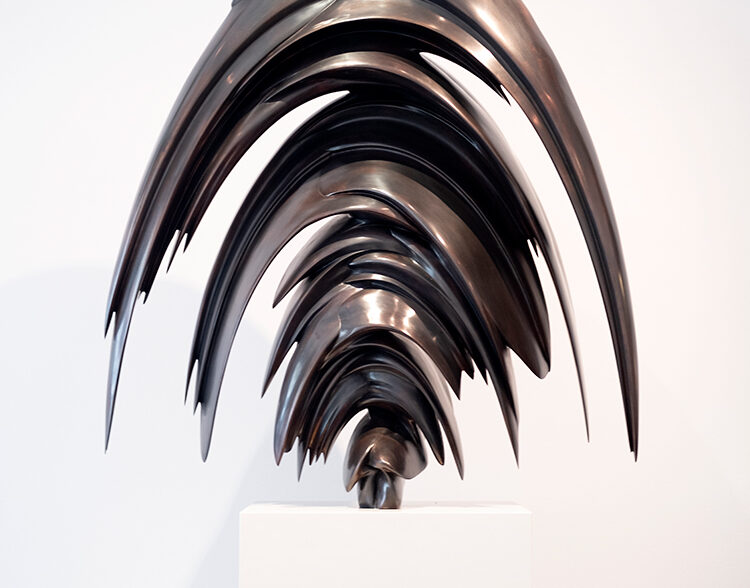 The elegant Gallery at Windsor has unveiled its newest exhibition, "Tony Cragg, Sculptures and Works on Paper," on display through May 19. The exhibit was curated by art historian and author Jon Wood, a specialist in modern and contemporary sculpture, and showcases a collection of sculptures in bronze, steel, glass and fiberglass by Cragg, along with a collection of his drawings, watercolors and prints.
Cragg, considered one of the world's most foremost sculptors, was born in England but has lived most of his life in Germany. He was recently awarded a knighthood in recognition of his significant bodies of work.
The largest piece in the exhibit, "Castor and Pollux" is outside the gallery itself, standing sentinel at the head of Windsor Boulevard.
At an Artist in Conversation gathering for Windsor members, Cragg related that the piece, part of a series of slanting forms, is reflective of his interest in the way geological pieces fit together.
"I always love the way that forms are embedded into one another," says Cragg.
Made of fiberglass, he says what began as a small sculpture in wood has elliptical columns that grasp into each other. He made two pieces and, like the sculpture's mythological twin namesakes, joined the two forms into one.
"It has something geological and slightly organic about it," says Cragg, explaining that it exudes a give and take and exchange of forms.
That sculpture, and many of the others in the exhibit, grew out of his childhood fascination with geology and nature. After finding an interestingly textured stone in the shape of a perfect heart, he recalls his father explaining that the area where they lived had once been under the ocean. That, Cragg says, opened a portal to a whole new reality.
While he initially turned to art as a way to pass the time while studying biochemistry, Cragg says it quickly became his life's work.
"What I loved about drawing is that when you actually move the pencil around, every line, every gesture, every surface you draw, it gives you a different feeling and a different emotion about what's happening on the page," says Cragg.
"And I found in sculpture that it's the third dimension that just makes it incredibly exciting. It's 50 years of working, but it's still something that excites me to a great deal."
As a student, he says he was impressed with minimal art, partly because it doesn't tell a story.
"You just look at it and you find out what you're seeing, what you're feeling and what you're thinking. The problem is, of course, that most of the stuff you make doesn't have any meaning, so that becomes the job of the artist," says Cragg.
Unlike realism, which centers on things that are there, Cragg prefers to focus on what is not there.
'So it led to this kind of sense I have, that we're missing a lot. I mean, due to the limitations of our perceptions or our situation, we're only seeing a tiny bit, like the tip of the iceberg in a sense. And so there's an enormous amount of reality that we just don't know. The reality that we see in front of us is really something we make in our own minds," he explains.
"And so I thought that sculpture could be making things that don't exist, trying to make new forms, new ideas, new emotions, new language, new terms, new freedoms. When I'm making a sculpture, I know I'm changing the material, but the material is changing my mind. And that's really the center of the activity of making art."
Throughout the process, Cragg says he makes a "whole chain of decisions," the more major among them affecting how the piece evolves.
"I mean, sculpture is either subtractive, in the way you bang the material away, or additive, in the way that you actually build. The way I do it, it's neither subtractive or additive, because I can just build it up and as it goes along, I can see what's happening. I can take it back down, build it up again and whatever. And so that's how I arrive at quite complicated forms."
Much of his work involves 'stacks' or 'stacking,' much like the stratified rock formations found in nature. The majority of the sculptures in the exhibit were made from 'stacked' plywood, before being carved into more complex compositions and then cast in bronze.
Wood describes Cragg's 'In No Time' 2018, the largest bronze in the gallery, and 'Stack' 2018 as displaying "a baroque complexity that suggests dynamic metamorphic movement, like watching colliding tectonic plates, or dancers sliding frenetically into one another."
Other works are more anthropomorphic. 'Woman's Head' 2015 and 'Level Head' 2015 each hint at figurative configurations in movement. And the sensuously smooth sculpture 'Integers' 2023 can easily be viewed as two intertwined torsos.
'Versus (Atlantis)' 2018, a powerful, large bronze, brings to mind an intermingling of heads and figures in large, almost wing-like waves, consistent, Wood says, with Cragg's long-standing fascination with the fluidity of water and marine subjects.
'Red Square' 2016, a bright red swirl that twists and curls into itself, is anything but square.
"The work performs the transformation of a vessel from one state to another, stretching its lipped and looping forms into new shapes," says Wood.
As with many of his works, Cragg fights gravity with 'Spring' 2015, a cross section of curved layers which become larger as they rise to the top. Wood calls it the combination of the "mechanical and the biological, to shape a new kind of hybrid industrial nature in typical Cragg fashion."
The two glassworks on display were made with Murano glass specialists and are described by Wood as "harnessing the material's liquidity to powerful effect."
Wood describes the intricate swirls and curls of the glass 'Processor' 2022 as a hybrid, "a cross between a brain and a tooth, an octopus and an alien, standing poised on three legs as if it might take off at any moment."
The leaning column of glass cubes in 'Tower' 2018, says Wood, are seemingly like ice cubes, blending the act of melting glass with the frozen visual effect of the finished work.
He describes it as "an oxymoronic work, a sculpture suspended between hot and cold, between liquid and solid."
Of his drawings, Cragg says he is most excited when he just experiments on the page, rather than drawing something that is in front of him.
"You can do things with drawings you can't do in reality. You can be transparent. You can show internal structures. You can give the illusion of three-dimensional structures that are not possible in reality to make," says Cragg.
"To draw something, you can be totally convinced about it, but it won't stand up to being made in three dimensions because it's spatially not congruous."
On the other hand, he says, that doesn't stop him from trying, "and failing of course, but that's also interesting sometimes."
A comprehensive catalogue by Wood includes a conversation between Cragg and Hans Ulrich Obrist, curator and artistic director of the Serpentine Galleries in London, and a forward by Hilary Weston, Windsor co-founder with the late Galen Weston.
The Gallery at Windsor is open to the public by appointment by calling 772-388-4071. For more information, visit WindsorFlorida.com.
Photos by Joshua Kodis