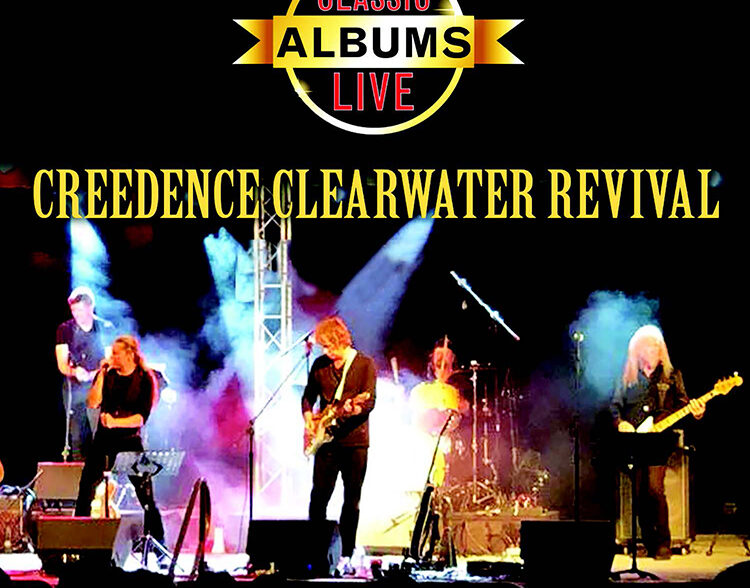 Music in the next week includes rock 'n' roll, classical and opera. It starts Thursday when you have to make a choice: rock 'n' roll or classical.
Live! From Vero Beach brings in Classic Albums Live performing Creedence Clearwater Revival "Chronicle, Vol. 1." 7 p.m. Thursday at the Emerson Center. CCR was the band that blasted out with "Proud Mary," "Susie Q" and "Bad Moon Rising." These Classic Albums Live shows are always exciting as perfect cover bands perform – note for note – very faithful recreations of great rock music. The concert begins 7 p.m. Thursday, March 16, at the Emerson Center, 1590 27th Ave., Vero Beach. Tickets range from $35 to $85. Call 800-595-4849 or visit MusicWorksConcerts.com.
On the same evening, the Atlantic Classical Orchestra performs the next concert in its Masterworks Series. The program includes: Haydn's Symphony No. 90, Hummel's Trumpet Concerto featuring soloist Ansel Norris, and Mozart's Symphony No. 36, "Linz," an iconic piece composed in only four days. The concert, led by Maestro David Amado, begins 7:30 p.m. Thursday, March 16, at the Community Church of Vero Beach, 1901 23rd St. Tickets are $30 to $65. For more information, visit AtlanticClassical
Orchestra.com or call 772-460-0851.
The Chamber Music Society of Lincoln Center performs Brahms and Arensky 7 p.m. Monday, March 20, at the Community Church of Vero Beach, 1901 23rd St. Featured musicians are pianists Wu Han and Wu Qian, violinist Bella Hristova and cellist Dmitri Atapine. Tickets are $35. For more information, call 772-778-1070 or visit CCOVB.org.
A week of stellar music ends with the Vero Beach Opera's annual Rising Stars Vocal Competition and Concert featuring Metropolitan Opera Laffont Competition audition finalists. The competition includes major cash prizes provided by the Kleinschmidt Family Foundation. Judges are Vero Beach Opera artistic advisor Roman Ortega-Cowan, chairman of the Metropolitan Opera Laffont Competition Southeast Region Randall Romig, assistant conductor for the Metropolitan Opera Gregory Buchalter, Metropolitan Opera singer Susan Neves, and Sergio Franchi Music Foundation founder Eva Franchi. Awards are $10,000 for first place, $5,000 for second place and $3,000 for third place. All events are held at the Vero Beach High School Performing Arts Center, 1707 16th St. Semifinals begin 2 p.m. Wednesday, March 22. Finals begin 2 p.m. Thursday, March 23. Tickets to those events are $20 general and $10 for children, plus $2 processing fee. The Awards Concert begins 7 p.m. Friday, March 24. Tickets to the Awards Concert are $15 to $50. For more information, call 772-564-5537 or visit VeroBeachOpera.org.
Ballet Vero Beach will perform "Deco Dance" at the Leonhardt Auditorium at the Vero Beach Museum of Art 7:30 p.m. Saturday, March 18. The program is informed by the museum's current exhibition, "Rolling Sculpture: Streamlined Art Deco Automobiles and Motorcycles," which is on view through April 30. Choreographer Camilo A. Rodriguez explores the progression of dance from classic to modern. Choreography and company artistic director Adam Schnell sets dance to music by Art Deco icons Stravinsky and Charlie Chaplin. The program ends with a 1920s Charleston choreographed by Matthew Lovegood. Tickets are $30 for museum members and Ballet of Vero Beach subscribers, and $36 for the general public. Tickets include early admission to the galleries beginning 6:30 p.m. The Vero Beach Museum of Art is at 3001 Riverside Park Dr. Call 772-231-0707, ext. 116, or visit VBMuseum.org.
The Environmental Learning Center presents "Expect the Unexpected – a Collaborative Evening at the ELC" on Wednesday, March 22. Included are an Artist Meet and Greet for the Second Annual Spring Fling Arts Show, music and dance. Visitors will get a chance to enjoy music by the Gifford Youth Orchestra from 4:30 p.m. to 6:30 p.m. and then enjoy a performance by the Ballet Vero Beach from 6:30 p.m. to 7:30 p.m. Art on view includes works by 33 artists showing paintings, mixed-media items and photography. It is installed in two galleries, the Lagoon Room and the Tidal Gallery. Awards for the show will be announced at 5:30 p.m. in the Lagoon Room. The Spring Fling Art Show will be on view through May 31 with all works for sale. To RSVP, call 772-589-5050 or email ART@DiscoverELC.org. The Environmental Learning Center is at 255 Live Oak Dr., Vero Beach. You may also view work in the Spring Fling Art Show during the ELC's regular hours, which are 8 a.m. to 5 p.m. weekdays and 8 a.m. to 4 p.m. weekends.