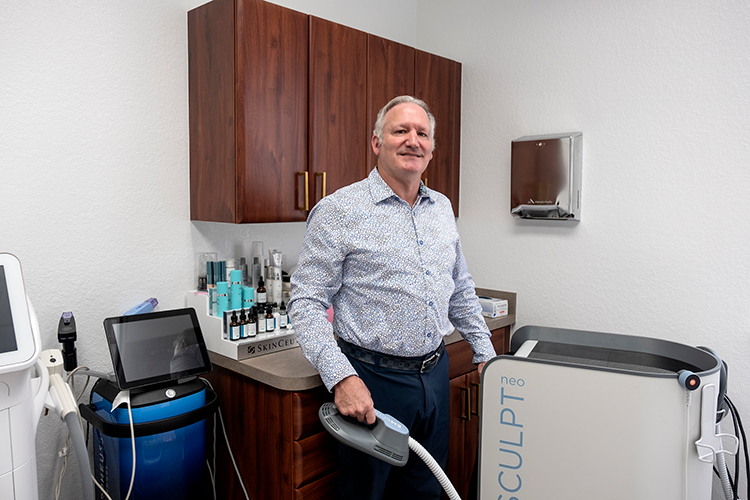 Incontinence is a widespread and vexing problem that affects half of the women in the U.S. and as many as 75 percent of older women, according to Mayo Clinic.
Now there is an effective treatment device that does not involve surgery or prescription drugs, according to Dr. S. Darrell Lee, a Mayo Clinic-educated plastic surgeon who practices at Lee Plastic Surgery in St. Lucie West and Stuart.
The Emsella chair is a non-surgical, non-invasive treatment for incontinence that is caused by a weakened pelvic floor. It emits a high intensity focused electromagnetic (HIFEM) wave to create supramaximal contractions within the pelvic floor muscles.
Dr. Lee says the Emsella chair enjoys 95 percent patient approval. "It's not just for women," he adds. "After prostate cancer surgery, men can experience incontinence and impotence. This treatment can help improve both of those conditions."
Dr. Lee says it's not just older women who can benefit from the technology. "Women in their 20s can suffer from leakage after they've had one or two children. A generation or two ago, much more emphasis was placed on women doing Kegel exercises, which strengthen the pelvic floor, and that tended to avoid the problem," but fewer women do the exercises today.
By and large, the Emsella chair provides an easily tolerated treatment. No probes are used and patients keep their clothes on and are seated in a comfortable position. There's some tingling and pelvic floor muscle contractions during the procedure, but when it's done, you can immediately resume your normal activities.
Treatments last 30 minutes, with no down time. Dr. Lee says after the initial series of treatment – usually about six sessions – a maintenance program is scheduled. "Patients who learn Kegel exercises can incorporate them into the program," he says.
The FDA has approved Emsella for treating incontinence.
Dr. Lee mentioned another new technology he is excited about: Emsculpt NEO. The device simultaneously delivers heat and magnetic energy that reduce fat and promote healthy tissue growth. Debuted in 2020, Emsculpt NEO is the first device to combine radiofrequency and HIFEM (high intensity focused electromagnetic field) technology.
"It's for so much more than just cosmetic applications," Dr. Lee says. "Emsculpt NEO therapy is Core to Floor. You strengthen, firm and tone the abdomen and pelvic floor muscles. A strong core is the key to minimizing so many medical problems.
"It alleviates back pain, can be used in all kinds of rehabilitation, and can also be combined with surgical procedures. I've even treated workers who needed a strong core to lift heavy items as part of their jobs."
The Emsculpt Neo applicator is applied to your desired body area (such as your stomach, legs or butt) and sends HIFEM and radio frequencies deep into the body, resulting in muscle contractions that cannot be stimulated through exercise alone.
During this energy transfer, the temperature in your muscles heats up quickly by several degrees.
This gets your muscles ready for stress, similar to when you warm up before a workout. After four minutes, the temperature in your subcutaneous fat (the fat just below your skin) induces apoptosis, which occurs when fat cells are permanently damaged and gradually removed from the body.
Emsculpt Neo procedures also cause muscle fibers to contract at intensities that cannot be achieved during a workout. This type of extreme stress forces the muscle to increase the number of muscle fibers and cells, which increases muscle growth and volume. During one procedure, users can expect to permanently destroy fat cells and build muscle mass.
"After seven independent U.S.-based clinical studies that tested the machine for safety and effectiveness, Emsculpt NEO was the first ever fat-reducing and muscle-building device to receive FDA approval," according to md.com.
Dr. Lee is a big fan of the company, BTL, which manufacturers Emsculpt NEO and the Emsella chair, praising the research it conducts on its products and their resulting efficacy.
"Their technology is proven before they launch a new product," he says. "They do legitimate scientific studies before treatment and at three, six, nine and 12 months into treatment. Only then does the product go to market. The results from these machines are reliable and reproducible. They work."
Emsculpt NEO is not for people with certain metal implants and a BMI greater than 35.
Dr. S. Darrell Lee graduated from New York Medical College, where he also completed his internship and general surgery residency and earned his board certification in general surgery.
He completed a fellowship in plastic surgery at Mayo Clinic and obtained board certification in Plastic Surgery by the American Board of Plastic Surgery. Lee Plastic Surgery Center's Port St. Lucie location is at 525 NW Lake Whitney Place, Suite 206. For more information, call 772-291-5572.