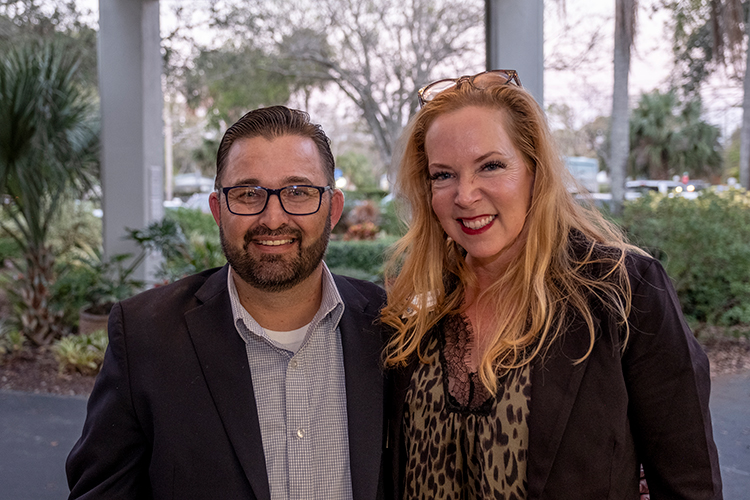 The Source planted the seeds of optimism during its 18th annual Night of Hope at the Emerson Center, with more than 250 guests on hand to support the Christian outreach mission of the Source to serve the community's less fortunate. Their various Dignity programs are designed to help the homeless get off the streets and achieve self-sufficiency.
The enthusiastic crowd enjoyed a reception catered by the Source's own Dignity Catering as they waited for a program that featured a moving performance by world-renowned gospel singer and motivational speaker Wintley Phipps, who has performed for six of the past seven presidents.
"One of the reasons that my heart beats with the heartbeat of the Source is that we're all about changing lives," said Phipps.
Sunflower arrangements designed by Monti's Flower Market were bright reminders that clients of the Source should be strong and reach for the sky, just as sunflowers do. Furthering the message, sunflower seeds and a sunny, yellow cupcake in its likeness were given to guests to take home, a final reminder that sustenance, whether for body or soul, can make an impact on someone's life.
Event emcee Marty Paris, who organized the event with wife Beverly, noted the irony that "a little Jewish couple" would become so vested in a Christian ministry.
"We're here to thank all of you and celebrate all of the amazing accomplishments that we've been through over the past year," said Anthony Zorbaugh, executive director of the Source.
"There's been a lot of trials and tribulations, but we've done some really, really amazing and special things this past year."
He thanked everyone for "helping the members of our organization come out of homelessness to stand on their own two feet and live the dignified life they deserve."
Zorbaugh said the Dignity Bus program, which provides emergency overnight shelter to the homeless, has provided 13,000 sleeps over the past two years, a savings of $1.3 million to the community. The buses, which have garnered national attention, were on site for guests to tour.
Dining with Dignity, a culinary training and food and beverage safety program, and their Dignity Food Trucks – two more are being added to their fleet – have been big successes. Source clients get hands-on experience through catering events, the Food Truck, and serving meals in the Source's restaurant-style dining room.
Other programs include Dignity Smiles, which provides free dental work; and Dignity Jobs, to help people obtain living wages.
Zorbaugh happily announced that after a rocky start, the Dignity Village is a few months away from opening; eight units are complete while work is needed on the remaining 10. Sponsorship opportunities are available to help complete the remaining units.
"We heard the word dignity so many times tonight that I decided to look up the word dignity. It means the state or quality of being worthy of honor or respect. We all want just a little respect," said Cindy O'Dare who, with Richard Boga, were the event's premier sponsors.
Boga said people incorrectly assume that homelessness is a choice, when there are a myriad of causes, such as losing a job or a loved one, trauma, addiction and mental health issues.
"Everybody in this room knows somebody who is probably only one accident and two missed paychecks away from being homeless," said Boga, encouraging guests to support the organization.
A video showcased the accomplishments of The Source over the past year and gave insight into future plans, and several individuals gave testimonials about what a difference the Source has made in their lives.
The Source is open seven days a week, addressing the needs of the homeless by providing hot meals, clothing, counseling, support groups, hygiene items, showers, mail and telephone services, and benefit referrals.
For more information, visit iamthesource.org.
Photos by Joshua Kodis