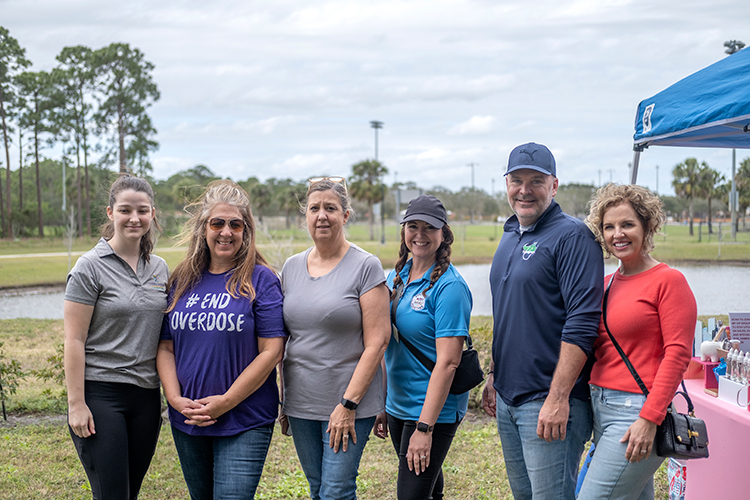 Families came out in droves to attend the second annual Family Fun Fest at the Intergenerational Center, hosted by the Substance Awareness Center SAFIR (Substance Awareness Free Indian River County) Coalition in partnership with the Indian River County School District.
A mixture of nonprofits and vendors provided engaging games and activities for children, such as bounce houses, music, making art and choosing books to take home, while their parents learned about the various services offered by local agencies.
The mission of SAFIR, a nonprofit organization, is to educate, support and guide the community toward a cleaner, safer, substance-free environment.
"We're all in this together. I want people to feel a sense of community," said Michele Buldo, SAFIR Coalition director.
"We try to strengthen the protective factors in the community. Having a strong attachment to the community, to law enforcement and these agencies, hopefully sends a message to parents and families about speaking to your child at a younger age about drugs and alcohol."
SAFIR collaborates with community partners to reduce the use of alcohol, drugs and cigarettes by local youths through education, support and action, often providing alternative activities and ways to have fun without the need for drugs and alcohol.
To raise parental awareness about dangerous behaviors, SAFIR gave presentations about underage drinking, vaping, marijuana and prescription pill misuse, and School Superintendent David Moore updated parents on what is happening in the schools.
Buldo said that while addiction numbers in the county are down, it is crucial to ensure that youth have a perception of harm.
"They don't think that marijuana is harmful. We're really trying to raise that awareness," she explained.
To raise parental knowledge, SAFIR will host a Marijuana Forum on March 30 at the IRSC Mueller Campus, about legalization, marijuana use, and addiction on the adolescent brain. In April, an Underage Drinking Town Hall will be moderated by County Commissioner Laura Moss.
Buldo said they have a replica of a teen's bedroom in a mobile trailer they call "Hidden in Plain Sight," to help parents identify places where drugs and alcohol might be hidden. It's undergoing a refurbishment and, once finished, they hope to have it out in the community more.
A recent grant will enable SAFIR to increase its presence in Fellsmere with an Underage Drinking program and will also increase the number of Youth Coalitions in the county. Buldo said the coalitions create student AIM (Advocates in Motion), leaders in the community who spread the word about substance abuse prevention.
For more information, visit safirc.org.
Photos by Joshua Kodis