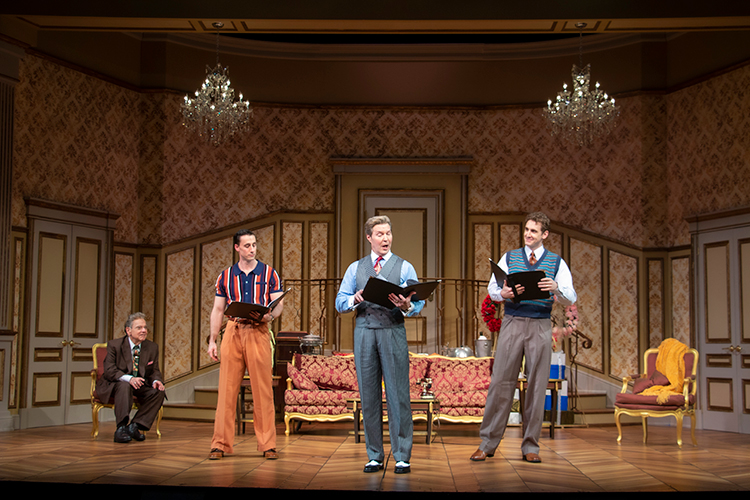 Riverside Theatre continues to hit the sweet spot with its achingly hilarious and exceedingly well acted and directed production of "A Comedy of Tenors," on the Stark Stage through March 12.
Written by America's own farce-meister Ken Ludwig, "A Comedy of Tenors" is replete with slamming doors, mistaken identity, half-clad characters and accelerating action, leading to tears of laughter and, gratefully, a leavening of our weary souls.
In his 2015 "A Comedy of Tenors," Ludwig revisits characters from his Tony Award-winning 1989 farce, "Lend Me a Tenor."
He happily brings back to life the characters of renowned opera singer Tito Merelli and his hot-blooded wife, Maria. Ludwig also resurrects Saunders, a Midwest producer constantly beset with crises, and Max, Merelli's stressed-out manager who loves to sing opera. Now, though, it is two years later, and Max has risen somewhat in the ranks of opera singers since he made an unplanned debut in "Lend Me a Tenor."
Make no mistake, Ludwig points out in his own notes that "A Comedy of Tenors" is not a sequel to "Lend Me a Tenor." And it is not. There is no need to know the first play in order to laugh wildly at the second.
Set in a Parisian hotel suite in the 1930s, "A Comedy of Tenors" revolves around Merelli, who has come to town to perform that evening with two other famous tenors, Max and Jussi Bjorling.
Saunders has booked the concert in a nearby soccer stadium and billed it as "the biggest concert in the history of Paris."
(Ludwig has said this plot point was inspired by the 1990 Rome concert with Luciano Pavarotti, Placido Domingo and Jose Carreras.)
All seems to be going well. For a few minutes. Then comes word that Bjorling has canceled his appearance, which sets Saunders in frenzied motion trying to find a replacement three hours before the concert.
Fast forward a couple of fun plot twists and in comes Carlo Nucci, a rising opera star crowding in on Merelli's fame. Merelli is already anxious about growing old, especially after his voice cracked "once on the high C" while singing Donizetti.
But after some fawning "big fan, big fan" moments from Nucci, Merelli relaxes and decides he has misjudged the young man. Merelli, Nucci and Max have a quick rehearsal of "Brindisi," the so-called "Drinking Song," from Verdi's "La Traviata." And boy, is that a wonderful and unexpected treat.
The production has been plenty funny up to this moment. There's slapstick galore, a lot of goofy play on exaggerated accents, romantic entanglements and fun word play. We all laugh and have a good time courtesy of these comic antics.
But when these three actors step forward to marvelously sing "Brindisi," the production ratchets up and we become their immediate adoring fans. And that's not even half-way through.
Add to the mix Beppo the singing bellhop with the enormous moustache who looks very much like Merelli but, like Clark Kent and Superman, never appears on stage at the same time as Merelli. Then there's the Russian soprano Tatiana Racon, Merelli's former lover who finds herself conveniently in town and intent on rekindling old flames.
Throw in a cacophony of slamming doors, amorous imbroglios and dizzying pace, and you've got a most satisfying farce.
Making all this work is a dream team of theater professionals. Director James Brennan, who gave us the wonderful fight scene between Elyot and Amanda in the second act of Riverside's "Private Lives," maintains his reputation in lavishing the stage with broad physical action, over-the-top fun and impeccable timing.
In fact, this production evokes cartoon zaniness with the big-A accents, complete with ferocious gesticulations, and the madcap stage action. All that's missing is Elmer Fudd looking for that wascally wabbit. Brennan's cartoon-inspired concept here works very well, from the two-dimensional broad stroke touches by scenic designer Michael Schweikardt, to lighting designer Todd Wren's final curtain call of one large spotlight (That's all, folks!).
The cast here all has deep backgrounds, from decades on Broadway and celebrated regional theaters, to venerable concert venues and major tours.
Ron Bohmer has infectious fun in his roles of Tito Merelli and Beppo. Bohmer has been an award-winning Broadway performer for 30 years. He was the Phantom in "The Phantom of the Opera," Father in "Ragtime," Enjolras in "Les Misérables" and so much more. While those are serious dramatic roles, here he squeezes out the last drop of broad comic zaniness. With his caricature Italian accent, he goes very broad, and we are very grateful for it.
Jennifer Cody puts every square inch of her petite self into motion in her sensational turn as Maria Merelli. What a treat to watch this energetic fireball. Her Broadway credits are many and include "Shrek," "Pajama Game," "A Christmas Story" and more. She's performed off-Broadway in Charles Busch's "Cleopatra," and she received a Drama League Nomination for "Henry and Mudge." She's also been in a long list of television shows and films.
Broadway actor Ray DeMattis is the perfect befuddled Saunders and in this role is rather evocative of Jerry Stiller's Frank Costanza. A Broadway actor who has also appeared on television and in film, Susan Cella brings delicious vamping delight to the stage as Tatiana Racon. Cella also had a most winning turn as Sonia in Riverside's excellent "Vania and Sonia and Masha and Spike," also directed by Brennan.
Ryan Jesse brings a welcomed rational sweetness to stage in his role as Max. Anthony Festa was Tony in Riverside's "West Side Story" and here brings an ideal touch of comedy and musicality to his role as Carlo Nucci. And Stephanie Bacastow is sweet perfection as Mimi Merelli, the actress daughter of Tito and Maria.
Riverside's "A Comedy of Tenors" is sheer fun. It's a good time to let down all the world's sturm und drang, red and blue division, or whatever else might be plaguing your heart. Just head to the theater where you can commune with others and have a damn good time, like you used to do when you were a kid and watched cartoons with friends.
"A Comedy of Tenors" runs through March 12 at Riverside Theatre, 3250 Riverside Park Dr., Vero Beach. Tickets start at $45. For more information, call 772-231-6990 or visit RiversideTheatre.com.
Photos provided