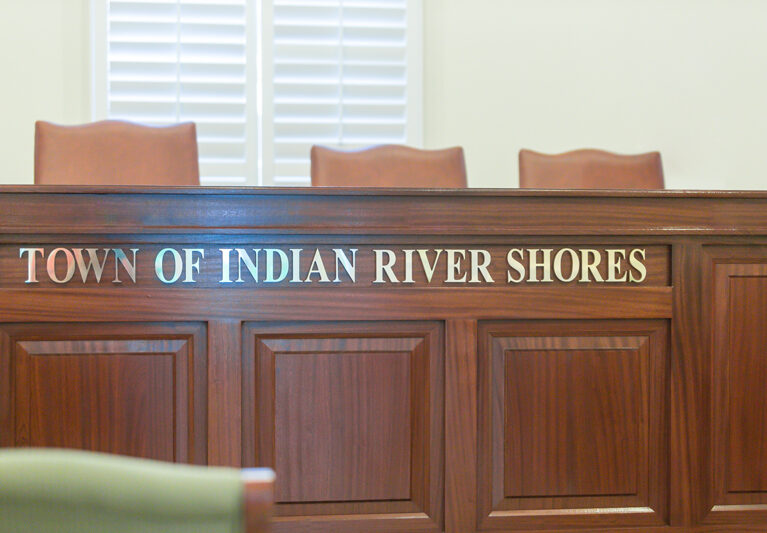 With one week remaining to apply for the open Indian River Shores Town Council seat left vacant by the resignation of Councilman Christian Hendricks, three people have already volunteered to serve in Hendricks' stead until November 2024.
James Altieri is a retired corporate litigator and John's Island resident since 2010. Before moving to Indian River Shores from New York, Altieri served as managing partner of the national law firm Drinker Biddle and Reath, where he played a key role in strategic planning and was partner in charge of the New York office.
A Fordham Law School graduate with 45 years of experience, Altieri practiced in a broad range of corporate law areas in both state and federal court at the firm of Simpson Thatcher and Bartlett, where he got his start, with experience in securities, entertainment, aviation, product liability, antitrust and utilities law.
Susan Mehiel first purchased a home in Indian River Shores in 1994. She and her husband now live in The Estuary. Mehiel served as a marketing director in the healthcare industry, as a consultant, and she's volunteered with several local charitable organizations, including the Children's Home Society.
Mehiel has served on homeowner association boards out of state. Politically, Mehiel actively opposed the controversial regional Seven/Fifty planning effort and the All Aboard Florida (now Brightline) high-speed rail project, pushing for safety upgrades to the rail corridor.
Currently she is involved with a conservative group focused on providing oversight on Indian River School County District policies and actions.
Though they've both held responsible corporate positions and served on other boards, neither Altieri nor Mehiel cite an elected political office in their biographies submitted to the town council for consideration.
Former vice mayor Gerard "Jerry" Weick, a longtime Bermuda Bay resident, served two full terms on the council and six years as vice mayor, ending by term limit in November 2016.
Then as a private citizen, he served as volunteer project manager on the planning and construction of the new Indian River Shores Community Center.
A 24-year permanent town resident, Weick has served on planning and zoning boards for both Indian River Shores and Indian River County. He's also been an active volunteer with Habitat for Humanity and McKee Gardens.
"I have kept abreast of most council actions, especially the water and sewer contract with the City of Vero Beach as I was deeply involved with the original contract," Weick said in his letter of interest.
While on council, Weick served as part of the negotiating team that laid out the details of the town's franchise agreement with Vero in 2012, giving him firsthand knowledge of the deal.
Anyone wishing to join Altieri, Mehiel and Weick in applying for the seat must have the same qualifications as if they were filing to be on the ballot for a town election.
"In addition to any requirement imposed by State law, applicants must be qualified electors of the Town and must have resided within the Town for at least one year prior to the time of the appointment," a town memo said.
The deadline to apply for consideration, which means sending a letter of interest plus a resume or list of qualifications to Town Clerk Janice Rutan, is 5 p.m. Sept. 2.
Town Manager Jim Harpring has said that he expects to set up individual interviews for the four remaining council members to evaluate the candidates in private before the vote to appoint, which would be held in public.
Mayor Brian Foley said last week, "I reserve specific evaluation for discussion in public meeting settings to comply with the spirit, if not the letter, of the Sunshine Law. However, generally the town is fortunate to have an abundance of smart people with diverse professional backgrounds and talents.
"But in general, the following are relevant: Awareness of the current and future issues the Council has before it; ability to invest the necessary time to prepare for and attend Council meetings; interest in serving on intergovernmental committees and councils; and experience on other town committees. I also plan to make myself available to meet with each candidate individually to answer any questions they may have of me," Foley said.
"As of right now, the appointment is being scheduled for the September 22, 2022 meeting," Rutan said on Monday.
Hendricks' replacement would be seated immediately. Then in November, after the general election, the three council members who faced no opposition to their re-election will be re-sworn in and the council will select a mayor and vice mayor for the next 12 months.