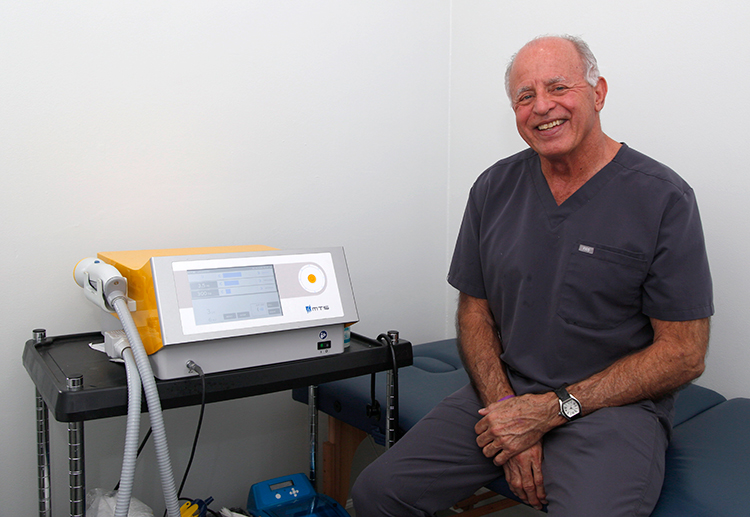 Dr. Mel Richardson, formerly the medical director of Grove Place Surgery Center in Vero Beach, has opened an age management practice – ReGenRX Integrated Wellness and Medical Spa – on Royal Palm Point in Vero, where he and his staff focus on helping people maintain a better quality of life as they age.
After 19 years as medical director at Grove Place, Dr. Richardson had to take time off and semi-retire due to a bout with cancer. When he was cancer free for three years, he was inspired to take his practice in a new direction, helping people get healthier, live longer and have the functionality to enjoy life during their senior years.
"We've increased our lifespan, but we haven't increased our quality of life," Dr. Richardson said. "Our bodies change when we go through menopause – or manopause as it applies to men – and we gain weight and lose muscle. Our joints start to ache, and we have less energy than we did when we were younger.
"There are many things that can be done to combat decline through the use of peptides, bio-identical hormones, diet, exercise and new medical technology. Peptides are a group of short chain amino acids that isolate in our body. They have no side effects and do marvelous things for our body like help with our mental acuity, increase energy, gain muscle, and help joint pain. They are also used in cosmetics to boost collagen."
Peptides are short strings of amino acids that send messages to an organ, causing it to secrete a particular hormone. According to Medical News Today, people may confuse peptides with proteins because both are made up of amino acids, but peptides contain fewer amino acids than proteins.
Like proteins, peptides are naturally present in foods. Peptides are easier for the body to absorb than proteins because they are smaller and can more easily penetrate the skin and intestines, which helps them to enter the bloodstream more quickly. Because of their potential health benefits, many supplements are available that contain peptides that manufacturers have derived either from food or made synthetically.
"I first heard about peptides at a medical conference when a physician from Boston related the story of her son who had been beaten into a coma. She started giving him peptides and it helped the neurological tissue regenerate," Dr. Richardson said.
"Peptides have also been used to treat alcoholism and PTSD. They come in capsules, nasal sprays, sublingual sprays, IV solutions, subcutaneous solutions, patches, topical creams and cosmetic face creams. They are known to decrease inflammation, and pain and increase healing."
Peptide therapy is just one modality in Dr. Richardson's medical tool chest. Another innovative treatment for chronic pain is the SoftWave Tissue Regeneration Technologies (TRT) treatment. SoftWave TRT is a patented therapeutic machine that accelerates healing with mechanotransductive acoustic pulses for long-lasting pain relief and regenerative benefits. The therapy is similar to that used to break up kidney stones which utilizes specific frequencies of acoustic waves to initiate improved blood flow to a certain part of the body.
Additional blood flow results in profound changes on a cellular level.
As the acoustic waves enter into the injured tissue, cells release the inflammatory chemicals and proteins the body naturally produces, and attracts stem cells from around the body to the injured area. The stem cells heal and regenerate damaged tissue. The typical course of the SoftWave therapy is one treatment a week for three weeks and the patient should feel maximum benefits in about six to 12 weeks following therapy.
A study published in the peer-reviewed Journal of Physical Therapy Science found that "extracorporeal shock wave therapy (ESWT) may be a useful nonsurgical intervention for reducing the pain of patients with degenerative knee arthritis and improving these patients' function."
In addition, the Food and Drug Administration has approved the use of ESWT for the treatment of plantar fasciopathy, and "Jonathan T. Finnoff, D.O., medical director for Mayo Clinic Sports Medicine at Mayo Clinic Square in Minneapolis, reports that ESWT is a viable option to consider for many patients who present with chronic tendinopathy that hasn't responded to more-conservative treatments," according to Mayoclinic.org.
Chronic tendinopathy is characterized by localized pain and pathological changes to tendons. The Mayo sports specialists are currently using ESWT to treat numerous tendinopathy throughout the body.
"I've used this machine to successfully treat tennis elbow, shoulder, neck and knee pain, and plantar fasciitis," Dr. Richardson said. "I've been practicing pain management and anesthesia for 35 years and this machine is the most remarkable thing I've seen in medicine.
"Professional sports teams like the Indians, Cubs and Lakers own and use the SoftWave technology for their athletes. I've used it on myself on my torn rotator cuff and I now have a full range of motion without surgery. SoftWave therapy is the go-to machine for all pain and it's done more good for my patients than anything I've ever seen.
"Surgery should be a last resort for anyone. With today's advanced technology and non-invasive procedures, there are a lot of modalities that work to reduce chronic pain and even regenerate tissue with few or no side effects," Dr. Richardson said. "Even pain-blocking steroids like cortisone injections have side effects and can actually deteriorate the joints, so it just makes sense to explore non-invasive options."
Dr. Richardson also administers bio-identical hormone therapy for men and women and provides age and weight management therapy, infusion therapy, male and female sexual dysfunction treatment, and non-surgical treatment of Peyronie's disease.
He is trained and licensed by the Institute of Neurological Research for using prescription Enbrel for chronic neck and back pain and for Alzheimer's and other dementia diseases. He is a diplomate of the American Board of Anesthesiology and the American Academy of Pain Management and certified by the Peptide Society and the age management organization Cenegenics.
Dr. Mel Richardson earned his medical degree from Louisiana State University Medical School in New Orleans and served his surgical internship at David Grant Medical Center, Travis Air Force Base, California. He completed his residency in anesthesiology at Wilford Hall Medical Center, Dept. of Anesthesiology, Lackland AFB, Texas. For more information about the innovative, non-surgical treatments offered at ReGenRX Integrated Wellness and Medical Spa, visit regenrxwellness.com or call 772-569-1998 for a personalized tour and consultation.