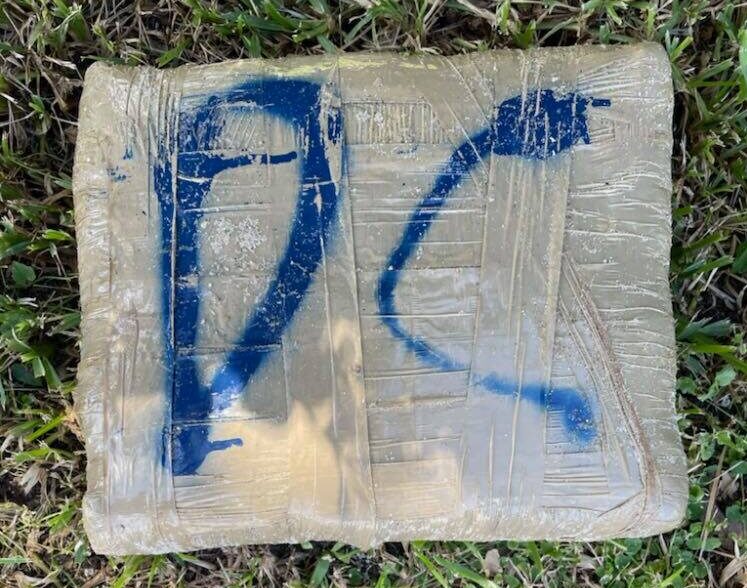 VERO BEACH — A 13-pound brick of marijuana washed ashore Sunday morning near South Beach Park, prompting police to increase patrols near the shoreline, officials said. The package had the letters "DC" sprayed on it, though officers are not sure what the letters mean.
A lifeguard found the package about 11 a.m. in the sand in the 1500 block of Ocean Drive, south of South Beach Park, Vero Beach Police spokesperson Master Officer Darrell Rivers said. The lifeguard brought the brick to the lifeguard tower and called police.
Police arrived at the sun-soaked beach and tested the substance inside the package. The substance tested positive for marijuana, Rivers said.
The packages are often nicknamed "square groupers," which refers to bales of marijuana thrown overboard or out of airplanes in south Florida in the 1970s and 1980s.
Police put the package into evidence at the police department. Drug Enforcement Administration officials were expected to pick up the package within a week for further investigation, Rivers said.
Rivers said an officer will be on an all-terrain vehicle Monday morning searching for any more suspicious packages that wash ashore. Rivers reminded anyone who sees suspicious items on the beach not to touch them and call 911 immediately.
"Anyone who removes a suspicious (drug) package from the beach could possibly face a felony charge of possession of a controlled substance," Rivers said.
This is the second incident this year where a suspected drug package washed ashore in Indian River County. In April, two beachgoers found a 52-pound package containing a substance that tested positive for cocaine just south of the beach access for the Shorelands subdivision.
Indian River County deputies took the package to the crime scene division at the sheriff's office.