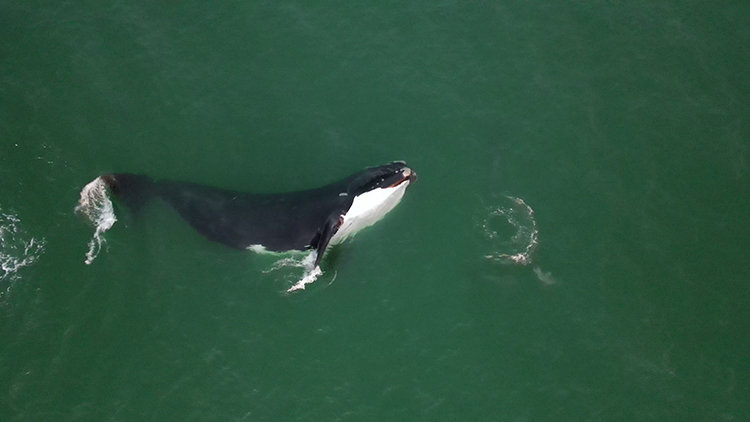 There's good news and bad news about the endangered North Atlantic right whales we observe in our nearshore waters in the wintertime.
First the good news: This winter was the most successful calving season in the South Atlantic in five years, with 18 live calves documented by federal and state whale observers, according to Julie Albert, right whale program coordinator for the Marine Resources Council. 
A total of 22 births were observed in the previous four calving seasons, which typically span mid-November through mid-April, so this year's 18 births is far above the recent average. 
At this point in the year, the huge mammals have left Florida's waters and made their way back north to their New England summer feeding grounds, where observers documented 10 mother/calf pairs among about 160 whales seen swimming around Cape Cod Bay earlier this month.  
Among those pairs was a whale named Champagne and her calf who showed up just off Vero Beach's Jaycee Park in late January where Albert and her colleagues were able to capture drone footage. 
Also, a yearling right whale born in 2020 to a mother named Harmonia and spotted off Melbourne Beach in mid-January was reported heading back north in February, but it's not known whether he has joined the Cape Cod group.
"This year's number was good when you think about how the last several years have gone," Albert said of the winter calving season. "For it to be really great, we'd like to see 25. That population will not recover till those numbers get in the mid 20s."
The bad news is that the North Atlantic right whale population now is estimated at only about 360 – low enough for the species to become extinct by 2040 if things don't turn around. And two whales – a calf and an adult male named Cottontail – were confirmed dead this season.  
The calf, about two months old, was struck and killed by a sportfishing boat off St. Augustine in February. Its mother, Infinity, was found alive, but suffering from propeller cuts.  Her fate right now isn't known.
Cottontail, an 11-year-old male observed entangled in fishing gear in February off Melbourne Beach and tracked by would-be rescuers, was found dead off Myrtle Beach, SC about a week later.
All eyes now are on the waters of New England and the Canadian Maritime Provinces where historically most right whale deaths occur.