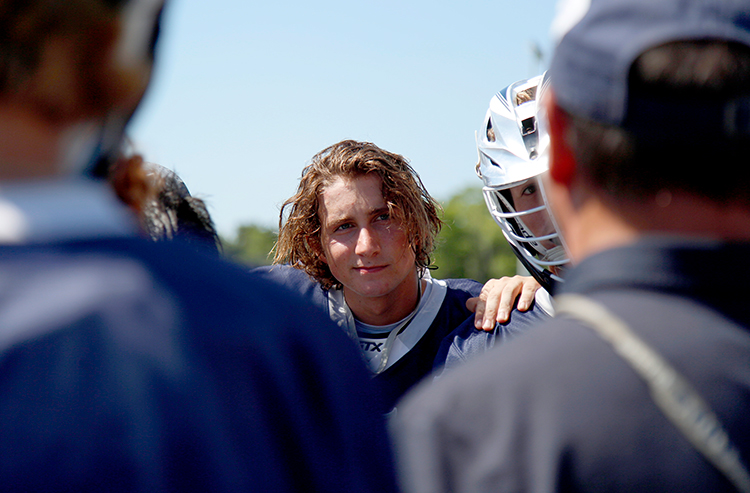 In an action-packed five-day stretch, St. Edward's varsity lacrosse team claimed a regional title with a 12-11 overtime victory over Lake Highland Prep. The Pirates then advanced to the Class 1A Final Four and defeated Bolles, 15-13, in a semifinal to set up a match against undefeated Saint Andrew's for the state championship.
The magical run ended on Saturday by a score of 13-5.
Thus, a strange school year more unique than any other turned out to be a very productive and memorable one for St. Ed's senior Drew Sternberg.
"I'm a lifer so I've been here since day one," Sternberg said, reflecting on the sports culture at the school. "It's been really weird growing up on the smaller fields and always looking up to the older kids. Now that I'm a senior, looking back on it, the whole process, it's been something.
Playing sports here must be completely different than playing sports at any other school.
"We are a small school and sometimes it's like pulling teeth to get kids out to play on teams. But when you join a team here, you form tight bonds and become such a close group. That's probably one of the biggest things that I've enjoyed in high school.
"I've seen kids here that wouldn't necessarily be friends with each other, but being out here every day on a sports team, it's crazy how that can change people."
Craziness also had a role in how events unfolded this past year. The shutdown last spring spoiled the lacrosse season and led to a guessing game for what school life would look like in the fall. Sternberg was a three-sport athlete senior year with football, soccer and lacrosse.
"I started playing football for the middle school team," he said. "Coach (Bill) Motta was somebody I looked up to since I was a kid. I knew back then that I was going to play (varsity) football for that man. He always found a way to motivate you and make you want to push yourself harder.
"This year we had a personnel change with Coach (Mark) Gowin, and it was great. We had an undefeated regular season, but then it took an unfortunate turn. We went into a new division for the playoffs and lost to the eventual state champs — so it wasn't that horrible.
"This soccer season was the best season of any sport that I ever played in my entire life (the Pirates lost in the state semifinals), and I've played soccer since I was able to walk.
"Our coach (Esteban Rosano) came in and in his first year he was able to bring us all together.
Chemistry was the reason our team went that far. We would have the most ridiculous banter during practice, but we stayed 100 percent focused on grinding it out and getting better. We managed to have fun even doing that. It was the most memorable season I've ever had."
Lacrosse must have come close. By digging a little deeper into this season, you realize that the team played with house money in the playoffs. Although it was likely never said aloud, getting to the championship game was once considered a long shot.
"If you told some of the kids on the team that we were going to beat Benjamin in the district finals, they might have been shocked and said you were crazy," Drew revealed. "I have to admit that I was a little surprised too.
"But we were fighters and hustlers, starting with Coach (Doug) Bailey. He is such a funny and goodhearted guy. He loves the sport and loves the kids who play it. He makes every day fun, except for the running."
The accolades and statistics compiled by this young man in all three sports would fill volumes too numerous to detail here. One noteworthy mention is Florida Athletic Coaches Association 2020-21 Class 2A Soccer Player of the Year.
Hardware legacy rightfully belongs in a trophy case or on a mantel. The person-to-person side with coaches and teammates passes along in folklore through laughter, reflection and memories, especially when shared with family.
"Playing sports with my brothers was one of my favorite parts of high school," Sternberg told us. "We were so hard on each other and pushed one another to the absolute limit. Then to see it all pay off when we played together was extremely rewarding.
"I got to play sports with (my older brother) Will for most of my life, but never really with my little brother (freshman) Reed. Playing with him this year in all three sports has been one of the best things ever.
"Making it this far in lacrosse means so much to me and everyone on the team, but also my mom (lacrosse Hall of Famer and St. Ed's Academic Dean/Director of College Counseling Michele Sternberg). She is absolutely ecstatic because this is exactly what she had in mind coming to Florida and growing the lacrosse community down here. She went to UVA and was a starter since her freshman year. Unfortunately, she tore her ACL and couldn't play again."
Drew, a straight A student considering a career in data science, will join Will at UVA.