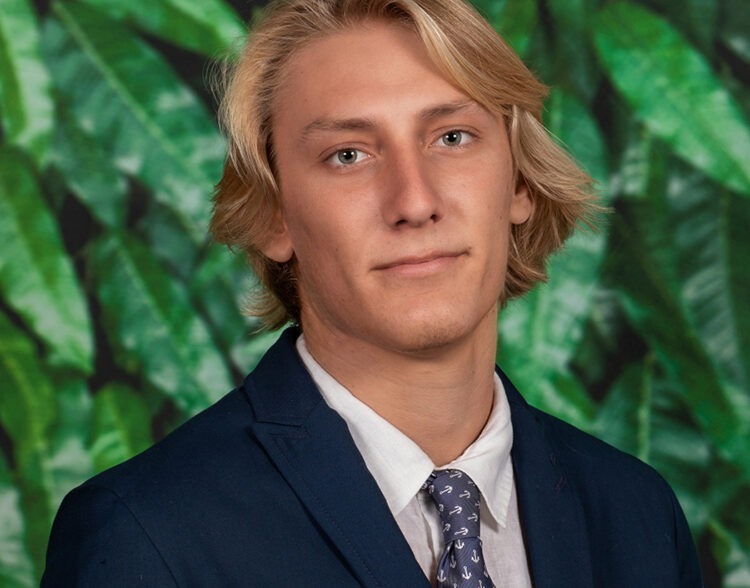 Aidan Burdick graduated from St. Ed's at almost the identical moment he decided to attend Liberty University in Lynchburg, Virginia. He originally opted for the University of North Florida, but based on his comfortable adaptation to St. Ed's, this young man knows the proper fit when he sees it. He also jumps in with both feet.
Burdick attended Masters Academy from kindergarten through eighth grade, save for one year of home schooling. One impetus for the transfer was the opportunity to play varsity baseball and several other sports for the Pirates.
"Coming to St. Ed's was something I wasn't expecting," Burdick said. "It was kind of a last-minute choice.
"I really didn't know anybody here, but I made friends very easily, especially through sports and the smaller classes. That helps bring you together because you're going to the same classes as your teammates."
Golf was his first sport upon arrival as a freshman. That is a fall sport and it ushered in the beginning of non-stop high school sports participation across all three seasons for the next four years.
"I was a new student and golf put me in with a group right away," he told us. "It was a good experience and a nice introduction to St. Ed's."
Golf lasted two years before Burdick decided to make the gigantic leap to football. He explained why that came about.
"All of my friends played football since their freshman year, and by my junior year I decided to give it a try. I wanted to play with them and I already knew Coach (Bill) Motta from flag football.
"I came out open minded just to have fun. Coach Motta turned it into a boot camp. It was all brand new to me. That was probably the biggest learning curve that I've had in athletics in my entire life. Under Coach Motta you had to understand everything that was going on all the time."
Burdick admitted to having difficulties with the intricacies of offense, so he was primarily a defense and special-teams contributor for Motta as a junior and Coach Mark Gowin as a senior.
Soccer was an entirely different matter. His background in that sport was extensive and he once again specialized on defense as a four-year member of the varsity.
"I've been playing soccer since I was about 6 years old," Burdick said. "At Masters Academy we did not have a middle school team so I played on the varsity starting in sixth grade. That enabled me to hold my own against the older kids when I came to St. Ed's.
"Soccer here is more than just a sport, it's more like a family. St. Ed's has always had a very strong soccer program. We won districts, regionals and went to the state Final Four this year.
This was a very tight-knit team."
Spring in Florida is ideal for Burdick's main sport, baseball. It's a surprisingly low-key enterprise among the panoply of sports offered on campus.
"I started with T-ball and I played on travel teams throughout middle school," Burdick said. "Baseball here is definitely not one of the stronger sports.
"Regardless, the team was very good my first three years (cumulative 23-17). My junior year we beat Sebastian River High, a large public school. But then COVID shut everything down."
The Pirates were 7-2 at that point. Confidence was growing when the season was unceremoniously snatched away. The 2021 season had trouble getting off the ground. Burdick summarized it this way: "Last year we had 14 kids on the team. Four graduated and three left the team. I initially didn't come out for baseball this year because the program seemed to have fallen apart.
"It looked like there wasn't going to be a team, so I actually went out for lacrosse the first two weeks. But lacrosse wasn't really for me. We had a very good team (state silver medalist), and it was hard to keep up.
"Then I was able to get a friend to come out for baseball with me so we would have enough players to field a team. We were able to provide some senior leadership. Suddenly there was a spark of energy and life that wasn't there at the beginning of the year. We played well against some good teams and we were able to finish the season (at 2-8 amidst numerous cancellations)."
Pirate baseball with short rosters means just about everyone plays everywhere. Burdick was no exception. He preferred the outfield and did some pitching. He realizes that playing D1 baseball at Liberty will be challenging if he chooses to try.
"I plan on training and pushing myself to get to that level," he said. "I would go out for a utility role. For my entire athletic career I would just go where I was needed. That has suited me very well."