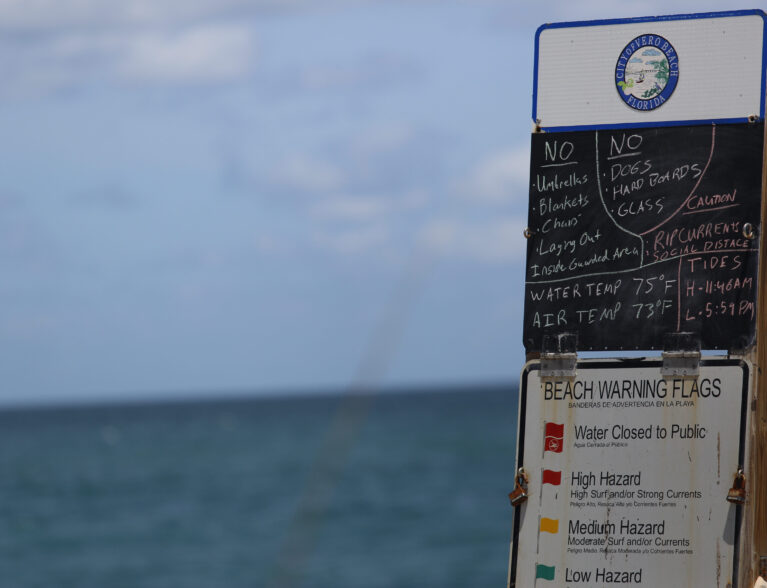 VERO BEACH — Beachgoers are hitting the shores this summer all while practicing social distancing amid the coronavirus pandemic.
The city's three guarded beaches had a slight dip in attendance numbers in July compared to last year, according to a Vero Beach Lifeguard Association report.
Last month, 86,095 people flocked to Jaycee Park Beach, Humiston Park Beach and South Beach Park, lifeguards said. This number is less than the 86,686 beachgoers who hit the sand in July 2019.
In July of 2018, the city set an attendance record when the beaches had 93,000 visitors, lifeguards said. Lifeguards said the COVID-19 pandemic and social distancing concerns may be a contributing factor to a decline in attendance from residents and tourists.
Beach attendance is taken within the guarded beaches – 200 yards each – and 50 yards north and south of each tower, lifeguards said. Patrons outside of those areas are not counted in the report.
Along with beachgoers, the month of July brought in typical afternoon thunderstorms seen during rainy season. July also saw numerous sea turtle nesting and hatchings, lifeguards said.
Researchers are marking every 18th nest depending on the species and where the nests are located. The marked nests distinguish if the species are green turtles, loggerhead turtles or leatherback turtles, lifeguards said.
Lifeguards stopped the removal of seaweed in April and will continue when sea turtle nesting season ends on Oct. 31. There were minor reports of beach erosion and stinging marine life washing ashore last month, officials said.
Lifeguards had seven major medical incidents and three water rescues in July. During extended hours, lifeguards rescued a father and son after their raft sprung a leak near the SS Breconshire Shipwreck during strong winds and currents, officials said.
The Breconshire was a 300-foot long ship that wrecked in 1894 while on a journey from Tampa, Florida to New York, according to visitindianrivercounty.com. The wreck, caused by faulty navigational charts, has since become a popular snorkeling spot for residents to experience marine life and historic value.
The steamship wreck site is located 500 yards off the coast of Humiston Park.
Lifeguards also rescued three people from rip currents in July during normal hours, officials said. This brings the total number of water rescues to 26 for the year.
Lifeguards remain on extended hours, from 9 a.m. to 7 p.m., at the guarded beaches during the summer. For July, the beaches had more than 14,000 visitors during extended hours, lifeguards said.
Swimmers should pay close attention to beach condition signs and flags, swim near lifeguard towers and avoid hitting the water during non-guarded hours.