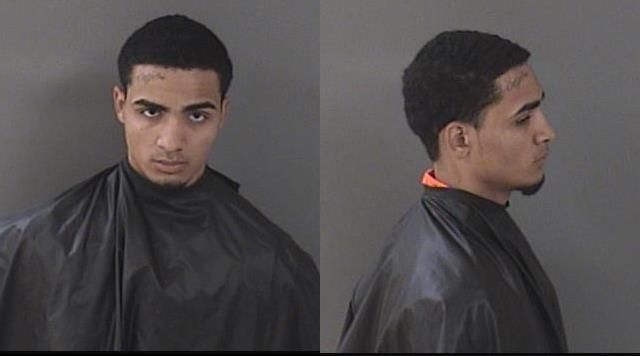 SEBASTIAN — A 19-year-old motorist who officers said fired shots at another vehicle and then fled the area last weekend, was detained Tuesday.
Law enforcement officers arrested Jordan Lee Jackson, of Fellsmere, on charges of attempted first-degree murder, shooting a deadly missile into a vehicle and aggravated assault with a deadly weapon. Jackson's booking information was not immediately available.
No one was injured in the Sunday shooting that happened in broad daylight. Authorities closed a portion of County Road 512 for about three hours as they searched for evidence.
It was unclear what sparked the incident. Sebastian police Lt. Tim Wood said Jackson knew the 21-year-old victim, but it was unclear how.
Police responded to the shooting about 4:40 p.m. Sunday at eastbound C.R. 512 and Easy Street, not far from Easy Street Park and Sebastian Florida Bark Park. The victim told officers he was traveling east in a silver Nissan Rogue in the left lane when a black Sedan pulled up alongside his vehicle.
The Sedan driver, Jackson, pointed a handgun out of the window, aiming it toward the victim, police said. Jackson then fired two shots, both striking the victim's vehicle while both automobiles were still moving, officers said.
Jackson then drove in front of the victim's vehicle and slammed on the brakes, causing a rear-end collision, police said. The victim said Jackson rolled down his driver's side window.
The victim told police he was in fear Jackson would shoot at him again. The victim then drove into the back of the Sedan, pushing both vehicles into the median and the westbound lanes of C.R. 512, police said.
Both vehicles drove away from each other before the victim called police, Wood said. Wood said there were no passengers in each vehicle.
Indian River County sheriff's crime scene canvassed the area Sunday. Sebastian police spoke to witnesses.
Law enforcement inspected the victim's vehicle, damaged from bullet holes, before releasing it back to him, Wood said.
Deputies located Jackson on Tuesday in another vehicle and arrested him on a Sebastian police warrant. Details on where Jackson was located were not immediately available.
This story will be updated.