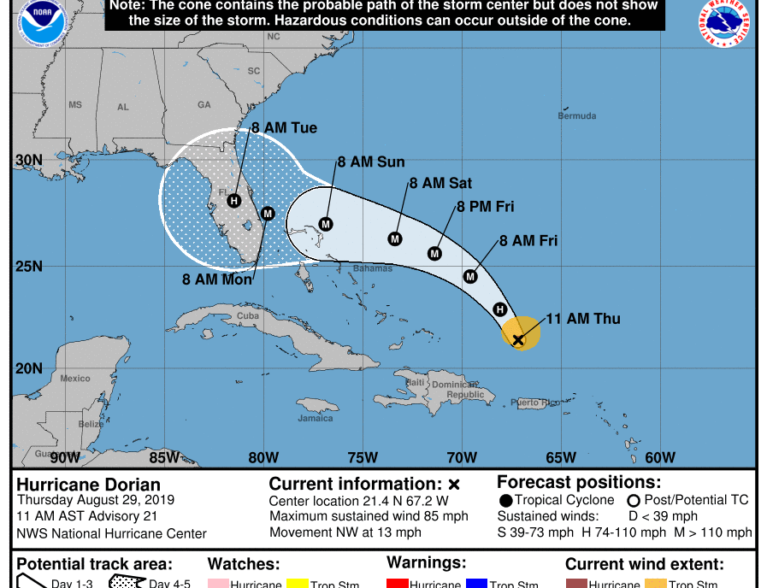 INDIAN RIVER COUNTY — County officials Friday morning will issue a local state of emergency as Hurricane Dorian barrels toward the state, expected to make landfall as a major hurricane somewhere on Florida's east coast sometime Monday.
The local state of emergency declaration — which will be issued at 8 a.m. on Friday — gives the county administrator the authority to order evacuations, set curfews and open shelters without a vote from the County Commission. The local emergency declaration follows Gov. Ron DeSantis' expanded issuance of a state of emergency on Thursday to all of Florida's 67 counties.
County officials are asking residents to be prepared for the worst as Dorian's track has shifted slightly south, and is projected to reach Category 4 strength, packing sustained winds of up to 156 mph as it targets the state early next week, according to the National Hurricane Center. Florida's east coast is expected to feel tropical storm force winds as early as Sunday night and possible hurricane force winds by Monday evening, according to forecasters. Tropical storm force winds are currently expected to subside by Tuesday night. Dorian, currently a Category 1 storm packing sustained winds of 74-95 mph, is roughly 800 miles away from South Florida.
"Don't fixate on where the center line is coming across the state. This thing can move anywhere from the upper keys to Savannah, Georgia — that still hasn't changed a whole lot," said Tad Stone, director of the Indian River County Emergency Services Department. "We want to make sure that people have a plan."
County officials anticipate to announce shelter openings if the area is expected to experience tropical or hurricane force winds. They announcement of shelter openings and evacuation orders will depend on the track, Stone said.
"We want to do that as soon as we can so it's still safe for people to travel before the start of tropical storm force winds," Stone said, noting the current track could call for shelter operations on Saturday afternoon.
Although local evacuation orders for the barrier island, low-lying areas and for individuals living in manufactured homes are still pending, Stone is urging residents who want to leave to make plans now. Hotels on the state's west coast are occupying quickly, he said.
"We're encouraging everybody if they want to go, go," Stone said.
The county was expecting at least one truckload of bottled water to be delivered by state officials sometime Friday. The water will be distributed at the North County Aquatic Center and Indian River Mall after the storm if the area takes a big hit, Stone said.
Stone has also requested personnel from the Federal Emergency Management Agency and Florida Division of Emergency Management to be present in the county during the storm.
County officials are asking residents to keep drainage ditches and swales clear of vegetation in anticipation of the storm to avoid flooding on streets. County crews on Thursday morning started removing traffic signals suspended from span-wire support systems to prevent them from becoming projectiles during high winds.
At least one signal head will remain in place for each direction of the intersection, officials said.