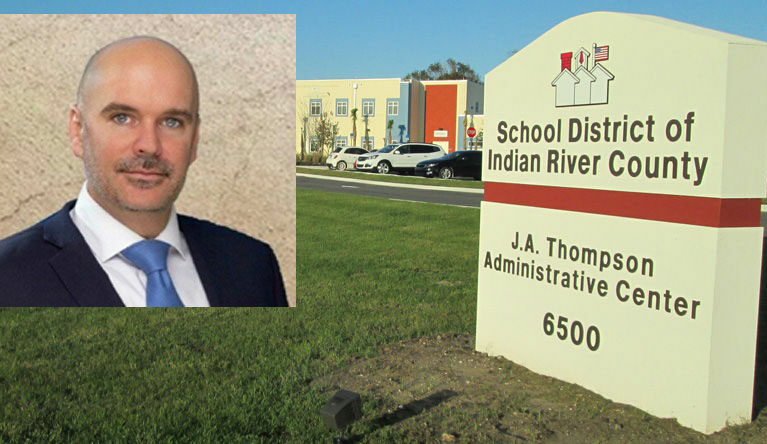 The Indian River County School Board voted unanimously to hire David Moore as the district's new superintendent Tuesday night. But not before his hiring was almost postponed indefinitely, after several board members expressed concern about the terms of his contract.
The Board voted to pay Moore, currently assistant superintendent at Miami-Dade Public Schools, a salary of $180,000, which was $5,000 more than the Board had originally agreed to pay. Other contract perks that caused concern was an agreement to give Moore $20,000 to help with relocating to Vero Beach and an $850 monthly car allowance.
"We need to have a discussion about his contract," Board member Jacqueline Rosario said before the Board voted. "I'm not sure where some of these contract details came from. I'm not comfortable with that."
Her concerns were echoed by Board member Teri Barenborg, who agreed with Rosario's request to postpone approval of the contract.
The two board members also wanted to change language in Moore's contract requiring him to give the district an advance notice of 30 business days if he decides to leave the district. The proposed negotiated contract stated that Moore just needed to give a 30-day notice.
Board Chairman Laura Zorc and Board member Tiffany Justice muted any further discussion by immediately calling for a vote.
"We are here to vote, not have a discussion," said Zorc, who quickly called for a vote.
School Attorney Suzanne D'Agresta and Zorc represented the district in contract negotiations with Moore.
Despite their objections, Rosario and Barenborg voted to approve the contract along with Zorc, Justice and Board Vice-Chairwoman Mara Schiff.
"Dr. Moore, welcome to Indian River County School District; I told you, you wouldn't be bored," quipped Schiff.
Moore, who attended the meeting and listened quietly during the short Board dispute, signed the contract after the Board approved his contract.
"I'm beyond excited for this opportunity," Moore told the Board. "I'm looking forward to getting started."
Moore's first day as superintendent will be December 2.
Despite their concerns, Rosario and Barenborg reassured Moore that he had their full support.
Board members previously cited Moore's extensive experience in finance and curriculum, passion for education and intense desire to make IRCS a top-rated school by 2025 as reasons for selecting him.
Moore, 48, has served as assistant superintendent at Miami Dade – the fourth largest district in the nation – for the past six years.
During his tenure in Miami-Dade, Moore also served as a teacher, counselor, assistant principal, principal and administrative director before becoming assistant superintendent, overseeing the district's Education Transformation Office.